2016-12-08
|
Terrorism
ISIL atrocities reflect group's disdain for Islam, Afghan culture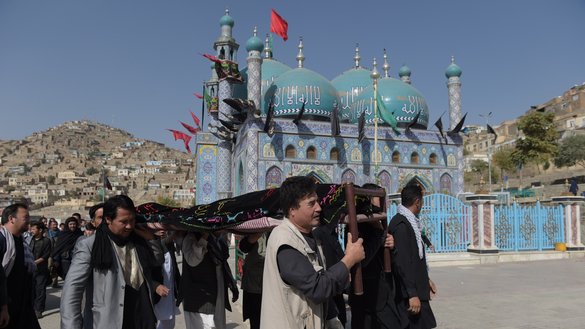 KABUL -- The "Islamic State of Iraq and the Levant" (ISIL) in Afghanistan is committing atrocities in the name of Islam, trampling on Islamic teachings, basic morality and the Afghan culture, analysts and citizens say.
ISIL uses the name of Islam but has nothing to do with Islam, outraged Afghans say, citing cases of ISIL slaughtering worshipers at prayer, bombing mosques, killing women and children and burning down civilians' houses.
"Through its non-Islamic and inhumane actions, ISIL is trying to generate panic and horror," Aymal, 25, of Nangarhar Province, told Salaam Times. "In reality, however, these criminal acts have resulted in breeding anger and hatred toward the group."
Groups that insult Islam and Afghan culture will never find a place in Afghanistan, he added.
Throughout its whole time in Afghanistan, ISIL has tainted the image of Islam and Afghan culture, Kabul-based security analyst Muhammad Behrooz told Salaam Times.
"The brutal murder of civilians, including women and children, disrespect for elders and burning down of people's houses aroused public outrage and anger," he said.
Behrooz recalled an atrocity in Nangarhar Province in October 2015, when ISIL members split a newborn baby in two in front of his father.
ISIL shows no respect for mosques and even kills worshipers inside them, Reza Mohseni, 34, of Kabul, told Salaam Times.
"Conducting suicide attacks in mosques ... sends no message other than hatred of Islam,"he said.
Among its many atrocities in Afghanistan, an ISIL suicide bomber blew himself up at a mosque in Kabul in November, killing 30 participants in an Arbaeen ceremony, which occurs 40 days after Ashura.
ISIL also claimed responsibility for a suicide bombing in Nangarhar Province in June that killed and injured scores of worshipers in a mosque.
Afghans rejects sectarianism
In a meeting with provincial authorities on December 3 in Mazar-i-Sharif, Haji Muhammad Mohaqqeq, a deputy to Afghan government CEO Abdullah Abdullah, noted how ISIL is trying to sow discord between Shias and Sunnis.
"Shia and Sunni are branches of the same tree," he said, adding that ISIL will fail to open a sectarian rift in the country.
Afghan officials point to a record of crushing ISIL and vow to destroy it.
ISIL has regularly sought to establish a headquarters in Nangarhar Province, but troops and civilians have teamed up to deny ISIL its goal.
In recent days, troops and civilians in various anti-ISIL uprising forces drove the terrorist group out of Pacheragam District, Nangarhar.
The military will destroy ISIL wherever it shows up, Gen. Muhammad Zaman Waziri, an Afghan military commander in Nangarhar told Salaam Times.
"The government is fighting ISIL with precision to avoid harm to civilians," Ataullah Khogyani, the Nangarhar governor's spokesman, told Salaam Times. "Members of this group hide in residences and in mosques."
"This group's actions are intolerable to the public," he said, citing ISIL's "terror and oppression".
Nangarhar was the first province to see civilians rise up against ISIL, Khogyani said.
Residents of Pacheragam District, freed of ISIL, expressed their eagerness to co-operate with the government to keep ISIL from wreaking misery upon them again.
"ISIL members killed and beat up people," Muhammad Anwar, 40, a resident of the district, told Salaam Times. "They said they co-operated with the government, or they did this or that, or gave dozens of other pretexts. They shut down schools and extorted people."
Anwar said he was grateful to see ISIL gone and pledged to help security forces and the government.