2017-05-25

| Security
Losses mount for ISIS in Afghanistan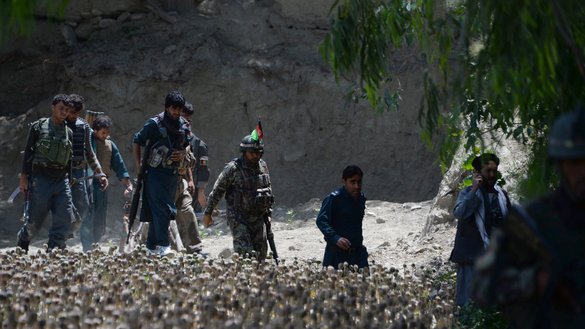 KABUL -- "Islamic State of Iraq and Syria" (ISIS) has suffered heavy defeats since the very beginning of its activities in Afghanistan, and Afghan security forces intend to continue that trend.
The group's ambitions in Afghanistan have gone nowhere, thwarted by successive military operation, say officials.
ISIS announced the formation of its Khorasan branch, which operates in Afghanistan and Pakistan, in January 2015.
Initially, the terror group's strategic centre was in Achin District, Nangarhar Province, with smaller groups active in other parts of Afghanistan, Afghan National Army (ANA) Deputy Chief of Staff Gen. Murad Ali Murad said in an April news conference in Kabul.
But ongoing Afghan National Defence and Security Forces (ANDSF) air and ground attacks have laid waste to ISIS's strongholds in Nangarhar, said Murad.
Ministry of Defence spokesman Gen. Dawlat Waziri confirmed that assessment.
"ISIS failed in its plans," he told Salaam Times. "They have been defeated in all Afghan provinces where they launched their activities."
Afghans support ANDSF, reject ISIS
"Fortunately, the Afghan people have helped their security forces fight ISIS," Waziri said.
This physical and moral support -- a result of Afghans' confidence in the ANDSF and their horror at ISIS's brutality -- has helped prevent the group from taking root, analysts say.
The extremist interpretation of Islam espoused by ISIS has no place in Afghanistan, which is why the group has failed to drum up many followers, said Kabul University law professor Farooq Bashar.
"Afghan people are mostly pious and moderate Muslims who are committed to their cultural and local values," he told Salaam Times. "For that reason, ISIS's actions are not acceptable to the people."
Proof is in the popular uprisings against the group, according to Ataullah Khogyani, a spokesman for the Nangarhar provincial governor.
"The people of Nangarhar stand side by side with the country's security forces in their fight against ISIS," he told Salaam Times.
Mounting casualties
In addition to ISIS's failure to gain control of any substantial territory, the group also has suffered heavy losses in its leadership over the years, Waziri said.
Mullah Abdul Rauf Khadim, the first deputy leader of ISIS Khorasan, was killed on February 9, 2015, in Helmand Province.
Hafiz Saeed Khan, appointed ISIS Khorasan emir in January 2015, was killed on July 26, 2016, in Achin District.
ISIS Khorasan leader Abdul Hasib, Khan's successor, met the same fate as the others on April 27 of this year in Nangarhar Province, confirmed Afghan and US military officials.
Hasib was killed along with at least 35 other ISIS commanders and fighters in an ANDSF security operation in Nangarhar Province, the National Directorate of Security (NDS) said in a statement May 8.
Among the dead ISIS members were 13 of the group's commanders, including 7 from Pakistan, 4 from Uzbekistan and 2 from Tajikistan, according to the NDS.
In Jawzjan Province, security forces in February killed Qari Qudratullah, an ISIS commander, and three of his men, BNA reported at the time, quoting provincial police.
In a military operation April 25, troops arrested Khalid Akhundzada, ISIS's founder in Zabul Province and an ISIS commander, along with five of his followers, said Col. Sediqullah Saberi, the ANA commander in Zabul.
Anti-ISIS operations continue
ANDSF are also carrying out operations against ISIS in Sayyad District, Sar-e-Pul Province, where ISIS recently decapitated a number of Hazara elders, as well as three women and one child.
"A former Taliban commander named Ghazanfar, who had joined ISIS, along with a number of his people was recently killed," Zabiullah Amani, a spokesman for the Sar-e-Pul provincial governor, told Salaam Times.
"In addition to the former Taliban members who have now joined ISIS, a number of foreign terrorists are present in this district," he said, adding, "The operation against them continues."
The on-going anti-ISIS operations carried out over the past few months in Nangarhar Province have intensified after the US military dropped its largest non-nuclear bomb on underground ISIS networks in a remote area of the province.
The bomb killed about 90 ISIS militants, according to Afghan officials, who said no civilian casualties occurred.
"Operations against ISIS successfully continue in Achin, Momand Dara and Haska Mina districts of Nangarhar Province," Gen. Mohammad Radmanesh, a Defence Ministry spokesman, told Salaam Times.
"ANDSF take actions against ISIS and other terrorists wherever they cause a threat," he said, adding that operations are on-going in Nangarhar, Kunar, Sar-e-Pul, Zabul and Ghor provinces.
0 Comment