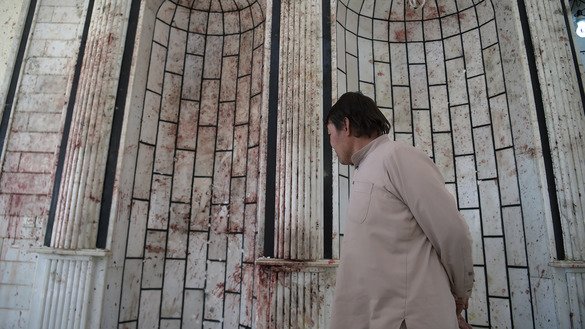 In this photograph taken on October 23, 2017 an Afghan resident looks on inside the Imam Zaman Shiite mosque after a ISIS suicide attack claimed 56 lives. Iran has been accused of supporting ISIS activities in Afghanistan. [Shah Marai/AFP]
KABUL -- Gulbuddin Hekmatyar, a former militant commander and one-time Taliban ally, has accused Iran of supporting the "Islamic State of Iraq and Syria" (ISIS) in Afghanistan, BBC Persian reported Thursday (January 4).
ISIS fighters coming from Syria and Iraq are reaching Afghanistan via Iranian soil, he said at a news conference in Kabul Thursday.
"Iran wants to play the same game in Afghanistan that it played under the name of Daesh [ISIS] in Iraq and Syria," Hekmatyar said.