2018-11-29

| Security
Taliban's destruction of bazaar in Baghlan leads to massive financial loss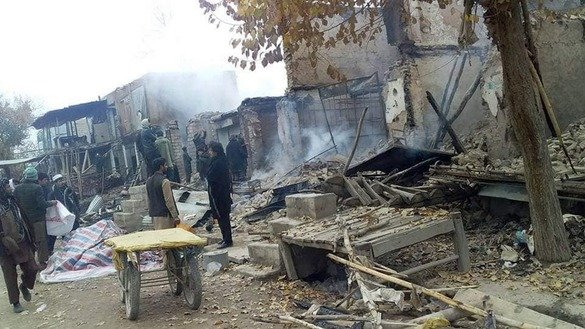 KUNDUZ -- The destruction of a number of shops in the main bazaar of Burka District, Baghlan Province, in a Taliban attack has led to massive financial damage for locals.
The attack on November 14 targeted the district's centre, damaging buildings and other property. Afghan security forces were able to oust the militants within hours but not before Taliban rocket attacks caused the Aq Chashma bazaar to go up in flames.
The Taliban's objective was to capture the district's centre, but the security forces kept the militants from reaching their goal, said Burka District Governor Shamsuddin Shahab.
"A large number of local residents suffered significant financial losses as a result of the Taliban's assault," he told Salaam Times.
Ruining locals' lives
The attack in Burka District, which began at midnight, burned down 25 shops and a number of homes in the bazaar in the western area of the district, Abdul Nasir Hamidi, a 34-year-old Aq Chashma bazaar shopkeeper, told Salaam Times.
"You have ruined lives as our shops turned into ashes because of your attack on the city," he said, accusing the Taliban.
"Clothing, shoes, jackets, vests and decorative items, among other things, are sold in these shops," Hamidi explained, adding that "each of the shopkeepers had an inventory of more than 500,000 AFN [$6,600], all of which was set ablaze."
"In addition to the burned down shops, three houses adjacent to the shops caught on fire, forcing family members to flee outside without enough clothing," said Arbab Rohullah, a tribal elder and member of the Burka District Development Council, told Salaam Times.
"As a result of the firefight that ensued, two civilians were martyred and two others were wounded in the market," Rohullah added.
This was not the first time that locals have suffered at the hands of the Taliban. On October 24, the Taliban gathered in the nearby mosque, also called Aq Chashma, from which they fired on Afghan forces.
As a result of the shootout, the mosque burned down, with all its religious books damaged or destroyed, according to local residents.
Anti-Taliban offensive
"The enemy's main strongholds in the district have been ... captured by the security forces," Baghlan provincial police chief Maj. Wahidullah Nazam told reporters in Aq Chashma bazaar November 15.
"Taliban militants have suffered heavy casualties at the hands of the security forces, and their most fortified base in the district has been crushed," said Nazami, without providing an exact figure.
Troops will clear all insecure areas vulnerable to Taliban infiltration, he said.
"More security forces have been deployed to the cleared areas, where they are pursuing the Taliban," he added.
0 Comment