2019-01-23

| Security
Mastermind of Maidan Wardak attack killed, rest of perpetrators on the run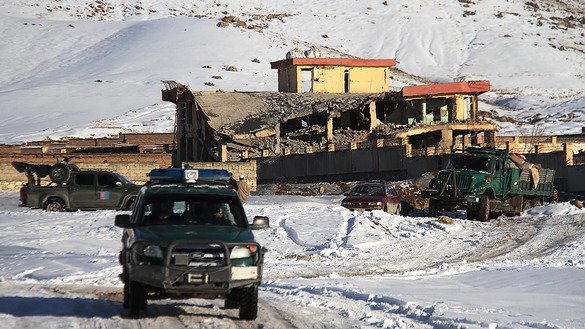 GHAZNI -- The mastermind behind the attack on the National Directorate of Security (NDS) base in Maidan Shahr, Maidan Wardak Province, has been killed in an airstrike, the NDS said Wednesday (January 23).
At least 65 people were killed in the Taliban-claimed attack Monday (January 21) in which militants detonated a Humvee packed with explosives before gunmen arrived in a car and opened fire, targeting an intelligence training facility, officials said.
"Commander Noman, the mastermind of Maidan Wardak attack, was killed last night at 11:12 pm in an airstrike in Maidan Shahr along with seven other terrorists," the NDS said Wednesday in a statement to the media.
Other members of this terrorist network will be tracked down and eliminated, the statement added.
The Taliban in a statement on Wednesday denied the NDS claim.
The blast at the base in Maidan Shahr, about 50km south of Kabul, caused the roof of the compound to partially collapse, images from the scene show.
"Then at least three other attackers in a Toyota car who were following the Humvee entered the compound," Maidan Wardak provincial council member Abdul Wahid Akbarzai told AFP Tuesday.
The attackers were killed quickly, he said, but most of the casualties were caused by the roof collapse.
"It is a big loss," the head of the provincial council, Akhtar Mohammad Tahiri, said. "The NDS forces are better trained and equipped than the Afghan police and army soldiers."
He added the militants were dressed in uniforms used by the Afghan Special Forces.
Local residents nearby described hearing a "heavy explosion."
"I saw black smoke," Sediqullah, a Maidan Shahr resident who goes by one name, told AFP.
He said that the blast shattered glass inside his house, adding that some of his family members had been injured.
Push for peace
The incident comes amid a flurry of diplomatic activity in recent months by Zalmay Khalilzad, US Special Representative for Afghanistan Reconciliation, aimed at encouraging direct talks between the Afghan government and the Taliban.
Khalilzad, who heads an inter-agency delegation, visited India, China, Afghanistan and Pakistan between January 8 and 21.
The United States confirmed Tuesday (January 22) that its envoy is meeting in Qatar with the Taliban.
"We can confirm that Special Representative Khalilzad and an interagency team are in Doha today talking with representatives of the Taliban," a State Department spokeswoman said, adding that the talks were taking place over two days.
Khalilzad has sat down several times with the Taliban but it marks the first time that the United States has confirmed his meetings so directly.
0 Comment