HERAT -- Afghans across the country are condemning Taliban leader Mullah Haibatullah Akhundzada's rejection of an Eid ul Fitr ceasefire.
"No one should expect us to pour cold water on the heated battlefields of jihad or forget our 40-year sacrifices before reaching our objectives," Haibatullah said on June 1 as he rejected any possibility of a ceasefire.
His message of war led more than 400 Herat residents, including religious scholars, youth and women, who gathered on June 2 in Ghazi Amanullah Khan hall, to deem him "the enemy of peace".
"All the people of Afghanistan want peace," said Najib Ahmad Jamshidi, director of the Herat Civil Community Foundation.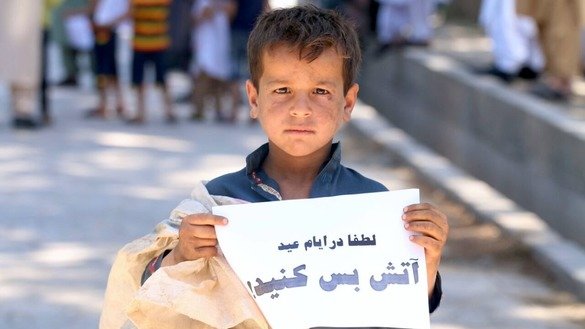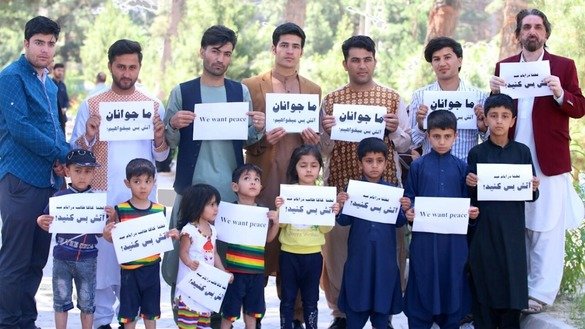 At the same time, interference by foreign intelligence agencies and their support for the Taliban have increased fighting, according to Jamshidi, who called on those nations to stop fuelling the conflict in Afghanistan.
While the Taliban are fighting on the "orders of foreigners", Afghans are the only victims of the war, not foreigners, said Waheed Seddiqi, 41, a resident of Herat city.
"We believe that fighting is not the solution and that the Taliban declared their enmity toward peace with releasing their latest statement... we condemn it," he added.
"Instead of making a ceasefire in Afghanistan, the Taliban released a statement of war," said Anosha Amiri, a 22-year-old resident of Herat. "We want the government to suppress the Taliban and not to give them any more chances."
Un-Islamic acts
In addition to condemning the Taliban leader's statement, religious scholars accused the militants of un-Islamic acts, including the killing of civilians, suicide bombings and destruction of public projects.
"We religious scholars believe that the fighting should end and a permanent peace and reconciliation should be established," said Mawlawi Abdul Wahid Mayeli, a religious scholar in Herat Province.
"We call on the Taliban to stop the fighting, killing and destruction of our country and not to shed others' blood for their selfishness," he said.
"There is no reason to kill civilians or to destroy places; however, we see that the Taliban kill civilians and do not regret committing any crimes to reach their goals," he added.
Mawlawi Abdul Latif Mawlawizada, another religious scholar from Herat Province, called the Taliban's violent campaign un-Islamic.
"The religion of Islam does not allow the killings of civilians or shedding the blood of the innocent," he said.
Islam seriously condemns such acts, he added.
"It is not right to kill civilians... we call on the parties involved to come and make peace in order that all strata of society are rescued from this problem," he said.
"We do not know on which parts of Islam the Taliban base committing such crimes," Mawlawizada added.
Demanding peace
Meanwhile, in a separate gathering on June 2 in Herat city, youth, civil society activists and children demanded an immediate ceasefire and an end to the fighting.
"Our only demand of the Taliban is to observe a ceasefire and to let Afghans live a peaceful life," said Hana Alipoor, a 21-year-old resident of Herat city.
"We are fed up with this fighting, and we want no more mothers to become widows, children to become orphans or youth to lose their lives," Alipoor said.
"If peace is to be secured, first there should be a ceasefire," said Sayed Ashraf Sadaat, a civil society activist in Herat city.
"The Taliban who claim that they represent part of the public should accept a ceasefire in order to provide a space toward the peace process," Sadaat said.
"We call on the Taliban to show goodwill and accept a ceasefire. The current public perception of the Taliban is one of violence," he added.