QUETTA -- Militias linked to Iran's Islamic Revolutionary Guard Corps (IRGC) are recruiting Shia Muslims from Afghanistan and Pakistan to fight in Syria in support of President Bashar al-Assad.
"The Fatemiyoun Brigade comprised of Afghan Shia mercenaries and the Zainabiyoun Brigade of Pakistani Shia militias are largely recruiting Shia fighters to fight alongside the IRGC, Hizbullah and other Iran-backed Iraqi militias in Syria," a senior Pakistani Ministry of Defence official said on condition of anonymity.
"After recruitment, Shia fighters go through a five-week pre-deployment training, and their specialised military training takes place in Yazd Province of Iran and in some other covert bases," he told Pakistan Forward.
In the past few years, hundreds of Pakistani and Afghan Shia combatants also received training in Aleppo, Syria, he said.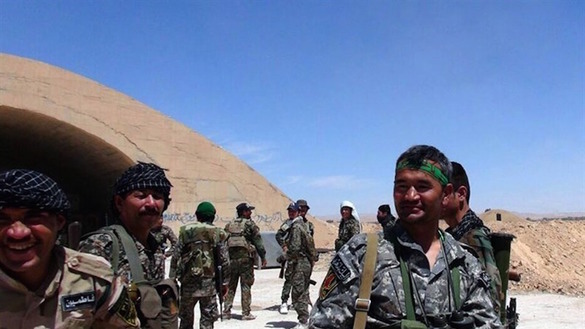 "We have reports that a large number of Pakistani Shia fighters involved in the war in Syria were already residing in Iran, while others come from Parachinar, Quetta, Lahore, Sukkur and some other areas of Pakistan," he said.
IRGC trained, armed militias in Syria
The Fatemiyoun Brigade was formed in 2014 and recruits fighters mainly from the approximately 3 million Afghans living in Iran.
It has about 20,000 fighters, according to Iranian media, and has suffered the largest losses among the various IRGC-backed militias fighting in Syria, according to other media reports.
Serving under Iranian commanders, the group fought with a coalition of pro-government forces to drive the "Islamic State of Iraq and the Levant" (ISIL) out of Palmyra, Syria, in December.
The Zainabiyoun Brigade is smaller and was initially, in 2013, tasked with guarding Shia holy sites in Syria. It became numerous enough in early 2015 to warrant its own division and joined offensive battles around Daraa and Aleppo.
It recruits from among Shia Pakistanis living in Iran, Shia Hazara refugees living in Pakistan and other Shia native to Pakistan.
Both groups are funded, armed and trained by the IRGC. Their deployment follows a pattern of the IRGC recruiting Shia from throughout the region -- including from Lebanon, Iraq, Yemen and other countries -- to fight in Syria on behalf of its ideological war.
The IRGC reportedly pays fighters about $500 per month and offers them, and the family members of fighters killed in Syria, Iranian residency papers.
Facilitating transport of fighters
Fighters recruited in Pakistan also move towards Iran disguised as Shia pilgrims.
"Last year in Quetta and at the Zero Point border crossing in Taftan, security forces arrested 39 Shia pilgrims over their alleged links with Zainabiyoun," the Pakistani defence official said, adding that the investigation was on-going.
Pakistani security agencies are closely monitoring the movements of Shia pilgrims in the country to discern whether they have any links with Zainabiyoun, confirmed Muhammad Abdullah Khalid, an Interior Ministry official in Islamabad.
"Pakistani security agencies are working to unearth the support network of Shia militants in Pakistan," he told Pakistan Forward.
"It is a serious concern for our national security that Pakistani citizens are being used in the Syrian war for sectarian gains," he said.
Pakistani Maritime Security Agency personnel on February 8 arrested 13 suspected militants, including three Iranians, in two boats off the coast of Jawani beach, near Balochistan, Khalid said. "These suspects were illegally moving in Pakistani jurisdiction."
"The 13 suspects ... are under a high level of investigation, and the initial interrogation proved that these people were trying to facilitate the transport of recruits from Balochistan to Syria," he said.
"Earlier, in March 2016, two Shia fighters recruited via Zainabiyoun were also held in ... Quetta," he said, adding that police arrested them after after their return from Syria.
"According to our counter-insurgency officials, fighters recruited undercover in Pakistan for the war in Syria are being paid Rs. 60,000 [$573] to Rs. 110,000 [$1,050] per month," he said.
The salaries are attractive to youth, but many never return home.
"A large number of such fighters have been killed in different parts of Syria," Khalid said.
Fatemiyoun exploiting Afghan youth
In Afghanistan, Fatemiyoun is mainly recruiting Afghan youth from Kabul and from predominantly Shia areas, including Herat, said Wakil Asadullah, a former Afghan lawmaker based in Kabul.
"Fatemiyoun is exploiting Afghanistan's fragile rule of law and human rights situation and is being overlooked by the authorities," he told Pakistan Forward.
In the Dasht-e-Barchi area of Kabul, Fatemiyoun recruiters work undercover, Asadullah said, adding that the group sends some of its recruits to Iran via travel agencies operating in Herat and Kabul.
"The increased recruitment of Shia fighters in Afghanistan is causing an alarming situation for the restive southwestern parts of Afghanistan," he said.
"The Afghan government must take serious action to eliminate Iranian-backed militants in Afghanistan," he said. "These elements are further destabilising the volatile parts of Afghanistan."
Iran fueling sectarianism
"Iran is fueling the sectarian violence in the region, and the recruitment of young Afghans for war in Syria is an attempt to increase tensions between the Sunni and Shia populations in Afghanistan," said Farhad Jahani, a Jalalabad-based security analyst.
"A large number of jobless Afghans drift towards Iran, but once they're there, the militant groups recruit them," he told Pakistan Forward.
"More than 500 Afghan Shia fighters have been killed so far in different parts of Syria while fighting for the Bashar al-Assad government," he said.
A large number of Shia community members from the Mazar-i-Sharif area are part of the Syrian war, most of them recruited by the Fatemiyoun militia, Jahani said.
"In return for fighting, Afghan Shia fighters are offered an Iranian residential permit," he said.
"By providing specialised military training to Shia youth of Afghanistan, Iran aims to prepare a division of fighters that could fight the Taliban and other Sunni militant groups in Afghanistan after the drawdown of foreign forces from Afghanistan," he said.
Tackling root causes of recruitment
"As [elements within] Saudi Arabia and other Gulf countries are supporting the Sunni militant groups, accordingly for Iran it is an ideological project to recruit Shia fighters and promote its [own movement] in other Islamic countries," said University of Punjab professor Hassan Askari Rizvi, an Islamabad-based senior defence and security analyst.
The Pakistani government must take very seriously the recruitment of the country's Shia youth for the Iranian cause, he said. "These practices are expanding the sectarian divide in the country," he told Pakistan Forward.
"The state must address the problems pushing our youth into the hands of outlawed groups," namely unemployment and a lack of basic facilities, he said.
"The Iranian law that allows the government to grant residency to the families of those foreign fighters killed in Syria for the Iranian cause is an attempt to encourage Shia youth to join the war," Rizvi said.
"Militant groups like Zainabiyoun are exploiting poor and vulnerable youth," he said.
"The federal government must take concrete steps to fight unemployment in the country, as doing so will play a key role in foiling the militants' attempt to recruit Shia or Sunni youth for their causes," he said.