KABUL -- At least 80 people were killed and hundreds wounded Wednesday (May 31) when a massive truck bomb ripped through Kabul's diplomatic quarter, just days into the start of Ramadan.
Bodies littered the scene, and a towering plume of smoke rose from the area after the blast in the morning rush hour blew out the windows in several missions and residences.
Witnesses described dozens of cars choking the roads as wounded survivors and panicked schoolgirls sought safety. Men and women struggled to get through security check-points to search for loved ones.
A Western diplomatic source told AFP the vehicle was a water tanker stuffed with more than 1,500kg of explosives and that the blast left a 7-metre-deep crater at the scene.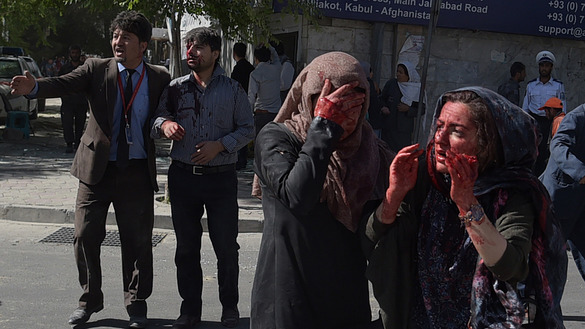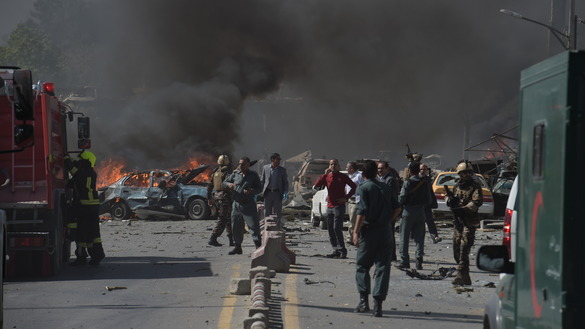 There was no immediate claim of responsibility for the attack, which President Ashraf Ghani called a "war crime".
The Taliban tweeted that they were not involved and "strongly condemn" the blast.
The "Islamic State of Iraq and Syria" (ISIS) has claimed responsibility for several recent bombings in Kabul, including a powerful blast targeting an armoured NATO convoy that killed at least eight people and wounded 28 on May 3.
Hospitals in 'dire need' of blood
More than an hour after the explosion, ambulances were still taking the wounded to hospital and officials were pulling bodies from the rubble as firefighters struggled to control blazes in several buildings.
"Unfortunately, the toll has reached 80 martyred (killed) and more than 300 wounded, including many women and children," said Health Ministry spokesman Waheed Majroh, adding the figures would continue to climb as more bodies are pulled from the debris.
The Interior Ministry, which put the number of wounded at 320, said a suicide bomber had detonated an explosives-packed vehicle in Zanbaq Square at about 8.30am.
The ministry called on Kabul residents to donate blood, saying hospitals were in "dire need".
Embassies damaged, journalists killed
The target was not immediately clear.
The explosion damaged a number of embassies in the area, which houses diplomatic and government buildings and is a maze of concrete blast walls, vehicle barriers and armed security guards.
German Foreign Minister Sigmar Gabriel said the "despicable" attack killed an Afghan guard from the German embassy, and added that some employees had been injured, though he did not give further details.
The BBC said its Afghan driver Mohammed Nazir was killed and four journalists wounded. Local TV channel TOLO TV also tweeted that its staff member Aziz Navin was killed.
Manpreet Vohra, India's envoy to Afghanistan, told media the bomb went off about 100 metres from India's embassy. All staff were safe, he said, though the blast left "considerable damage", including shattered windows.
The explosion also blew in windows at the Japanese embassy, leaving two staffers with mild injuries, a foreign ministry official in Tokyo told AFP.
France, Turkey, the United Arab Emirates and Bulgaria similarly reported damage to their embassies, while India and Pakistan joined in international condemnation of the blast.
Attack shows 'hypocrisy of the enemy'
NATO said the bomb was a VBIED, or vehicle-borne improvised explosive device, and slammed the "barbaric" attack.
"It ... highlights the hypocrisy of the enemy who claim that they only target Afghan security forces and foreign forces, yet continue to cause death and suffering amongst innocent Afghans," it said.
"The vigilance and courage of Afghan security forces prevented the VBIED from gaining entry to the Green Zone [which if successful would have cost more lives and damage], but the explosion caused civilian casualties," NATO's Resolute Support Mission in Afghanistan said in a statement.
US Ambassador to Afghanistan Hugo Llorens issued a scathing statement condemning the "complete disregard for human life", saying those behind the attack deserved our "utter scorn".
An inhuman, anti-Islamic act
Members of parliament and other Afghans condemned the killing of innocent people.
"The Afghan people are facing an enemy that does not believe in Islam and human rights," MP Haji Mohammad Abdo of Balkh Province told Salaam Times. "It killed innocent people during holy Ramadan."
He asked the Afghan National Defence and Security Forces and intelligence agencies to step up operations against terrorist groups to protect civilian lives.
Abdo urged the Afghan government to persuade its international allies to provide more assistance in the fight against terrorism.
Whichever terrorist group carried out Wednesday's attack, it is against Islam and against Afghans, said MP Humaira Ayubi of Farah Province.
"Our enemy killed the innocent, and beyond that, it tries to destroy our public and our industry and infrastructure," she told Salaam Times. "Today it destroyed an Afghan Telecom office and a TV station as well."
Ayubi asked all Afghan politicians to sit together and find the solution to stop the killing of Afghans.
"Most of today's victims are innocent and ordinary people who left their house to earn money to take bread to their families tonight, but terrorists killed them," Mohammad Fahim, a human rights activist in Kabul, told Salaam Times.
It is unacceptable to believe in terrorists who kill Afghans and Muslims during the holy month of Ramadan and claim they are doing 'jihad', he said. "Now people know their [claims] are lies."
"Killing dozens and injuring more than 300 non-military [civilians] without any reason show the terrorists' ruthlessness," said Amin Amini, a student at a private university in Kabul.
A string of deadly assaults
Wednesday's blast was the latest in a string of attacks in Kabul this year, with civilians bearing the brunt of the violence.
Twin blasts near parliament January 10 killed 38 people and wounded 86.
On February 7, a suicide bomb ripped through a crowd of Supreme Court employees, killing at least 20 and wounding 41.
Sixteen people were killed March 1 in simultaneous Taliban suicide assaults on two security compounds in the capital.
A week later, on March 8, gunmen disguised as doctors stormed Afghanistan's largest military hospital in a six-hour attack officially claimed by ISIS. The official death toll is 50, but security sources and survivors say it exceeded 100.
[Najibullah from Kabul contributed to this report.]