KABUL -- In a recent gathering of almost 2,000 Afghans in Kandahar, participants spoke out of their support for the new US strategy in Afghanistan, which calls for a continued US military presence.
Tribal leaders, village elders, community chiefs, members of parliament, members of provincial councils, advisors to President Ashraf Ghani and Afghan government Chief Executive Abdullah Abdullah, and representatives of various tribes from Kandahar, Helmand and Zabul provinces assembled in the southern Afghan city August 26 to support the new US pledge.
The participants emphasised the need to continue fighting terrorism in the region.
Laalia Hamidzai, a member of parliament from Kandahar, voiced support for the new US strategy at the meeting, saying those who oppose it support the terrorists.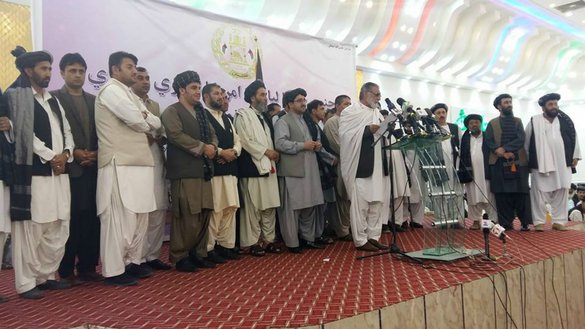 Sayed Jan Khakrizwal, Kandahar's provincial council chairman, also welcomed the US new strategy.
"We are united and ready to fight those who are coming and killing our soldiers and civilians," Khakrizwal said, adding "Our patience is finished."
A week earlier on August 22, Afghans welcomed US President Donald Trump's speech that pledged to keep US troops in the country until the militancy, which has wreaked havoc across Afghanistan for years, had been defeated.
"The consequences of a rapid exit are both predictable and unacceptable," Trump said, adding that such an exit would cause a vacuum that terrorists "would instantly fill".
Dawud Gulzar, an advisor to Ghani and a tribal elder from Zabul Province, also expressed his support for the new strategy and requested the US blacklist certain regional religious parties that are on the same page with groups like the Haqqani Network.
The Haqqani Network has claimed responsibility for many terrorist incidents in Afghanistan over the years.
Commitment to Afghanistan
Afghan citizens, who have wearied of militant attacks on public facilities and the killing of civilians, echoed the sentiments of the Kandahar meeting.
"The adoption of a new strategy by the United States shows its commitment towards Afghanistan, a move that in and of itself is a source of hope for the people of Afghanistan," Ahmad Behruz, a Kabul political analyst, told Salaam Times.
Aminullah, 23, a Kabul university student, noted the country's need for help from the international community.
"Kabul needs the co-operation of its allies, especially from the United States, because of the support that terrorists in Afghanistan receive from some countries in the region," he said.
"The people of Afghanistan have new hope that their soldiers are not alone," Aminullah told Salaam Times. "[The announcement] sends a message to the militants that they cannot succeed in their fight against Afghanistan and its international allies."
Zulikha, 26, a student at Kabul University, commended the lack of a departure date for US soldiers.
"It is now time for Taliban militants to join the peace process and to participate in the reconstruction of Afghanistan, or else they will be destroyed," she said.