HERAT -- The Habibyar welfare organization paid the wedding expenses of 100 couples and organized a group wedding ceremony for them on November 12 in Herat city.
Engaged for years, many of these young couples could not afford wedding expenses because of economic problems.
Most of the young men had worked for years in Iran to make money for their wedding expenses but without any success, said Abdul Haq Sediqi, director of the organization.
"We helped these young couples -- most of whom are poor and unemployed -- to start a family," he said. "These young men had to work as laborers in Iran to cover their wedding expenses, but we helped them to escape suffering and migration."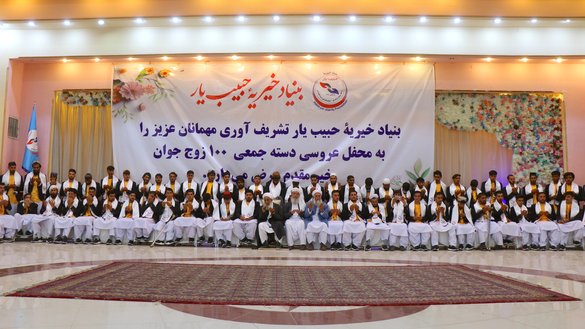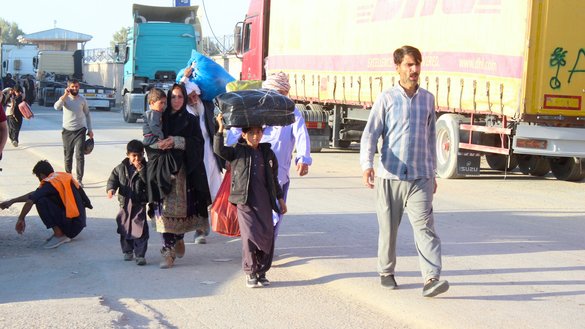 "In addition to organizing a wedding ceremony, we also purchased household items worth 100,000 AFN ($1,440) for each couple as dowry," he added. "We also paid for one month's household expenses of these couples such as food items, so they do not have to depend on others."
The organization will help other young couples in the future to start their families by organizing group wedding ceremonies and helping them escape the pain and suffering of migration to Iran, Sediqi said.
Sadiq Ehsani, 27, one of the grooms in the group wedding, had been engaged to his fianceé for two years.
He said he was forced by his impending wedding expenses to migrate to Iran.
"I worked for two years in Iran to make money for my wedding. But since I had to work secretly out of fear, my wages were very low," he said. "I earned only 50 million tomans [$1,100] in two years, but the Iranian police took half of it when they detained me."
"I had to go through so much while working in Iran. Day and night I had no peace of mind fearing the police," he added. "I sent half of my money to my family in Herat and kept half of it with me."
"Around two months ago, the police raided my room, detained me along with my friends, and deported us. They took all our money and severely beat us when we objected."
Ehsani said he would have had to go back to Iran and stay away from his family for four to five more years to earn money for his wedding had the welfare organization not assisted him.
Brutality and torture
The Iranian regime has intensified the deportation of Afghan refugees from its territory in recent weeks.
Iranian authorities are deporting about 8,000 Afghan migrants daily through the Islam Qala and Milak border crossings, located in Herat and Nimroz provinces, respectively, say Afghan officials.
Those numbers are nearly double those from a month ago.
Muzamil, 26, a resident of Kapisa province, spent six days and nights in police custody in Iran, during which he was severely tortured.
"Fifteen of us were working in an orchard in Kerman city when the police came at night and detained all of us," he said Sunday at the Milak border crossing.
"Iranian police took our money and cell phones, which they never returned. They also beat us on the way to the detention center."
"The Iranian police have become very harsh towards Afghan refugees," Muzamil said. "They beat and torture Afghan refugees on the way to as well as in detention centers ... The police were extremely inhumane to us."
The Iranian government does not feed Afghan refugees in its detention centers. It tortures them by keeping them hungry and thirsty, Muzamil said.
Mohammad Ibrahim, 27, a resident of Parwan province, said he had worked for six months in a factory in Iran when Iranian police picked him up and deported him.
"I returned to my country in my work uniform. I had gone to Iran to work and earn a living for my family, but they deported me while my money was left with my employer," he said.
"I don't even have the cash on me to go to my home province ... I had borrowed money to go to Iran in the first place," he added.
"The conditions for Afghans in Iran have become very difficult. Iranian police do not hesitate to subject refugees to any form of mistreatment. They take money and belongings from Afghans wherever they find them and send them to prisons," Ibrahim said.
Living in fear
The Afghans remaining in Iran face a difficult life.
Feroz Ahmad, 32, lives in the Iranian city of Yazd along with his wife and four children.
The police are not accepting residence permits issued by the Iranian government, he said.
"The detention and deportation of Afghan refugees have intensified across the country for almost a month now," he said. "Although I have a residence permit, I can't leave my house because of fear. Some of my Afghan friends who had two-year residence permits have been detained by the police and deported to Afghanistan."
"I am a laborer and need to work to support my family. But right now, I can't go to my workplace for fear of police," he added. "In the current situation, Afghans have a very difficult life because of pressure from the Iranian government."
Iranian police enter the houses of Afghans at night and deport them to Afghanistan after taking their money and belongings, Ahmad said.
Safiullah, another Afghan refugee in Iran, said that he has not been to work for three weeks and has been hiding on a farm.
"I am the only breadwinner for my family of six, and had to work in Iran to provide for them," he said. "There is no work in Afghanistan; therefore, I had to migrate to Iran. I work in a plastic factory. I have been hiding in this difficult situation so that the police cannot find me."
"I live in fear and trauma. I have been suffering from mental health problems. I feel that the police may come any moment to torture and detain me," he added.
"Afghans in Iran are in very difficult and unbearable conditions."