HERAT -- Afghan refugees recently deported from Iran who spoke to Salaam Times from the United Nations (UN) camp in Herat city last week said they had witnessed beatings, torture and extortion carried out by the Iranian forces.
Iranian soldiers detained Ghor province native Gulbuddin Tajik at his workplace and took all his money from him, the 31-year-old told Salaam Times on Thursday (September 14) from the Herat city camp.
Tajik said he was imprisoned and deported after a month, actions he described as typical of the type of harassment Afghan immigrants face in Iran.
"Iranian security forces arrest and detain Afghans to extort money from them," he said. "Detainees who don't pay are kept in detention for months."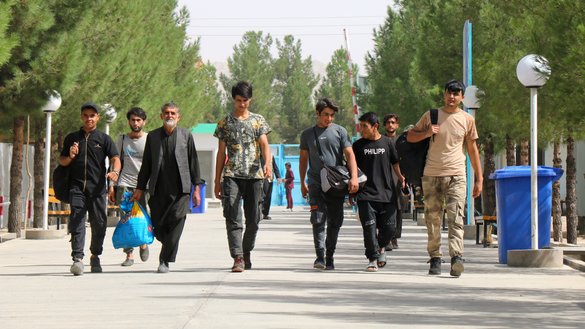 Tajik said this is not the first time he has faced such harassment.
"I went to Iran last year as well for work," he said. "Iranian police detained me at my workplace and imprisoned me for six months."
"In the beginning, they asked me for money, but I didn't have any to pay them, so they kept me in detention," he said.
After six months, Tajik said, he was able to raise the 20 million tomans ($444) the Iranian government demanded of him with the help of his family and friends, and he was released.
Kabul native Shakerullah Khaksar, 32, also speaking from the UN camp, accused the Iranian government of detaining refugees without any legal justification.
"An innocent relative of ours was imprisoned in Iran for a year and eight months," he said. "The Iranian government did not release him until his family paid 30 million tomans ($667)."
The relative was deported to Afghanistan "a few days ago," he said.
He accused Iranian forces of detaining Afghan refugees "to clean prison toilets," and said refugees have been subjected to torture in prisons.
Sometimes the ill treatment is motivated by money, he added, accusing the Iranian military of treating Afghan refugees violently "to extort money from their families."
'Extortion and torture'
Kabul province native Aminullah Haidary, 24, who was recently deported from Iran, is currently residing at the UN camp in Herat city.
He told Salaam Times he had witnessed Iranian forces beating Afghan refugees who had not committed any crime, and accused the Iranian government of detaining Afghans merely to extort money from them.
He said detainees are forced to remain at detention centers unless they pay.
"Police in the camps and detention centers harass Afghans just for fun," Haidary said. "They have no regard for Afghans and do not care about their needs."
Herat province native Barakatullah Mohammadi, also recently deported from Iran, said Iranian soldiers took all his money on the way.
"I was working in a shop in Kerman province of Iran," he said from the UN camp in Herat city Thursday.
"Police came and transferred me to prison without letting me take my salary of 5 million tomans ($111)," he said. "I had 2 million tomans ($44) in cash with me, all of which they took from me."
"The Iranian security forces severely beat us when they transferred us to the car to bring us to the border and were demanding money," he told Salaam Times. "But none of us had any money left to pay them."
Iranian soldiers humiliate Afghan refugees and do not see them as human beings, Mohammadi said.
Violation of human rights
By mistreating Afghan refugees in Iran, Iranian military forces show they have no respect for the law, Herat-based human rights activist Jamshid Haqyar said.
The arbitrary detention of Afghan refugees by the Iranian security forces is a violation of human rights and must stop immediately, he said.
"Circumstances have forced Afghans to seek refuge and work in Iran and find food for their families," he said. "The mistreatment and detention of these refugees have made their lives bitter."
"People who commit a crime should be dealt with in accordance with the law," Haqyar said. "But extrajudicial and arbitrary detention of Afghan workers in Iran has no justification."
"The Iranian government must be held accountable for detaining and torturing Afghan refugees in that country," he said, adding that it is obliged to treat Afghan refugees in accordance with internationally accepted laws and principles.
Increasingly severe pressure by the Iranian government has made life for Afghan refugees difficult in that country, Badghis province activist Mohammad Zubair Nasrat told Salaam Times.
"As a neighbor, Iran treats Afghan refugees in that country in the worst way," he said, describing the Iranian government's conduct as "inhumane and un-neighborly."
"For years, the Iranian military has been detaining, torturing, mistreating and killing Afghan refugees in its borders and cities," Nasrat said. "The Iranian regime has developed a habit of persecuting Afghans."
"International human rights organizations must act against the Iranian government's violence and oppression it commits against Afghan refugees," he said.
"The more there is silence, the more the Iranian military will commit violence against Afghan refugees and violate their rights."