KABUL -- Iran is directly supporting the Taliban through arms deliveries and the payment of millions of dollars as part of an effort to destabilise Afghanistan, a leader of a Taliban splinter group told Salaam Times.
"Iran has paid $11 million [750 million AFN] to the Taliban shadow governor for Helmand province and they have used this money to wage war against us, as well as against the Afghan government in 10 provinces," said Mullah Manan Niazi, the deputy leader of a Taliban splinter group under Mullah Muhammad Rasool.
Rasool is said to have had a close relationship with Taliban founder Mullah Mohammad Omar. After Mullah Omar's death, which occurred in 2013 but which the Taliban disclosed only in 2015, Mullah Akhtar Muhammad Mansoor succeeed him as commander of the main Taliban faction, prompting Rasool to split from the main Taliban group and form his own movement, the "High Council of Afghanistan Islamic Emirate".
Mullah Mansoor was killed in an air strike in Balochistan, Pakistan, as he returned from a trip to Iran. Mullah Haibatullah Akhundzada replaced him.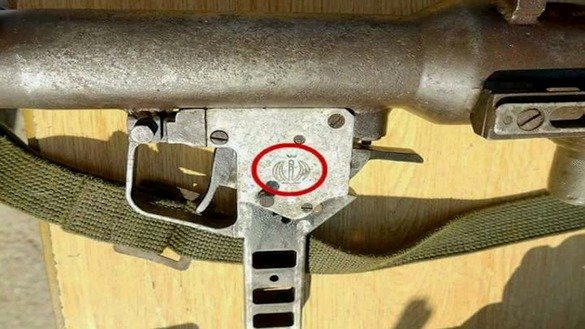 "Before his death, Mullah Mansoor had met with Iranian officials in Tehran and also with a Russian delegation on the Iranian island of Kish," said Niazi, a governor of Balkh and Herat provinces under Taliban rule (1996-2001).
"Mullah Mansoor and Mullah Haibatullah both were insignificant players within the Taliban," Niazi told Salaam Times. "Pakistan, Iran and Russia, however, strengthened them by providing them financial and arms support in order to implement [those countries'] own plans."
"Those Taliban members fighting against us [are] using Iranian and Russian weapons and ammunition," he said.
"Both Mullah Haibatullah and the Haqqani Network enjoy strong financial and arms support," he said. "They have no desire for peace, stability, security or the development of Afghanistan. By accepting [foreign support], they murder Afghans, destroy dams and public facilities and prevent Afghan solidarity."
Iranian tactical support for Taliban
"For tactical reasons, Iran has been providing support to the Taliban in southern and western Afghanistan for several years," Rahmatullah Nabil, former director of Afghanistan's National Directorate of Security, told Salaam Times.
"The Taliban appointed a small group as their political representative to Iran," he added, confirming that Mullah Mansoor travelled to Iran "frequently" before his death.
This is all evidence that Iran's Islamic Revolutionary Guard Corps (IRGC) is "active in supporting the Taliban at the tactical level", Nabil said.
"According to information provided by reconnaissance and intelligence forces, as well as local eyewitnesses, approximately eight months ago in Helmand province, a number of Iranian diplomats and intelligence officials met with Taliban commanders in the Safar area of Garmsir District, as well as in Musa Qala District," said Omer Zwak, a spokesman for the Helmand provincial governor.
"Iran's interference in Afghanistan's internal affairs grown to the point where Taliban militants have been using Iranian-made rocket launchers and anti-personnel mines during recent battles in Helmand," he told Salaam Times.
"Iran distributes arms and ammunition to the Taliban and plans to utilise the Taliban to destroy the infrastructure of this province and to prevent the construction of public facilities on the Helmand River," he said.
"Another reason for the Iranian support and funding of the Taliban is to keep the flames of war alive and burning, so that Iran can take advantage of instability in Afghanistan to steal a larger share of the Helmand River's water," Zwak said.
Interference in Afghanistan's internal affairs
Iran's support for the Taliban and its arms deliveries constitute "interference in Afghanistan's political and military affairs," said Kabul University professor Tahir Hashemi.
"Moreover, the killing of our security forces and our country's citizens with Iranian-made weapons represents indirect Iranian warfare against the Afghan government and Afghan nation," he told Salaam Times.
"Throughout history, Iran has never wanted Afghanistan to enjoy stability, security and a strong system of government," he said. "If there are peace, stability, and a strong political and economic system in our country, Iran cannot achieve its goals."
"The Taliban consist of criminals, insurgents, drug traffickers and gemstone traffickers ... and they are fighting the Afghan people and government," said Lt. Gen. Abdul Hadi Khalid, a former deputy interior minister.
"The Afghan government has always been ready to embrace members of the Taliban who are fed up with fighting and don't want to work for the benefit of foreign countries," he told Salaam Times. "In fact, over the years thousands of Taliban members have laid down their arms and have joined the peace process -- and the doors are still open for others to join."
"The continuation of war will be extremely dangerous and bloody, both for the Taliban and for Afghanistan," he said. "It will also pave the way for further intervention [in Afghanistan's affairs] from neighbouring countries."
"Peace will benefit both the Taliban and the Afghan government," Khaled said.