WASHINGTON, DC -- The United States Monday (March 5) called on the Taliban to consider an offer for peace talks extended by Afghan President Ashraf Ghani.
Ghani at the Kabul Process peace conference last week unveiled a plan to open talks with the Taliban, including eventually recognising them as a political party.
In return, Ghani said the militants should recognise the Afghan government and constitution, a perennial sticking point in past attempts to open talks.
Taliban spokesman Zabiullah Mujahid maligned the Kabul Process, tweeting that the conference sought the Taliban's "surrender".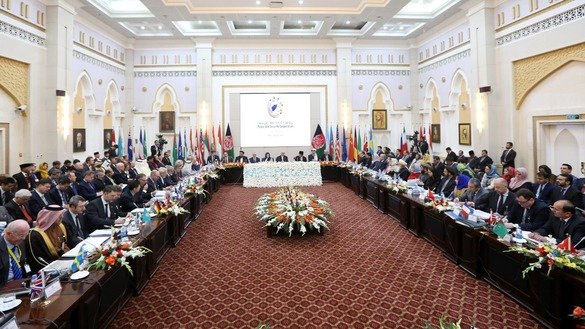 Principal Deputy Assistant US Secretary of State for South and Central Asian Affairs Alice Wells said she was struck by Ghani's proposal.
"I heard him offering a dignified process," she told reporters.
"This is not a surrender that's being offered to the Taliban but a dignified process for reaching a political framework," she said, adding that the Kabul conference was "a historic benchmark event."
Wells said the Afghan government had "listened carefully" to the Taliban and was responsive to a number of their requests.
Ghani's offer was "quite forward-leaning and frankly I think probably caught the Taliban by surprise", she said. "This was quite a courageous offer."
"We certainly encourage the Taliban to take this offer seriously," she said, adding, "It does put the onus on the Taliban to respond."
Last week, the Taliban said it was prepared to enter direct talks with the United States to find a "peaceful solution" to more than 16 years of war.
That statement, however, made no mention of negotiating with the Afghan government -- a condition that the US government has long stated is vital to any peace process.