Iran's Islamic Revolutionary Guard Corps (IRGC) has strong ties with al-Qaeda, as evidenced by Iran's hosting of a large number of al-Qaeda elements on the run from international authorities.
Among them are Saif al-Adel and Adel Radi bin Saqr al-Wahabi al-Harbi, who are accused of masterminding twin suicide attacks on the US embassies in Kenya and Tanzania on August 7, 1998.
The relationship between al-Qaeda and Iran began during the era when Osama bin Laden was the group's leader, according to Nabil Naeem, a founding member of the Islamic Jihad in Egypt who has renounced extremism.
That relationship has continued after bin Laden's death, he said.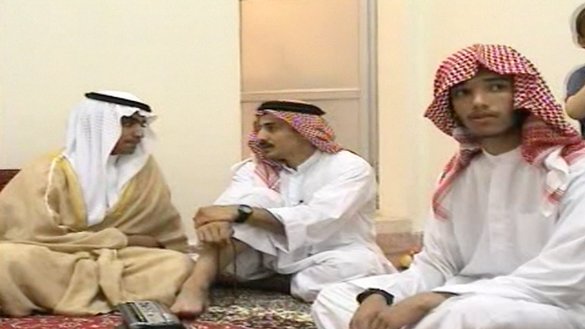 "Some information indicates the relationship began in 1992," he said, noting that "Iran is the primary haven for al-Qaeda elements and leaders wanted internationally on terrorism charges".
Gen. Qasem Soleimani, commander of the IRGC's elite Quds Force, "is the architect of the relationship between the IRGC and al-Qaeda", Naeem said.
Before he was killed in 2008, Hizbullah military commander Imad Mughniyeh also "played an important role in training [al-Qaeda] elements, particularly on the methods of booby-trapping and bombing", he added.
Al-Qaeda's relationship with both the IRGC and Iranian intelligence is strong, he said, noting that "the symbolism of the relationship was manifest when Iran hosted the family of al-Qaeda leader Osama bin Laden".
Both sides have been stoking sectarian tensions for years, Naeem noted, with "the IRGC portraying itself as protecting the rights of Shia and defending them, and al-Qaeda using the same tactic with the Sunni community".
Hosting wanted terrorists
Investigations into the September 11, 2001 attacks in the US "confirmed that Iran provided logistical and material support to, and facilitated the movement of the elements who carried out the attacks", said former Saudi military attaché Maj. Gen. Mansoor al-Shehri.
"Many of those wanted for committing [terrorist] crimes were hosted by Iran, including Adel Radi [bin Saqr al-Wahabi al-Harbi] and Saif al-Adel, for their role in the bombing of the US embassies in Kenya and Tanzania," he added.
This exposes Iran to international criminal prosecution, he said, because those individuals "are wanted by a number of countries, as well as Interpol".
Adel Radi, who resides in Iran, is 18th on Saudi Arabia's 2011 most-wanted list, as "he traveled to Afghanistan to join al-Qaeda and played a major role in promoting the group's ideology online", al-Shehri said.
Adel Radi currently specialises in "co-ordinating the movement of elements and funds through Iran and co-ordinating the movement of elements in South Asia and the Middle East", al-Shehri said.
His work is tied to that of al-Qaeda senior facilitator and financier Ezedin Abdel Aziz Khalil, who is better known as Abu Yasin al-Suri, he said.
Saif al-Adel's real name is Mohammed Salah al-Din Zaidan, al-Shehri said, noting that his name was thought to be Mohammed Makkawi until the real Makkawi was arrested by Egyptian authorities in 2012.
It was then discovered that al-Adel used the name Makkawi to throw the authorities off his track, he said.
Saif al-Adel was an Egyptian military officer before defecting and joining al-Qaeda. He was in charge of the group's training camps, and was temporarily appointed deputy chief on May 17, 2011, after the killing of bin Laden.
"In addition to the operations that targeted US interests, including the twin bombings in Kenya and Tanzania, he planned and ordered from his refuge in Iran the attack in Riyadh, Saudi Arabia, in 2003," al-Shehri said.
"He was the group's military leader at the time. The bombing left 35 people dead, including nine Americans, and consequently the reward for his arrest was raised from $5 to $10 million," he added.
A haven for al-Qaeda
"The IRGC set up an entire area to serve as a haven for al-Qaeda emirs and elements given refuge by Iran," said strategy analyst and terror group specialist Maj. Gen Yahya Mohammed Ali, who is retired from the Egyptian army.
"The area is mountainous and was used during the Iran-Iraq war as a detention camp for Iraqi soldiers," he told Al-Mashareq. "It is 15 kilometres north of [Ruhollah] Khomeini's mausoleum, near the Behesht-e Zahra cemetery on the highway that links Tehran with Qom."
This in addition to the camp in the city of Tang-e Kenesht in Kermanshah province, and a special section for al-Qaeda in Sahel al-Rouh camp near the port of Bandar Anzali on the shores of the Caspian Sea, he said.
Media and intelligence reports confirm "the existence of camps in Iraq for training al-Qaeda elements by the IRGC, specifically in Ain al-Tamr district in Karbala province", Ali said.
Key al-Qaeda elements who have sheltered in Iran at some point include Mohsen Ayed Fadhil al-Fadhli, "one of the most dangerous Kuwaiti elements and one of the most prominent al-Qaeda leaders in Iran", he said.
Al-Fadhli was killed in an airstrike in Syria in 2015.
Other high-profile names include Osama bin Laden's son-in-law Suleiman Bou Ghaith, who has been a spokesman for the group, and Jordanian national Abu Musab al-Zarqawi, the first emir of al-Qaeda in Iraq, who was killed in 2006.
They include "operational planner" Abdullah Ahmed Abdullah, also known as Abu Muhammad al-Masri, who is wanted in connection with the 1998 embassy bombings in Tanzania and Kenya; and Abd al-Aziz al-Masri, an instructor in al-Qaeda's camps in Afghanistan who took part in an unsuccessful attempt to hijack a Pakistani air passenger flight in December 2000.
They also include senior al-Qaeda leader in Afghanistan and group spokesman Abu al-Leith al-Libi; and Abu Dujana al Basha, also known as Abu Dujana al-Masri and now deceased, who was known as the so-called "hidden commander" and played a key role in the establishment of al-Qaeda's South Asia branch.
Among them was Libyan national Abu Anas al-Libi, now deceased, an al-Qaeda computer specialist indicted for his role in the 1998 embassy bombings; and Mohammed Khalil al-Hakaima, author of "The Management of Savagery", who was known to operate as al-Qaeda's head of media and propaganda in Iran.
Ahmad Hassan Abu al-Khair al-Masri, said to be the group's second-in-command, was killed in 2017 in Syria's Idlib province and is another name among the exhaustive list of al-Qaeda leaders with an Iran connection.