KUNDUZ -- Dozens of young aspiring models on September 4 took to the streets of Sheberghan, capital of Jawzjan Province, demanding that insurgent groups stop fighting and instead work for peace in the country.
Dressed in traditional clothing and showing off their modeling skills, the group presented a folkloric fashion show as part of a campaign launched by the Lincoln Learning Centre in Sheberghan.
"Dozens of educators, civil society activists and several professionals active in the field of modeling donned various Afghan ethnic and traditional garments and marched... to the [Jawzjan] provincial government's headquarters, carrying banners with messages of peace," said Malalai Mubarez, 30, one of the organisers of the march.
"At the gate of Jawzjan's provincial government headquarters, [the marchers brought] the name of each province with slogans of peace and unity written across Afghanistan's map," Mubarez told Salaam Times. "Through this programme, we want to give a new life to the word 'peace' in everybody's mind."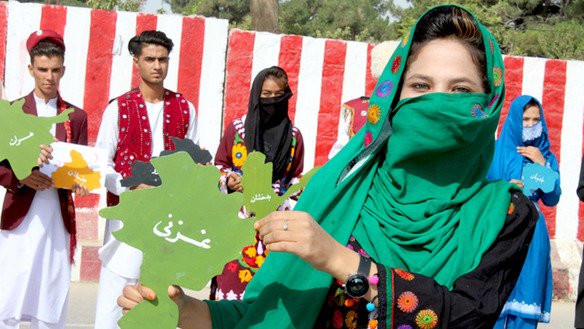 "We want to spread the message of peace among the public and to inspire [the public]. We want [the campaign] to be... an incentive for others to understand what peace is and to what extent it's necessary," she added.
The group is planning to organise several other events to encourage Afghans to support peace in Jawzjan, said Mubarez.
A desire for lasting peace
The goal of the campaign was to raise awareness among local residents about peace and to rally grass-roots support for the peace process, said Florence, 27, a civil society activist in Jawzjan.
"We are showing society through this cultural display that we want comprehensive peace, and it is through the existence of peace that we can live safely," Florence told Salaam Times. "[Afghans] are waiting for happy days."
"Peace is a social necessity for all Afghans," said Mohammad Elias Omari, 32, a social activist in Jawzjan.
"The Afghan government should spare no efforts to support the rights of the population," Omar told Salaam Times.
Another social problem that has created rifts within the population of Afghanistan are ethnic and tribal tensions, some of the locals observed.
"Some circles are trying to foment divisions among various ethnic groups living together in this country and to split them into separate groups and tribes," said Mohammad Akbar Sakhizada, one of the participants in the march.
"[Actions such as the campaign] can have an impact on eliminating [those] differences among ethnic and tribal groups," he said.
"In recent years, tribal and gender discrimination has increased in different provinces," Sakhizada told Salaam Times. "Afghans have segregated themselves into dozens of various tribes and ethnic groups... today, we wanted to show the public through this campaign that we are united with our brothers of every ethnicity and tribe."
"We are all each other's brother," he said. "Whoever creates animosity among us is the enemy of all Afghans."
A nudge for the peace process
Organisations and groups that launch such grass-roots campaigns to support peace play a significant role in informing the public about stability, said Mawlawi Mohammad Akram, chairman of Jawzjan's Peace Council.
Such programmes help groups and individuals to understand the concept of peace and to seek various paths to peace in the country, Akram told Salaam Times.
"Every institution that plans to support peace is, in fact, taking a good step," said Akram. "War is not a solution, and it has never yielded positive results. Afghans need peace, and we welcome such actions."
Through creating local co-operation councils, [the campaign] is trying to support the peace process, he said, adding that the campaign has aunched various employment projects.
Since 2011, more than 900 Taliban fighters in Jawzjan have joined the peace process, which has helped [us] in securing this province, Akram said.
The surrender of more than 150 "Islamic State of Iraq and Syria" (ISIS) fighters in Darzab District in Jawzjan to Afghan forces has also made the province more secure, he added.
Following the ceasefire during Eid ul Fitr with the Taliban, the Taliban's interest in the peace process and reconciliation has increased, said Sayyed Sharif Alamyar, 36, a resident of Jawzjan.
"Many were hoping to witness [another] ceasefire during Eid ul Adha; the Taliban, however, refused to respond," he told Salaam Times.
Islam teaches peace
Youth in Sheberghan are not the only ones calling for peace in Afghanistan.
As numerous movements take to the streets, scores of religious scholars from Afghanistan and ulema from across the Muslim world have declared the Taliban's fight haram.
Peace is a blessing that guarantees safety, security, rule of law, justice and preservation of material and moral values, according to Mawlawi Sayyed Akbar Sirat, a religious scholar from Kunduz city.
"Peace and security contribute to the growth and fulfillment of aspirations and hopes; war, on the contrary, afflicts all the material and spiritual assets of a society and [the] country," Sirat told Salaam Times.
"Scholars have always made their peaceful voices heard by the Muslim community," he said, adding that "peace is a sacred word. All involved parties should positively respond to this public call."