KABUL -- US special representative to Afghanistan's reconciliation, Ambassador Zalmay Khalilzad, wrapped up a visit to the region Saturday (October 13), briefing Afghan officials about his meetings with top diplomats and senior ministers from around the region.
Khalilzad arrived in Kabul October 7, his first trip to the Afghan capital since being appointed to lead the peace efforts with the Taliban, AFP reported.
As part of that effort, Khalilzad's tour took him to Pakistan, the United Arab Emirates, Saudi Arabia and Qatar, before returning to Kabul to brief Afghan President Ashraf Ghani and Chief Executive Abdullah Abdullah.
"The United States shares the aspirations of all Afghans for a peaceful Afghanistan where all Afghans see themselves included," Khalilzad said, according to a US Embassy statement released Saturday at the end of his four-nation tour. "All citizens of Afghanistan must be a part of this reconciliation process."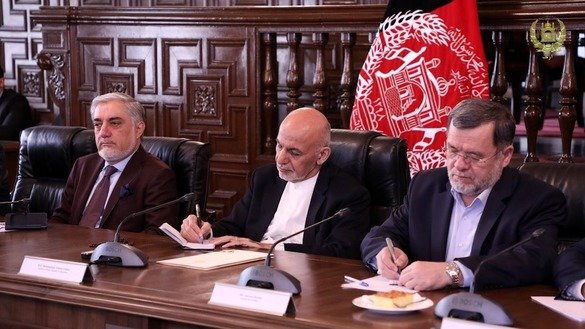 A statement issued Saturday by Ghani's office said Khalilzad told Ghani and Abdullah that the United States was "ready to do anything to help with the peace process," but insisted the process should be led by the Afghan government.
Prospects for peace
The Taliban also released fragmentary messages to journalists Saturday, saying Khalilzad met Taliban representatives in Doha, the Qatari capital, to discuss ending the Afghan conflict.
The meeting with Khalilzad and other American officials took place Friday (October 12) in Doha, according to Taliban spokesman Zabiullah Mujahid.
"Both sides spoke (about) an end to the occupation and a peaceful solution to the Afghan issue ... Both sides agreed to continue meeting in the future," he said in a statement.
Another unnamed senior Taliban member said Khalilzad had asked the Taliban leadership to declare a ceasefire in Afghanistan for six months, in time for the planned October 20 parliamentary vote, according to Radio Free Europe/Radio Liberty (RFE/RL).
"Neither side agreed to accept the other's demands immediately, but they agreed to meet again and find a solution to the conflict," said a Taliban official who asked not to be identified.
"Both sides discussed prospects for peace," another unidentified Taliban official said.
The US Embassy statement issued Saturday about Khalilzad's tour did not confirm his meeting with the Taliban.
However, on October 11, State Department spokesperson Heather Nauert said Khalilzad was "making headway."
"This is something that will be Afghan-led, Afghan-owned, but supported by the US government," she told reporters, according to the Voice of America.
In July, the Taliban reportedly met with US officials, including Alice Wells, the senior official for the State Department's Bureau of South and Central Asian Affairs.
Neither side would go on the record to confirm that meeting, but there has been speculation since then that more talks were planned, AFP reported.