KABUL -- President Ashraf Ghani reassured the residents of Kandahar Province in a public address after an insider attacker killed the powerful provincial police chief Gen. Abdul Raziq Thursday (October 18).
Raziq and a journalist were among at least three people killed on Thursday when a gunman opened fire on a high-level security meeting attended by top US commander Gen. Scott Miller in Kandahar.
"It is with great sadness that I report today in a painful incident the police chief of Kandahar and the provincial head of the National Directorate of Security (NDS) were martyred," Ghani said in his address shortly after news about the incident broke out. "I express my condolences to the people of Kandahar and the nation."
"Kandahar's security situation is being evaluated, and moments ago I held a security meeting and gave instructions about the security of Kandahar," he said. "Among those instructions, one is that NDS chief Masoom Stanekzai and high ranking officials from the defence and interior ministries, as well as our brave commando forces, will arrive in Kandahar tonight."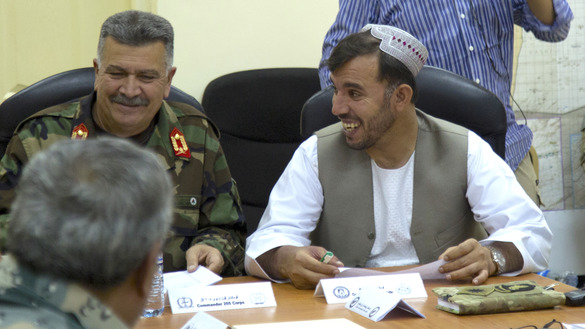 In a Twitter post, the Taliban said Gen. Miller and Raziq were the targets of the attack.
Gen. Miller was not hurt in the shooting, the spokesman for NATO's Resolute Support Mission, Col. Knut Peters, said in a statement.
"General Miller is uninjured. We are being told the area is secure. The attacker is dead," Col. Dave Butler, the spokesman for US Forces-Afghanistan, said in a tweet Thursday, adding in a later tweet that one US service-member and one US civilian were wounded in the incident.
Security forces swarmed the city of Kandahar after the shooting that shuttered shops and sent terrified civilians -- already on high alert for attacks -- into their homes.
Six of Gen. Raziq's bodyguards and two intelligence officers were wounded in the attack that was carried out by one of the governor's security personnel, according to AFP, citing a senior government official who spoke on the condition of anonymity.
An Afghan journalist working for the Afghan media also died, NAI, a non-profit media support group advocating for free media in Afghanistan, said in a Thursday statement.
A hospital official told AFP that several senior officials had been brought to the medical facility, but the hospital would not provide further details.
Raziq, an anti-Taliban strongman, was widely seen as a bulwark against the insurgency in Kandahar, the militant group's birthplace, and had previously survived multiple assassination attempts.
"I assure my fellow Afghans and especially the residents of Kandahar that soon the situation will return to normal," Ghani told the Afghan people in his public address.
International condemnation
A host of countries and world leaders came out and condemned the Taliban's attack Thursday.
"Pakistan strongly condemns the terrorist attack" in Kandahar and "stands with the Afghan government and people and reiterates its support for the Afghan democratic process," Pakistan's Ministry of Foreign Affairs stated.
"We hope that the parliamentary elections due to take place the day after tomorrow would be held peacefully. Strengthening of democracy is key to long term peace and security in Afghanistan," the statement continued.
Indian Prime Minister Narendra Modi in a tweet said, "Deeply shocked and saddened by the dastardly terrorist attack in Kandahar. India condemns it most strongly and mourns with our Afghan brethren the loss of life, including that of Kandahar's senior leadership."
"Shocked by today's killings in #Kandahar. Deepest sympathy for the bereaved. We stand firm with Afghans in the face of violence and all attempts to derail political progress and peace," British Ambassador to Afghanistan Nicholas Kay wrote on Twitter.