HERAT -- Afghan forces are cracking down on Taliban militants who have been extorting money from traders and other citizens at illegal customs checkpoints along the Farah-Herat and Herat-Kabul highways.
After setting up these temporary customs posts, the Taliban "tax" truck drivers based on the value of their merchandise, handing them receipts stamped with the emblem of the so-called "Islamic Emirate of Afghanistan".
To stop the sham taxation, Afghan security forces have stepped up patrols along the highways, forcing the militants to dismantle the checkpoints and flee, according to local authorities.
"Commercial caravans on the Farah-Herat highway in the Farah Rud area were being stopped by the Taliban, who would harass and abuse the drivers," Farah Police Chief Rahmatullah Sediqi told Salaam Times, referring to an area in Balaboluk District.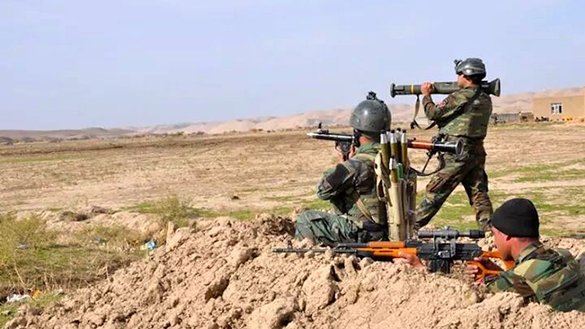 "Once the drivers told us about the situation, we came to the area and stopped the Taliban's extortion campaign at the Farah Rud junction," he said. "While in the past the Taliban used to fire upon commercial vehicles, these vehicles are now able to travel through the area, and we have eliminated the Taliban's harassment."
Government forces are similarly on the move in Herat Province.
"Businessmen in the western regions of the country shared their concerns with us," Herat Deputy Governor Muhyuddin Nuri told Salaam Times.
"It was then that we ordered the highway patrol forces to expand and intensify their operations from the port of Torghundi [the border between Afghanistan and Turkmenistan] and from the port of Islam Qala [the border between Afghanistan and Iran] to Shindand District in Herat," he said.
"So far, we haven't come across any case on these two major highways located in Herat Province, and the Taliban have not established another checkpoint or attempted to take advantage of the situation, mainly because our security forces have complete control over this highway," Nuri said.
Extorting Afghans
Before action was taken by the security forces, Taliban efforts to extort Afghans was systematic. Although the situation is better now with improved security, the Taliban continue to brutally extort drivers at checkpoints that last only a few hours.
The Taliban "announced that they would be collecting customs duties on traders' merchandise from Herat all the way to Kabul", Saad Khatibi, head of the Herat Chamber of Commerce, told Salaam Times. "They collect this money in a formal manner, and the merchants pay."
"They set up a booth near the town of Zaranj and collected tolls from the vehicles," Khatibi said.
"The Taliban collect customs tax from merchants in Farah Rud and even issue receipts," said Sayd Wali Shah, a building materials importer in Herat.
"[They issue these receipts] that are written on pieces of cloth with emblems of the Islamic Emirate of Afghanistan, saying that this piece of cloth is acceptable [as a payment receipt] all the way to Kabul," he told Salaam Times.
"The Taliban stop and harass anyone who refuses to pay the Taliban or take their cloth receipts," he said. "The Taliban collect 35,000 AFN ($462) from any vehicle transporting metal, while they collect 25,000 AFN ($300) from vehicles carrying cement."
In order to extort more money from vehicles carrying merchandise in Farah Province, the Taliban have established a shadow customs office on Sheikh Abu Nasr Farahi Highway, which connects Iran to the city of Farah.
The Taliban extort millions of afghanis daily from motorists on Farah's roads, according to local civil society activists.
The Taliban "blocked the Farah Rud area with a length of chain", Hamidullah Rahmani, a civil society activist in Farah Province, told Salaam Times. "They take 25,000-30,000 AFN ($330-$396) from each vehicle carrying merchandise, depending on the items they're carrying."
"Much like the customs stations in Farah Province that legally collect money from drivers, the Taliban have built their own customs station and drafted their own laws in that regard," he said.
"They just stand on a public highway and collect 3 million-4 million AFN ($40,000-$52,000) on a daily basis ... which is a huge sum," Rahmani said. "The Taliban use this money to buy food, weapons and ammunition, as well as to pay their militants."
"This is a source of income to finance their fighting," he said.
Taliban beat, threaten drivers
Drivers of commercial vehicles who face the Taliban on highways tell stories of the militants' brutality and harassment, stressing how fed up they are with extortion.
"The Taliban order us to pay money, or else they seize it from us," Jalil Ahmad, a truck driver, told Salaam Times. "Even if we don't have the money and want to pay less, they force us to pay a hefty amount."
"This is a serious problem," he said. "They take our money night or day."
"The Taliban block the road with boulders at about 10 or 11 in the evening and grab 10,000 AFN ($132) from each of us," Mohammad Yunis, another truck driver, told Salaam Times. "If we do not pay, they beat us with their rifle butts until we pay them the requested money."
"To the Taliban, we're worthless," said truck driver Nasar Ahmad. "They hold us at gunpoint, saying, 'We are going to kill you, and there will be no witnesses.'"
"They demand money," he told Salaam Times. "We beg them, saying, 'For God's sake, from where are we supposed to get such huge sums of money? We just loaded this merchandise to our trucks. Does it mean that we are infidels? What do you want from me?'"
Civilians suffer the most
The Taliban's extortion has caused inflation in local markets, making it difficult for ordinary citizens to meet their daily needs.
"To how many different authorities should a business pay customs duties?" asked Mohammad Yaqub Mashouf, an economist in Herat Province. "Why should one pay such fees to both the government and the militant groups?"
The Taliban are able to "extort from traders and businessmen", he told Salaam Times.
"By law, when merchandise for which import taxes and customs fees have been paid legally arrive in a country, there should not be additional, secondary customs duties," he said.
"When excessive customs and taxes are placed on traders' merchandise, it immensely hurts the end consumers ... and has a direct impact on prices," he said.