NANGARHAR -- Residents of Kama District, Nangarhar Province, have resumed producing gora, a common Afghan sweet made from sugar cane that disappeared during the 1996-2001 Taliban regime.
Before the Taliban came to power in 1996, dozens of gora producing factories operated in Kama District. However, all those factories folded under Taliban rule.
A major reason was the availability of cheap Pakistani gora.
Residents of Nangarhar Province, however, favour gora made in Kama because they consider the Pakistani gora sub-standard and distrust Pakistani manufacturers' use of the artificial sweetener saccharin.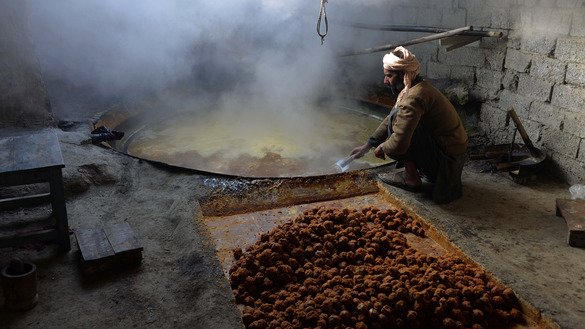 At present, Kama has four gora factories that recently began producing the cherished sweet. All use sugar cane juice rather than saccharin.
"In previous years, not much sugar was made here because it was not profitable," Shafiqullah, a 35-year-old farmer from Noorzi village, Kama District, told Salaam Times. "People were using Pakistani gora, which contained saccharin."
Local residents, who are suspicious of saccharin's effect on health, have gone back to local, natural gora, he said.
Within Nangarhar, "sugar cane is cultivated only in Kama District," said Abdul Waris Taand, deputy director of the Nangarhar Agriculture Department.
In less than a year, the Kama District sugar cane yield "was an estimated 90 metric tonnes", he said. "Sugar cane's cultivation and gora production are expected to increase this year compared to last year."
Taand did not disclose production figures for gora. However, gora made in Kama is now being sold elsewhere in Afghanistan, he said.