KABUL -- Ongoing talks between Taliban leaders and Iranian officials are clear evidence that Tehran is placing its bets on the Taliban, say Afghan officials and analysts.
On January 1, the Taliban published a statement and confirmed the group had sent a delegation to Tehran to "share with the neighbouring country of Iran its views regarding such matters as post-occupation [Afghanistan], as well as the re-establishment of peace and security to Afghanistan and the region".
This statement came shortly after the Iranian Foreign Ministry confirmed a visit by the Taliban delegation to Tehran.
The trip and the growing ties between Iran and the Taliban confirmed previous reports about Tehran's support of the militant group.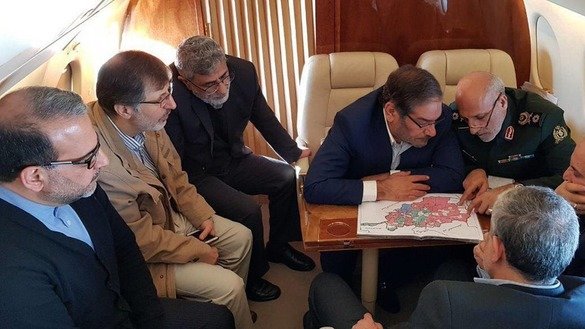 Iran's designs are intended to topple the Afghan government and distance Kabul from its international partners, foremost among them the United States, say Afghan analysts.
Indignation from Afghans
Afghan observers have been indignant over the news.
"The main objective behind the Taliban's visit to Iran seems to be an effort by Tehran to overthrow the Afghan government," Sayed Abdul Karim Hashimi, a Kabul-based political analyst, told Salaam Times.
"The Taliban's remarks following their talks with the Iranian officials clearly indicated that the group, backed by Tehran and Moscow, has been working hand in hand with them to undermine Afghanistan and its international supporters," he said, referring to similar reports about Russia's support of the Taliban.
These schemes by the Taliban and their regional backers are meant "to re-establish Taliban rule in Afghanistan", said Hashimi.
"The Taliban's relationship with Iran and their visit to Tehran to negotiate peace and discuss Afghanistan's future without consulting or co-ordinating with the Afghan government has not helped the peace process," he said, adding that it has even broadened the conflict and has fuelled instability throughout Afghanistan.
Afghan officials echo those concerns.
"Tehran seems to have given the Taliban a green light, supporting their bid to return to power," said Mohammad Daud Kalakani, a member of the International Relations Commission in the Wolesi Jirga (lower house of parliament).
The official invitation extended [by Iran] to the Taliban as the "Islamic Emirate" is indicative of the Tehran's recognition of the Taliban, Nabi Mesdaq, a Kabul-based political analyst, told Salaam Times.
Such recognition of a militant group's self-proclaimed name undermines the ongoing peace efforts and the negotiating position of the Afghan government, he said.
"Such arbitrary actions undertaken by the Iranian government ... will not be acceptable to the Afghan government or to our people," Mesdaq said.
"The Afghan government should address this issue with Iranian officials as soon as possible," he said.
Meanwhile, ongoing efforts are being made by the Afghan government, with full support from the United States and select members of the international community, to bring a legitimate end to the longstanding war.