KABUL -- The Taliban is likely using bots or fake accounts to boost its follower count on Twitter in an attempt to inflate the level of its support among Afghans, according to an analysis conducted by Salaam Times in late August.
A large number of anonymous -- and most likely fake -- accounts began following Taliban spokesmen on Twitter after the start of peace talks between the militants and the United States about seven months ago.
Some 15.5% of those following Taliban spokesman Suhail Shaheen have never tweeted, the analysis found. Of the total, 44.4% tweeted 10 times or less.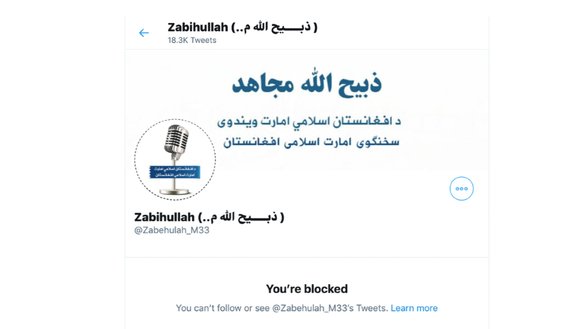 About 49% of the accounts following him are less than eight months old, coinciding when peace talks intensified in Qatar.
Meanwhile, of those following Zabiullah Mujahid, another Taliban spokesman, about 21% have never tweeted and 56% sent 10 tweets or less. Some 41% of his followers' accounts were created in the past seven months, and 5.75% were created just one month ago.
The same trend can be seen among the followers of Taliban spokesman Qari Yousuf Ahmadi. More than 11% have never tweeted and 41% have tweeted 10 times or less. More than 57% of his followers' accounts were created in the past seven months, with 5.5% having been created in the past one month.
Similarly, 4.3% of the followers of a Twitter account of a Taliban propaganda website were created in less than one month. Some 26.5% were created seven months ago. Of the total, 61.1% tweeted 10 times or less and 18% never tweeted.
Based on the data of the Taliban's Twitter followers, the accounts that appear legitimate are based outside Afghanistan.
Fake accounts
"Some individuals and/or companies increase the number of followers of certain accounts in exchange for money" using bots or hired social media users, said Muhammad Bashir, a technology and social media analyst in Kabul.
"Fake accounts are mostly anonymous, or they have never tweeted," he said.
Groups such as the Taliban often use fake accounts in an attempt to inflate the following of their leaders, said Hamed Elmi, a reporter and former spokesperson for the Afghan President's Office.
"They also have followers who are associated with them and use different accounts; most of these devious people try to exaggerate about their leaders," said Elmi.
Some of the Taliban's spokespeople active on social media are non-existent in real life, Elmi added.
"Zabiullah Mujahid is active on social media platforms, but it is impossible for one person to publish everything simultaneously on [different] social media sites," said Elmi, referring to the supposed Taliban spokesman.
"I don't think it is one person because one can see the difference in some of the published messages," added Elmi. "In my personal view, various individuals make use of this name."
"This is a fact that everyone who is active on social media knows: the account that publishes on behalf of the Taliban's spokesperson is not associated with just one person but with a group of the Taliban," said Farid Ahmad Ahmadi, 25, a journalism student in Kabul, referring to Mujahid.
"For example, how is it possible for one person to make tens of tweets every day in Dari, Pashtu and English and receive updated news about their activities from various provinces and issue press releases on them?" asked Ahmadi.
"Go and investigate -- most of their [the Taliban's] accounts are fake, and they have no followers," said Muhammad Kabir Haqmal, spokesman for Afghanistan's National Security Council.
"They are waiting until one of them tweets so that the rest can retweet and favourite the message, but they can't reach their goals with such acts," Haqmal said.
Taliban deception
The Taliban's deception on Twitter is further evidence that the militants do not post anything other than propaganda on social media.
"The Taliban lie on social media... as they commit massacres and attack civilians' homes," said Fawad Aman, deputy spokesperson for the Ministry of Defence. "They [the Taliban] publish things that are all propaganda, and they always share inaccurate and wrong numbers."
"Most followers of the Taliban spokespeople on Twitter are a limited number of individuals who are associated with them," said Ahmadi, the journalism student. "If others ask a question and the Taliban don't have a response, they block them."
"Once I asked Zabiullah Mujahid on Twitter about a fake piece of news he published about our area," he added. "As he didn't have an answer, he blocked me. They always block everyone other than their own specific followers."
"None of the Taliban's messages in the media and social media is reliable because the group is founded upon fraud, deception and secrecy," said Fariba Latifi, a student of law and political science at a private university in Kabul.
"No one has seen the Taliban's leader since their inception, no one understands the reason behind the killing of Mullah [Mohammad] Omar and when he was killed, and now no one knows the group's spokesperson -- there is not even a photo of him out there," she added.
"It is clear to us that various individuals have access to the accounts of the Taliban's spokespeople and that the information they share is not trustworthy," she said. "They always share information filled with lies and hatred."