KUNDUZ -- Millions of Afghans have been deprived of telecommunications services after the Taliban destroyed 220 towers in the past eight months, according to officials of the Afghanistan Telecom Regulatory Authority (ATRA).
Militants destroyed the towers in various provinces, said Sayed Haris Mir, director of monitoring and control for ATRA, December 3.
"If we count that one tower serves one location, it means customers have been temporarily or permanently deprived of telecom services in 220 locations across the country," Haris said.
The Taliban are fearful that Afghan National Defence and Security Forces (ANDSF) can track their movements at night through network antennas, security officials have suggested in the past.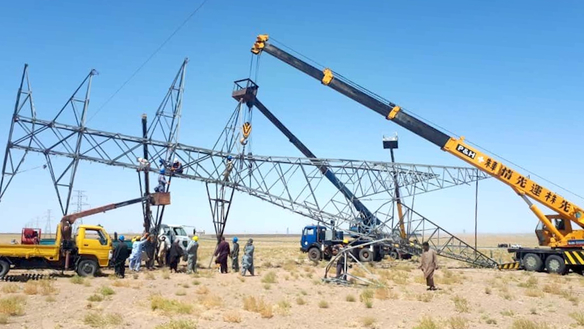 Each attack on the carriers' towers costs the providers an estimated $150,000 to $250,000 (11.8 million to 19.7 million AFN), said Haris.
"Since the beginning of the year, private telecom companies have seen $33 million to $55 million (2.6 billion to 4.3 billion AFN) in losses," he added.
Taliban target infrastructure
"About 30% of our telecom carriers are shut at night in insecure provinces, and this has caused the telecom carriers to lose money as their expenses exceed income," said Haris.
"As the Taliban destroy schools, mosques, bridges, roads, clinics and other public installations, they likewise destroy telecom towers," he said.
Kunduz, Baghlan, Balkh, Farah, Ghazni and Zabul are among the provinces that have seen an elevated number of attacks on telecom towers compared with other provinces during the current solar year, say ATRA officials.
"Between August 31 and September 28, the Taliban destroyed about 22 telecom towers in Kunduz Province alone," said Ahmad Jawed Shinwari, regional manager for ATRA in the northeastern region, who is based in Kunduz city.
"These towers are connected with each other, and when one central tower is destroyed in Kunduz, the entire network automatically stops operating in the four northeastern provinces," said Shinwari.
"Our assessment (in Kunduz Province alone) shows that the telecom companies, especially MTN, have incurred more than $2.5 million (196.7 million AFN) in losses, but the companies still continue to provide services," he said, referring to the period between August 31 and September 28. MTN is a subsidiary of the South African firm MTN Group.
Impact of disruption
Afghans say they are fed up by these destructive actions by the Taliban.
"We see that the group [the Taliban] has no mercy for human beings, public installations or public projects that benefit residents," said Safiullah Amiri, deputy chair of the Kunduz provincial council.
"The group [the Taliban] has always tried to keep locals in the dark, and they blow up electricity pylons, electricity transmission lines, telecom towers, fiber optic cables and other facilities that satisfy public needs," he added.
"After the destruction of telecom towers in the Ayarganak area of Kunduz city, all the telecom carriers stopped operating for a few days in Kunduz Province," Amiri said.
"The Taliban have always deprived the residents of Kunduz Province of a prosperous life," said Ahmadullah Alemi, a civil society activist in Kunduz Province.
"For example, the telecom carriers have remained shut for the past three years from 5pm to 6am in Kunduz Province due to the Taliban's threats," he said, adding that only state-owned Salaam Telecommunication Co. operates in the province, albeit "with very weak services."
"If we have a patient at home that needs to go to a doctor, we have to call a taxi and we can't do that" when services are down, he said.
Taliban extortion
In addition to extorting money from the telecom companies, the Taliban finance and equip their operations with money they earn from collecting illegitimate electricity bills and charging illegal dues on construction companies, businesses and trucks, said Amiri of the provincial council.
At the same time, the group collects zakat and ushr from farmland, sells illegal drugs and engages in other illegal activities to derive its income, Amiri said.
"The Taliban earn more than 60 million AFN ($760,000) annually from collecting electricity bills in Kunduz alone," he said.
Even though ATRA implemented a security strategy in 2011 to protect private telecom installations, it was ineffective, said Haris of ATRA.
"We have reviewed the strategy, and we hope we can finalise it (a revised strategy) in a few weeks and that it will prove to be effective to an extent in protecting telecom carriers' installations," he said.
Three months ago some of the telecom carriers stopped their services at night in Mazar-e-Sharif because of security threats, but the problem now has been resolved, Taqi Poya, director of the Information and Communications Technology department for Balkh Province, said December 2.
"Currently, telecom carriers are operational in Mazar-e-Sharif and districts of Balkh Province, and the security forces are trying to secure the telecom installations and equipment," he said.
"We call upon all parties to the conflict not to restrict Afghans from receiving the [public] services and to let them benefit from the available facilities," he said.