HERAT -- The Ahmad Shah Faqiri charitable foundation has established a non-profit clinic in an impoverished neighbourhood in the western part of Herat city to treat needy children and women for free.
Every day up to 70 patients, all of whom cannot afford treatment at private hospitals, visit the clinic to receive treatment.
Maria Hussaini, director of the clinic, said the hospital has emergency, internal medicine, sonography, dentistry, hemodialysis and laboratory wards.
"All of the patients coming here are very poor and need assistance," she said, adding that all of the doctors are female.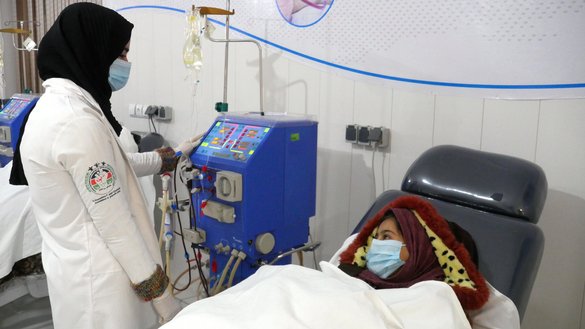 "Patients who are not very seriously ill are treated here, but those who need surgery are referred to a private hospital with which we have an agreement to treat our patients for free," she added.
Female and minor patients mostly come from remote villages and districts to the clinic, Hussaini said.
Shabnam Amini is an internal medicine physician at the Ahmad Shah Faqiri clinic and sees patients in the gynecology ward as well.
Most children she sees suffer from pneumonia and need urgent medical care, she said.
"Our patients are very poor and cannot even afford one pill," she added.
We treat them for free and provide them with the necessary medications, she said, adding that some pregnant women and their babies would be at risk if not helped immediately.
The clinic is providing medical services to the poor as healthcare quality in public hospitals decline.
With a recent drop in international assistance, public hospitals are facing budget deficits and a lack of resources.
Saving lives
Sonia, 16, has been suffering from kidney problems for four years.
She undergoes dialysis three times a week at the Ahmad Shah Faqiri clinic, which covers all of her medical costs.
Sonia said she breathes a sigh of relief every time she undergoes dialysis and is relieved of the pain.
"This hospital has saved my life," she said. "[It] has given new life to patients like me who suffer from kidney problems."
Ghulam Reza Hussaini, head of the clinic's hemodialysis ward, said 150 patients suffering from kidney problems are being treated at the clinic and undergo dialysis daily.
"Forty percent of our patients are women. We also dialyse children who suffer from kidney problems. All of our patients are poor," he said.
"Kidney disease is a costly health condition, and most patients cannot afford treatment," he added. "We dialyse every patient two to three times a week, all for free."
Their life could be in danger if they are not dialysed on time, Hussaini said.
'New life'
Sher Aqa Azimi, 36, has been suffering from kidney failure for a year.
He has been to private hospitals many times, he said, but did not receive any medical care because he could not afford it.
"I have five children who are very young and cannot work. I am the only breadwinner, but I cannot move now," he said.
"An aid agency gives us flour and oil every month. Sometimes neighbours also help out with food."
"I receive dialysis three times a week at the Ahmad Shah Faqiri clinic, and would never receive treatment ... if not for this hospital," he added.
"Private hospitals charge 2,500 AFN ($28) per dialysis. I don't have 7,500 AFN ($83) to pay these hospitals every week."
He said the clinic has given him and other patients a new life.
Gul Mohammad, 52, is a resident of Shindand district. His 50-year-old wife has been suffering from kidney problems for seven months.
Mohammad, a farmer, said he could not take his wife to private hospitals for treatment due to their economic situation.
"I would have taken my wife for treatment in the early stages of her illness if I had money," he said.
A patient has to wait for three months for dialysis at public hospitals, he said, adding, "The patient will die if forced to wait for three months."
"My wife would have lost her life months ago if it were not for this clinic," he said.