HERAT -- The healthcare system in Afghanistan's western provinces is falling apart, doctors and residents warn, as funding cuts leave numerous health facilities unable to buy medical supplies and pay salaries.
International aid to Afghanistan was suspended two months ago after the Taliban's seizure of power in August.
The cuts in international funding have forced healthcare providers to decide "who to save and who to let die", World Health Organisation (WHO) Director-General Tedros Adhanom Ghebreyesus said on September 22.
The treatment of patients at Herat Regional Hospital, the largest health centre in the western region, is now facing major challenges due to decreased international assistance and funding cuts by the Taliban's Ministry of Public Health, according to hospital officials.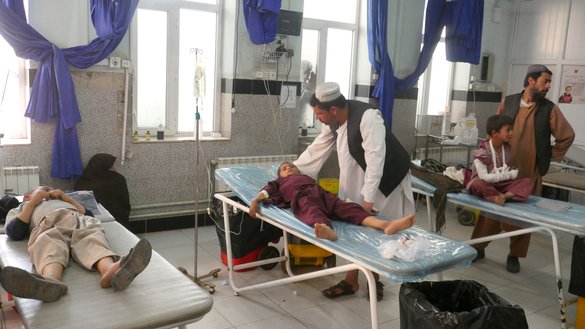 Only 30% of necessary medicines and medical supplies are available at the hospital, which means patients must scramble to procure the rest from pharmacies elsewhere, said Dr. Mohammad Arif Jalali, chief physician at Herat Regional Hospital.
"We are gravely concerned about the lack of medicine and medical supplies in the Regional Hospital," he said. "If not provided soon, there will be no medicine and medical supplies in this hospital in a month's time."
Up to 2,000 patients visit Herat Regional Hospital daily, of whom 300 are hospitalised, according to hospital data. Data also show an increase of 30% of patients visiting the hospital since the Taliban's ascent to power.
The uptick in visits stems from the closure of health centres in the districts and a drop in the quality of health services in neighbouring provinces.
"Staff and doctors at Herat Regional Hospital have not been paid for the past three months," Jalali said. "Many doctors and staff members will quit if they do not get paid, which will make it very difficult to treat patients at this hospital."
The WHO and UNICEF have promised assistance, which is the only hope to avoid the collapse of health services in Herat, he said.
Struggling patients
Residents of the western provinces say that most clinics and health centres in their districts have been closed since the fall of Kabul, forcing them to transport their patients to hospitals in cities farther away.
Abdul Jabbar, a resident of Khak-e-Safid district, Farah province, said his son suffered a head injury in a traffic accident.
He was forced to take him to Herat for treatment since there are no medical services in Farah.
Health services in the province were good in the past, but now, even the simplest medical services are not available at the government hospital in Farah city, he said.
"Our district clinic has been closed since the Taliban's takeover," he added.
Mohammad Ewaz Noorzai, a resident of Shindand district, said his brother has been hospitalised at Herat Regional Hospital for several days for a head injury.
Noorzai said the hospital does not have the necessary supplies to treat his brother, and that he has been buying all the necessary medicine and medical supplies from the city's pharmacies, which rely on private companies that import medicine from other countries.
Even then, Noorzai's limited funds make it difficult to obtain supplies.
"I have been contacting my friends and relatives in Iran to donate 1,000 or 2,000 AFN ($11 to $22) each so that my brother can be treated," he said.
Abdul Hakim, a resident of Bala Buluk district, Farah province, whose son has been suffering from kidney disease and is hospitalised at Herat Regional Hospital, said he has been paying for all of his son's treatments out of pocket.
"I had to sell my land to pay for my son's treatment," he said. "I told the hospital that I am poor and do not have money, but no one helped me."
"I buy all of the medicines and health supplies from [pharmacies outside the hospital]," he said. "Doctors tell me that the hospital has run out of medicines and I have to buy it from outside."
The Taliban have done nothing yet to address problems faced by Afghans, Hakim added.
Fears of a humanitarian catastrophe
Doctors warn of a possible humanitarian catastrophe in the winter if the problems faced by the country's health system are not addressed soon.
Most patients at Herat Regional Hospital are not receiving proper treatment because of the lack of medicines and medical supplies, said Dr. Farhad Afzali, an internal medicine specialist at the hospital.
In the coming days, doctors will have to face dying patients as medicine and supplies run out, he warned.
"In winter, the prevalence of seasonal illnesses increases, and there is a need for adequate supplies in hospitals," he said. "Most patients are poor and can't afford to buy medicines or medical tests."
"If medicines and supplies are not available, doctors can do nothing to save patients," Afzali said.
"It is very painful to see patients lose their lives in the hospital because they couldn't afford medicine."