HERAT -- The Taliban have made repeated promises to protect public safety nationwide, especially in big cities, but crime including armed robberies has been surging since they took power in August, Herat residents say.
Statistics are hard to come by under the Taliban, but armed robbers still threaten Herat residents and steal cars, motorcycles, mobile phones and money.
Dr. Mohammad Arif Jalali, chief physician of the Herat Regional Hospital, said on October 9 that his hospital treated 107 patients with gunshot wounds and 209 patients with stab wounds over the past month and a half.
Twenty-six of the patients died, 20 from gunshot wounds and six from stab wounds.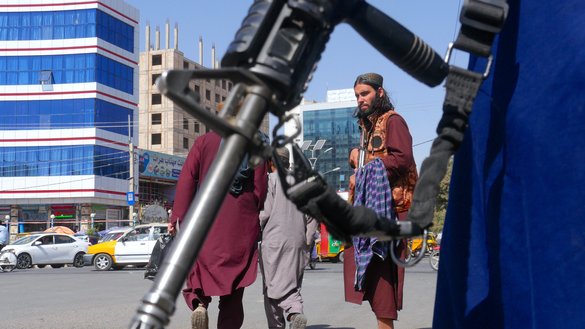 "Most of those wounded or murdered were attacked by armed robbers and criminals," he said.
"Five percent of the injured were women and children, 70% were men age 40 and below, and 25% were men above 40," he said.
Safety, security concerns
Among the patients at the hospital was Abdul Zahir Faizi, 42, who was receiving treatment for a gunshot wound he incurred on October 9.
Armed robbers tried to steal his motorcycle. They shot Faizi and fled without taking his motorcycle.
He said armed robberies have skyrocketed in his area of Herat city, the 7th police district, causing great concern to local residents.
"We are seriously concerned about our safety and security," Faizi said. "I have been living for [many] years in Afghanistan, and I have not seen as many security challenges and concerns as in the past month."
Herat residents still live in fear and nothing has improved since the Taliban took power, said Jamal Nasser Ishaqzai, a resident of the city.
"Incidents of insecurity, thefts, kidnappings and looting are on the rise in Herat," he said, adding that residents fear going out if they are carrying money or valuables.
"As a young man, when I leave home, I fear being attacked by armed robbers and my life being threatened," Ishaqzai said.
Jalil Ahmad Mohammadi, another resident of Herat city, also said kidnappings and abductions are on the rise.
"Armed robbers steal motorcycles and mobile phones and can easily escape ... We cannot comfortably commute across Herat city," he said.
"The Taliban are still unable to control ... the rate of kidnappings," he added.
Since the Taliban do not wear uniforms, "many kidnappers and thieves call themselves Taliban and wear traditional clothes [like the Taliban] to seize money and property", he said.
The Taliban should issue uniforms to their security forces so that civilians can distinguish them from criminals, he added.
Intimidation cannot guarantee security
The Taliban's attempt to deter crime by publicly hanging the bodies of slain suspects terrifies the public but does nothing to improve security, analysts say.
On October 5, the Taliban in Herat strung up the bodies of three suspected robbers whom a man shot to death when they tried to invade his house.
That gruesome display came only days after the Taliban hung the bodies of four suspected kidnappers in Herat whom Taliban police killed in a shootout.
Whatever the Taliban may think, terrorising the public and displaying suspects' corpses will never reduce crime, said Niaz Mohammad Watandost, a retired Afghan National Army (ANA) general in Herat city.
"The best way to ensure security and reduce crime is to gain public co-operation and build trust," he said.
Since Afghans are still stunned by the return of the Taliban, "the best approach for the Taliban is to avoid brutality and find ways to gain public confidence", he said.
Crime would be plummeting, not steadily rising, if the Taliban's efforts to scare inhabitants had any value, he added.
"One of the main reasons for growing crime is poverty and unemployment in Herat city," said Herat civil society activist Farzad Azimi, pointing to rising unemployment as a source of desperation.
The Afghan economy has been in free fall since August, with more than 100 factories in Herat shutting down in the subsequent two months.
The Taliban government's failure to provide jobs leaves the unemployed no option except crime to feed their families, said Azimi.
"Until [authorities] address the root issues of crime and build public trust, even if they publicly hang thousands of corpses, security will not be maintained," he said.