HERAT -- Afghan drivers transporting goods between Afghanistan and Iran have been complaining about increased extortion and harassment by Iranian forces and armed robbers, saying they drive with fear when they reach Iranian territory.
Some 250 trucks transport goods between Iran and Afghanistan daily.
"Extortion starts the moment we enter Iranian territory," said Mohammad Moradi, one of the truck drivers.
"Every Iranian soldier we cross on our way forces us to pay."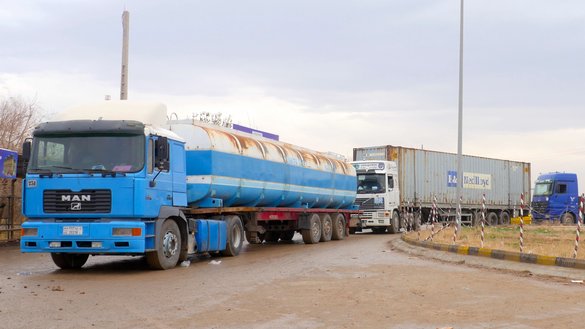 Moradi said the Iranian police stop their trucks "for no reason" and after inspecting them, "they come up with an excuse to make us pay them".
Although Afghan truck drivers have repeatedly complained to Iranian authorities about the extortion and harassment, the government has done nothing to address the issue, Moradi said.
Shir Ahmad Haidari, an Afghan truck driver, said, "Iranian police stop us at every step and take 500,000 to 1 million IRR [$12 to $24] from us, although we always carry all legal documents."
"They even threaten to shoot us if we refuse to pay," he added.
"We charge $600 for transporting goods from Iran, but Iranian soldiers take $400 of that amount from us," he complained.
Iranian authorities' response to their complaints: stop coming to Iran, Haidari said.
Threats from armed robbers
In addition to extortion by Iranian forces, armed robbers also threaten Afghan drivers on Iranian soil. Some drivers complain about robbers attacking them near Iranian police checkpoints and taking their money and cell phones.
Robbers carry knives and other weapons inside Iranian customs areas and steal the Afghan drivers' cash and belongings, said truck driver Omid Haidari.
After repeated complaints to the police and customs guards, Haidari said he realised that the police were complicit in the robberies.
Armed robbers near a security checkpoint in Mashhad "tore the cover of my truck a few days ago and stole goods worth more than 100,000 AFN [$1,115]", he said.
"They also took my cell phone and some money," he said, adding that when he went to the police, they unhelpfully told him not to come to Iran again if he is scared.
Arash, another truck driver, said that inside Iranian customs, thieves have stolen the headlights, battery and other essential parts of his truck several times in the past.
"Why wouldn't the police stop them from stealing if they themselves are not involved?" he asked.
He always drives with fear and anxiety in Iran as he expects armed robbers to attack and kill him at any moment, he said.
"They take money by threatening us with guns and knives, and we cannot do anything," Arash added.
Meanwhile, for Iranian drivers going into Afghanistan, the picture is much rosier.
Iranian trucker Ali Reza Beheshti said he feels safe driving into Afghanistan. "I transport commercial goods from Mashhad to Kabul once a month, and no robber has stopped me, nor has anyone asked me for illegal payments."
"Drivers make very little money," he said. "Stealing their money, cell phone and belongings is unfair and cowardly."
Extortions by Iranian customs
Iranian customs personnel extort money from Afghans under the pretext of taxing Afghan commercial goods, said Najibullah Kakar, a food importer in Herat.
"The Iranian government has doubled the customs duties on food and other goods, which has resulted in rising prices in Afghanistan," he added.
"Iranian customs create so much red tape when it comes to Afghan goods and find any excuse to make them pay more," he added. "Every department we go to asks for money and will not process our paperwork unless we pay it."
Iranian officials also hold trucks carrying Afghan goods for an extended time just so they can charge them for overnight parking fees, Kakar said.
Afghan driver Mohammad Wali Haqdost said he is even charged 5 million IRR ($118) for a COVID-19 polymerase chain reaction (PCR) test every time he enters Iran, yet the Iranians perform no test on him.
"Iranian customs charge us for weighing empty trucks, though weighing empty trucks is not a requirement," he added.
"The moment we enter Iranian customs until we leave it, 10 different departments charge us fees," he said. "In many departments, they force us to pay, and if we object, they hold our goods for a while without any reason."