HERAT -- The Herat Chamber of Industries and Mines says more than 100 factories have stopped operating since the Taliban assumed power in Afghanistan in August.
Initially about 400 factories operated in Herat's industrial city. Over the past few years, half of them were closed because of insecurity and Iran's dumping policies.
From the remaining 200, more than 100 fell idle after Herat's fall to the Taliban. Now only 80 factories are operating, with the majority producing food commodities, non-alcoholic beverages and construction materials, officials said.
A new economic crisis has emerged with the change in government, said Hamidullah Khadem, the chairman of the chamber.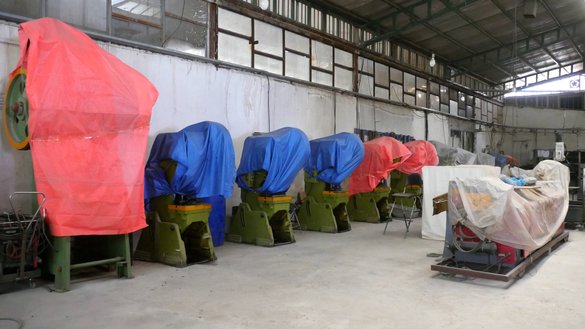 More than 100 factories in Herat Industrial City have shut down from banking disruptions, the weakening of Afghans' purchasing power and political uncertainty, he said.
With investors unable to access their money in the banks, "the import of raw materials by the industrial park has been affected, and most factories do not have [the necessary] materials to produce", Khadem added.
Until investors' funds pour into the economy and new contracts for the import of raw materials are inked, more factories will stagnate -- which will further impact Afghanistan's crippled economy, he warned.
Meanwhile, the products of some factories, which nobody is buying in hard and uncertain times, are stockpiled in warehouses, he added.
For example, metal production in the industrial city has been completely suspended as the economic crisis has halted construction work, he said.
Huge losses
Losses already reach millions of dollars, according to plant owners.
Esmatullah Wardak, head of the Kabul Folad Steel plant in Herat's Industrial City, said his plant -- one of Afghanistan's largest steel mills -- suspended operations after the Taliban took power in the country.
"It has been a month since our factory closed and more than 400 employees who worked in two shifts (day and night) have lost their jobs," he said, adding that he has lost more than $200 million (18 billion AFN) in assets.
"The whole country's economy has severely been affected," Wardak said.
With the change in government, infrastructure projects and private construction activities have stopped, and the value of metal goods used in these projects has reached almost zero, he said.
"The money we used to reinvest... has been frozen in the banks, and we can no longer afford to buy raw materials," he added.
"Due to the ongoing economic challenges coupled with the political uncertainty, our factory has been closed for the past 45 days," said Abdul Matin Qalandari, the director of a wood-product factory in Herat.
Investors' confidence has plummeted, forcing them to reconsider their investments, he said.
While more than 50 employees used to work in his factory, only two of them remain to provide security, he added.
"Both investors and customers have their money in the banks, and the banks do not allow anyone to access their money, so we cannot buy raw materials," Qalandari said.
The plant's raw materials have piled up at ports, resulting in a daily transit fee -- yet another cost, he said.
Qalandari said he has invested $7 million (630 million AFN) in his business, all of which is at risk.
Thousands of lost jobs
The stoppage also means that more than 3,000 workers have lost their jobs over the past two months, according to Herat's Chamber of Industries and Mines.
Among them are specialists and engineers who were doing technical and specialised work in the industrial sector.
Hazrat Gul, a resident of Nangarhar province who has been working at the Kabul Folad Steel factory for 10 years, said that 400 of his colleagues were laid off.
Gul, one of the more fortunate employees, has not been working for more than a month but still receives his salary. Still, he worries that this will not remain the case for long and that he will end up losing his job.
"Factory activities have come to a complete halt, and there is no production," he said, adding that he wonders why the new government underestimates the problems facing investors.
Abdul Jabbar, another worker at Kabul Folad Steel, said he worked in the factory's steel melting section for 10 years before he lost his job to the political crisis.
He said now he will have no other option but to migrate to Iran.
The Taliban claim to be governing Afghanistan, so they must create employment opportunities for the youth, Abdul Jabbar said.
"We are not asking for much."
If the Taliban cannot improve the business environment, they should at least not take away what Afghans have built over the past years, he said.