HERAT -- Iran has stopped exporting more than 100 commodities to Afghanistan over the past few months, including critical raw material needed to run Herat Industrial City, leading to major price increases and economic instability.
"Unfortunately, this [shutoff] has caused problems and has damaged our factories," Saad Khatibi, director of the Herat Chamber of Commerce and Industries, told Salaam Times. "Some of these items, such as food products, are essential commodities, the lack of which has impacted [residents'] lives."
Afghanistan's annual imports from Iran amount to an estimated $2 billion, most of which enter Afghanistan through Islam Qala port in Herat Province.
"Our traders purchased a large number of products [from Iran], the official [exporting] procedures of which had been completed in Iran," Khatibi said. "Upon their arrival at the border with Afghanistan, however, the Iranian authorities stopped the process, refusing to release the commodities into Afghanistan. [The Iranian authorities] had the products returned to Iran."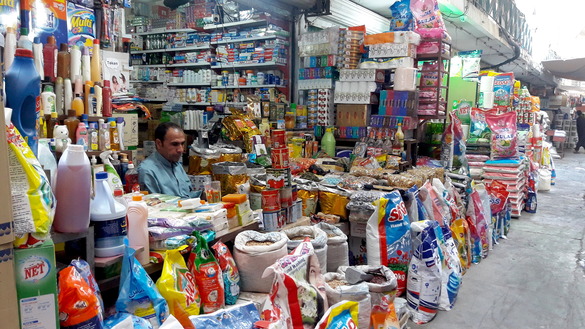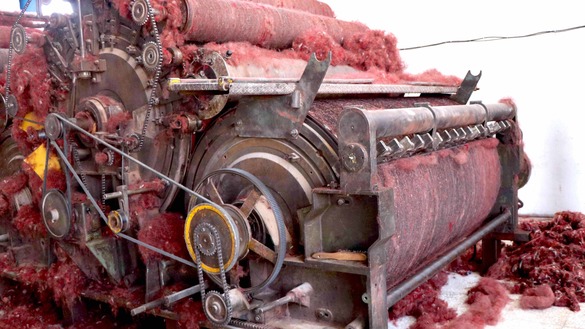 Losses to factories
Out of more than 100 items that Afghanistan imports from Iran, 23 items are raw materials for Herat Industrial City. Almost 100 factories that use these raw materials have suffered significant losses since the stoppage.
"Raw materials for paper industry, petrochemicals, plastic products, and materials for the production of non-alcoholic beverages and of plastic containers are among the imported products that [Iran] suspended," Hamidullah Khadem, director of the Herat Chamber of Industries and Mines, told Salaam Times.
"That's why the level of production in Herat Industrial City has drastically decreased," he said.
The sanctions imposed on Iran have economically paralysed that country, causing it to halt its exports to Afghanistan in order to restore its domestic industries and to pressure the Afghan government and its Western allies, namely, the United States, analysts say.
Officials in Herat and Kabul are working to resolve the issue "through diplomatic channels", Muhyuddin Nuri, deputy governor of Herat, told Salaam Times.
Herat Governor Mohammad Asif Rahimi and Iranian Consul General in Herat Mahmood Afkhami-Rashedi met July 10 at the governor's office to discuss the power outage at Herat Industrial City. The consul general did not provide a sufficient explanation or solution, according to Herat officials.
Searching for alternatives
After the Iranian government limited the export of electricity to Herat's Industrial City -- a contract breach that inflicted significant financial losses on Afghan businesses -- the Ministry of Energy and Water, supported by the private sector, has been trying to implement a 50MW solar power project in Herat City.
The preparatory work for this project has begun and the actual work on the project is expected to kick off within a year, according to officials. Herat's Industrial City will no longer need exported energy from Iran once the solar power plant becomes operational.
"Halting of exports by the Iranian government has created problems for us, and we are in search of alternatives," said Khadem.
A number of factory owners in Herat Industrial City are importing the necessary raw materials from Central Asia, Turkey and Pakistan but not enough to meet their demand.
"Afghan businesses must find alternatives," Mohammad Yaqub Mashouf, a Herat-based economist, told Salaam Times.
"Preventing the export of essential commodities has had a negative impact on the production and lives of the population of Herat," he said. "The Afghan government should, nonetheless, manage this situation and try to find other solutions."
Price surge in local markets
Local markets in Herat depend heavily on Iranian goods and products.
"Unfortunately, the restriction of Iranian imports has had a negative impact on [residents'] lives [in Herat] and [Afghan] consumers have suffered losses," said Khatibi of Herat's Chamber of Commerce and Industries. "Over the past month, prices have increased in Herat markets."
The halt on goods imported from Iran has opened the doors for Pakistani and Indian goods, mostly foods, to flood the Afghan markets. Currently, most available products in markets in Herat are from Pakistan, though Pakistani products cost more than Iranian ones.
"In the past, we sold a 20kg can of cooking oil for 1,300 AFN ($17), but now the price has gone up to 1,700 AFN ($22)," Ghulam Habib Sarwari, 48, who owns a grocery store in central Herat, told Salaam Times. "The price of other products has also risen, caused by the interruption of imports from Iran."