HERAT -- Tehran is dumping Iranian goods in Afghanistan to stifle the country's burgeoning domestic market and prop up slumping demand for its products, Afghan traders and government officials say.
Private sector representatives including traders, investors and producers, as well as local government authorities, gathered on October 9 at the Herat Chamber of Commerce to express their concerns about Tehran's destructive interference in the Afghan economy.
The dumping policies of neighbouring countries, especially that of Iran, have hurt investment, including in production facilities in Herat, said Khalil Ahmad Yarmand, chief executive of the Herat Chamber of Commerce and Industries.
While industrial production has been ramping up in Afghanistan, unfair competition, mostly due to dumping of foreign products, is taking a toll, he said.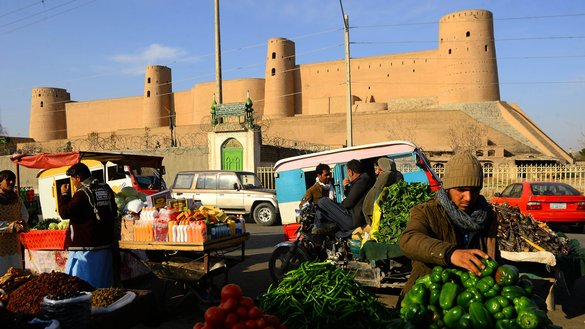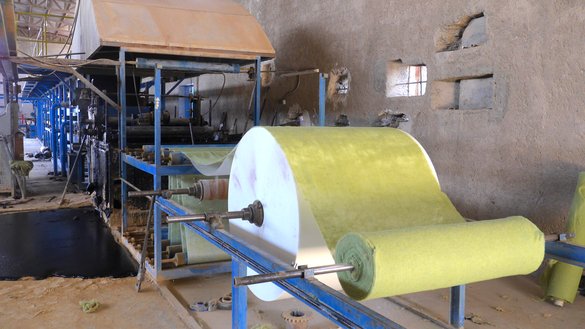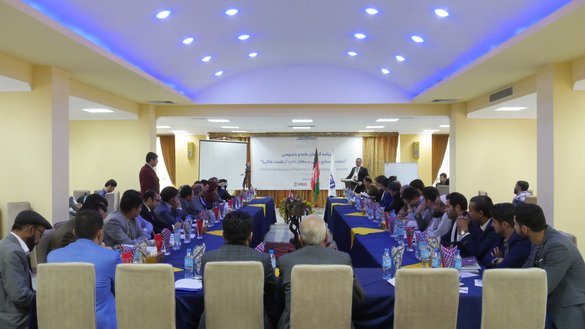 "The number of production facilities has risen to more than 500 within one decade at Herat Industrial City, but more than 200 factories have been left idle by the dumping policy of the neighbouring country," he added, referring to Iran.
"Iranian products are smuggled in through border crossings, and they're sold at lower prices in [Afghan] markets," Yarmand said. "These products are similar to domestic ones, and this is why [Afghan] producers are unable to compete."
"Neighbouring countries like Iran have industrial parks, and Afghanistan has always been a consumer market for them," said Abdul Khalil Qatali, deputy director of the Herat Chamber of Commerce and Industries.
"As production grew in Afghanistan with the establishment of hundreds of production facilities, demand for Iranian products has decreased," he said. "But this country [Iran] has always tried to destroy our domestic products so that the market can open up again for its products."
The Iranian regime, with its dumping policy, is seeking to stifle job creation and production growth in Afghanistan in order to create job opportunities and boost productivity at home, said Qatali.
"I call on the Iranian consulate and its Foreign Ministry to prevent those who are thinking of dumping [products] in this country to damage the domestic Afghan market," he added.
Restrictions on raw materials
Industrial producers in Herat Province have also accused Tehran of placing strict limitations on the transfer and export of raw materials to prevent the growth of production facilities at Herat Industrial City.
"As raw materials for the production facilities are imported, it [dependence on imports] exposes us to numerous problems," said Muhammad Naeem Sharifi, an owner of a marble processing and production factory at Herat Industrial City.
Iranian customs officers routinely stop trucks loaded with raw materials for a few days at the border, where drivers face extortion, he added.
"Iran doesn't want raw materials to be delivered to production facilities at the industrial park as it increases production in Afghanistan that can stop [Iranian] exports to Afghanistan," Sharifi said.
The Iranian government "creates problems for raw materials we import through Iran from all countries, and they stay in customs for weeks so that they can rot".
"Truckloads of raw materials are delayed at the border crossing with Iran for a few days," said Aziz Ahmad Saeedi, a producer of vegetable oil in Herat Industrial City.
"Our trucks have stayed in Islam Qala dry port in Iran for 11 days, and they still haven't gained permission to cross the border. Where they are parked could be 5km away from Afghan territory, but they have to wait for 11 days," he said.
When raw materials for such a long time, production facilities encounter many problems, he added.
"When there are no raw materials, factories remain idle," Saeedi said. "The machinery is switched off, and workers become jobless. We bring in most of our raw materials from foreign countries, but obstacles that Iran creates for us en route are worrisome."
The Iranian regime uses every means it can to suppress the Afghan economy, said Muhammad Rasool Faiq, the owner of a carpet production facility in Herat.
"Iran has increased the prices of raw materials and raised tariffs on raw materials that are exported to Afghanistan through its territory, and this has increased the price of raw materials for us," he added.
"When the price of raw materials is high, we have to sell our products for higher prices. But Iran has severely suppressed our production by employing its dumping strategy and exporting its products through illegal means," Faiq said.
Tariffs
"In 2005, a factory called 'Zori' at the industrial park was making batteries," said Mohammad Yaqub Mashouf, an economic analyst in Herat Province.
"It cost 900 AFN ($11.50) to make one battery, but Iran was selling a similar battery for 400 AFN ($5.11) in the market, and it was able to force the business to collapse," he said.
"It later raised the price of its batteries by several multiples," he added.
"The government should use various techniques to fight against the Iranian government's dumping policy," he said. "It should apply tariffs to similar goods in customs. Illegal imports from Iran to Afghanistan should be prevented, and it needs to enact a strict policy against the dumping strategy."
The Afghan government is trying to introduce strict measures to counteract the dumping policies, Ghulam Daud Hashemi, the deputy governor of Herat, said.
"One of the ways to fight it is to introduce high tariffs on the imports from the neighbouring countries based on international trade laws," he said.
"We try to make raw materials available for the production facilities with very low tariffs so that these companies can compete with foreign products," added Hashemi. "We also will block illegal imports from neighbouring countries that escape customs duties, as well as the sale of these goods at lower prices on the market."
"When low-quality products enter markets and products from neighbouring countries are smuggled into the country and sold at lower prices, it is obvious that public confidence in domestic products may diminish and that the private sector will face defeat," he said.
"When the private sector is active, it provides thousands of jobs, and when workers are employed, they are no longer receptive to terrorism or insurgency," Hashemi said.
"The neighbouring countries make our citizens lose their jobs and encourage them to join terrorist groups by suppressing the private sector and Afghan manufacturing."