HERAT -- Iran's dumping and smuggling of shoes are threatening Herat Province's growing shoe industry, say residents and officials.
Until two years ago, more than 500 small and large shoe manufacturers were operational in Herat, but last year because of economic problems and unfair competition from Iran, 200 manufacturers closed, said Muhammad Sharif, head of the shoemakers' association in Herat Province.
As the Iranian rial slumped in value from a number of economic reverses, prices "dropped by 70% in Iran", he said, adding that importers could then buy a pair of shoes that used to cost 100 AFN ($1.30) for 30 AFN ($0.40) and resell it in Herat.
That made it difficult to compete with Iranian shoes, and it led to the closing of 200 shops, Sharif said.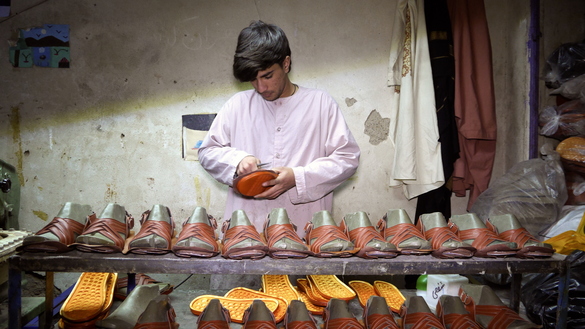 "We have been able to prevent the imports of shoes from neighbouring countries, especially from Iran, but the smuggling of shoes from Iran into Afghanistan has remained a serious issue," added Sharif.
Currently, the almost 300 remaining small, medium and large manufacturers have about 2,000 employees making more than 7,000 pairs of shoes daily in Herat Province, he said.
"Shoes made in Herat satisfy 60% of the demand in the markets of Herat and some of its neighbouring provinces... [and] are shipped to Farah, Ghor, Badghis and some other provinces including Kabul," said Sharif.
"Dozens of shoe varieties are made in Herat at international standards, and they include boys', girls', children's and women's shoes as well as those of soldiers," he added.
Unfair competition
The Iranian regime's financial manipulations have hit Afghan shoemakers hard, leaving them with significant financial losses, said Abdul Wahab Qazizada, director of a shoe factory in Herat city.
If the import of shoes from Iran is stopped, domestic shoe factories could meet the entire demand of markets in Herat and neighbouring provinces, he said.
"We call on the government to increase tariffs on shoes from neighbouring countries so that we can compete with them," added Qazizada. "With this measure in place by the government, our business will revive and we'll be able to bring a several-fold increase in our production."
"When the neighbouring countries see that an industry is growing in Afghanistan, they intervene and inject their low-quality products at lower prices to disrupt domestic markets in Afghanistan and hamper its growth," he said.
Shoemaking is an ancient trade in Afghanistan, according to Hamidullah Khadem, director of the Herat Chamber of Industries and Mines.
Previously, the province made basic shoes, but in the past two decades, the quality of shoes made in Herat has improved, he said. "Shoes made in Herat are better than the ones imported from neighbouring countries."
"The higher quality of shoes made in Herat has attracted customers to use these products, and most of the shoes in Herat markets are made in Herat," added Khadem.
The production of shoes in Herat has improved compared to that of two years ago, and customers have become interested in buying domestic products, said Jalil Ahmad, the owner of a shoe factory in Herat.
"The lower prices of low-quality shoes from the neighbouring countries have encouraged some buyers grappling with economic problems to buy these shoes, but most consumers prefer shoes made in Herat to the lower-quality imported ones," he added.
"We call on the government to prevent the import of lower-quality shoes," he said.
Government supports domestic production
The Afghan government is committed to preventing the import of low-quality Iranian and Chinese shoes and to supporting the shoe industry in the province, said local authorities in Herat.
The Afghan government has always provided support to domestic products, said Ghulam Daud Hashemi, deputy governor of Herat Province.
"Shoes made in Herat are of much higher quality than those imported from the neighbouring countries, and they have the ability to compete with foreign products," he added.
The government's policies to support domestic products have been implemented at customs facilities, added Hashemi.
"At customs facilities, higher tariffs have been imposed on products that are similar to domestic ones so that domestic products can retain their ability to compete with the imported goods," he said.
The destructive policies of the neighbouring countries, including those of Iran, against the domestic products of Afghanistan should be prevented, said Khadem, the director of the Herat Chamber of Industries and Mines.
"Every sector that has flourished in Afghanistan, the government of Iran has tried to destroy it with their dumping techniques," he said. "Shoemaking is one of the industries that [Iran's] dumping has affected."
"The best response to Iran's dumping policy is to prevent smuggling of Iranian shoes and to impose higher tariffs on their products," said Khadem.