HERAT -- Afghan farmers and exporters of saffron are benefiting from surging prices in national and international markets after the government banned imports of Iran's low-quality product.
Prices of Afghan saffron have doubled since President Ashraf Ghani banned the imports of the spice from Iran last October. The move was aimed at preserving Afghan saffron's international brand, retaining quality, boosting prices and expanding production of the spice.
"Last year, we had some concerns, but fortunately this year we are not worried, as we still haven't seen any illegal imports of Iranian saffron," said Abdul Saboor Rahmani, director of the Herat Department of Agriculture.
Imports of saffron from Iran have plunged to zero, he said.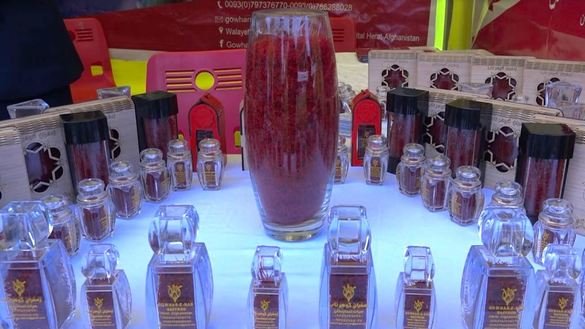 "Prices of saffron have doubled in the past three months," Rahmani added. "Currently, 1kg of saffron is sold for 60,000-90,000 AFN ($750-$1,130) based on its quality."
The price gains have made saffron farmers and producers "very optimistic", said Bashir Ahmad Rashidi, director of the National Union of Saffron Cultivators.
"Prices of Afghan saffron have been on the rise every month on national and international markets," he added.
Before the import ban, farmers were desperate to sell their saffron for 30,000 AFN ($380) per kilogramme, said Rashidi. "But now, 1kg of saffron can be sold for up to $90,000 AFN ($1,130) on the national market."
Move welcomed by farmers
The prohibition on imports of Iranian saffron and the resulting price increase for Afghan saffron have received a warm welcome from farmers and saffron-processing businesses in Herat Province.
"Ninety-five percent of saffron is exported to international markets from Herat, and the [illegal] saffron imports from Iran came through Herat," said Abdul Shakoor Ahrari, a saffron farmer in Herat Province.
"Fortunately, the government has taken action," he said.
The halt of Iranian imports has benefited the saffron industry in Afghanistan, agreed Qasem Alkozai, CEO of the Alkozay Saffron Processing Co. in Herat Province.
"The government's ban on illegal saffron imports from Iran has had a great impact -- now even 1 or 2kg can't be imported," he said. "Saffron prices have increased greatly, and we no longer have any concerns."
"We want the government to keep the restrictions in place so that low-quality saffron can't enter our country and doesn't affect the reputation of our high-quality saffron on international markets," said Alkozai.
"Irregular saffron imports from Iran to Herat forced us to sell our saffron ... at big, big losses," said Abdul Shakoor Isar, a farmer from Herat Province.
"Barring illegal imports of saffron from Iran was the biggest favour the government did for Afghan saffron," he said. "Our saffron is much better than Iran's, and the entire world wants it."
Preference for Afghan saffron
Interest in buying Afghan saffron, which Afghanistan exported to 17 countries last year, has increased in areas such as Asia, Europe and the United States, say officials at the Ministry of Agriculture.
One of the reasons why the Afghan saffron market has flourished is that various countries, including those in the Middle East, prefer Afghan saffron to that of Iran's, said Ministry of Agriculture spokesman Akbar Rustami.
"Saffron used to be mostly exported to India and to Arab and European countries," Rustami said. "Our saffron production in 2018 was about 16 metric tonnes, and more than 90% has been exported, totaling a value of $5 million [400 million AFN]."
"High-quality Afghan saffron has gained a special place on international markets," he said. "Some of the regional countries that Ghani visited are ready to purchase all of Afghanistan's saffron."
"The sheikh of the United Arab Emirates said he was ready to buy the entire annual production of Afghan saffron," he added.
Saffron production no longer is limited to Herat and is occurring in all provinces, said Rustami.