HERAT -- Afghan saffron has been once again recognised as the best saffron in the world by the International Taste Institute based in Brussels, which granted it a three-star award.
The institute issued the 2021 Diamond Taste Award to the Kaihan Saffron Agriculture Co., an Afghan firm, Ministry of Industry and Commerce spokesperson Fawad Ahmadi said January 16.
The 2020 winner was the Afghan Saffron Co.
"This award will motivate farmers to increase cultivation, harvesting and processing of saffron in Afghanistan and increase its export abroad," he said.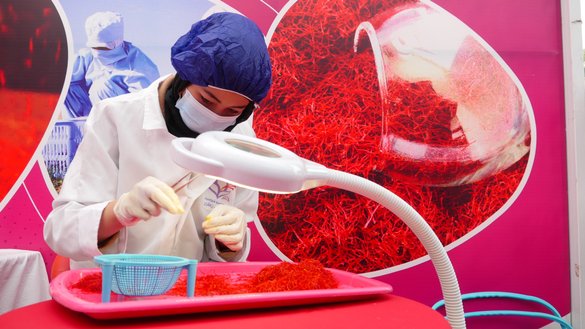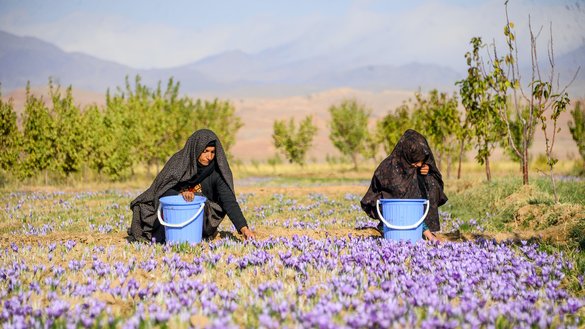 This is the fourth time that Afghan saffron has gained recognition as the best in the world, despite continuing efforts from Iran to sabotage the lucrative spice industry in Afghanistan.
Iranian threat to Afghan saffron
In order to discredit Afghan saffron, criminals are smuggling saffron from neighbouring countries into Afghanistan and then exporting it under the Afghan name, Herat Governor Sayed Wahid Qatali said on January 17.
"While Afghan saffron has been recognised several times as the best in the world, low-quality saffron from neighbouring countries would hurt our brand," he said.
"We have been fighting the smuggling and import of saffron from neighbouring countries with all our power," he said, in reference to Iran.
"Afghan saffron has been ranked first in the world for the fourth time, but its price in domestic markets is still low," Qatali said. "This is mainly due to [Iran's] destructive policies that do not allow Afghan saffron to develop."
Afghan authorities accuse the Iranian government of trying to undermine the reputation of Afghan saffron in international markets by exporting Iran's lower-quality saffron to Afghanistan and mixing it with Afghan saffron.
Additionally, cheap imports pose a threat to the emergence of a strong local industry.
Farmers in Herat condemned Iran's destructive policies regarding Afghan saffron and called on the government to stop the smuggling of Iranian saffron by enforcing a law on the books since 2018.
In October 2018, President Ashraf Ghani banned the imports of saffron and saffron bulbs to protect the product's nascent local market, mainly in Herat Province.
The delicate purple flower grows in Guzara, Injil, Ghorian, Pashtun Zarghun and Zindajan districts of Herat Province, where about 90% of all Afghan saffron is produced, according to local authorities.
The smuggling of low-quality saffron from Iran "in great quantities" endangers the future and ranking of Afghan saffron, said Mohammad Ibrahim, a farmer in Guzara District.
Because of Afghanistan's unique climate and environment, especially in Herat, the exotic spice is far superior to its Iranian substitute, he said.
Additional smuggling of Iranian saffron into Afghanistan "will affect the quality of our saffron and we will lose our international customers", he said.
"The illegal import of low-quality saffron from Iran has reduced the price of Afghan saffron," said Kamaluddin Alizai, another farmer from Guzara District.
Over the past year, many farmers have spurned growing poppy, which criminals use to make illegal drugs such as opium and heroin, so they can cultivate saffron to boost their livelihoods, Alizai said. But the continued trafficking of Iranian saffron threatens to undo those gains.
"Iranian saffron is being smuggled into Afghanistan through various entry points, including Islam Qala," he said. "Since Iran is under sanctions, it is trying to smuggle its saffron via any possible means to get cash."
The price of 1 kilogramme of saffron is less than 40,000 AFN ($518), say authorities in Herat. Two years ago it reached more than 100,000 AFN ($1,294).
Optimism about increasing production
Farmers have planted more saffron bulbs this solar year, indicating a brighter future for saffron production in the country, said the Herat Department of Agriculture, Irrigation and Livestock.
The total saffron harvest in Herat this solar year was 20 tonnes, and based on their projections, it will go up to 25 tonnes annually in coming years, said Bashir Ahmad Ahmadi, the department's technical deputy director.
"Saffron was cultivated on 8,000 hectares of land this year, which yielded 20 tonnes, showing a 20% increase over previous years," he said.
In the near future, the annual production of saffron in Afghanistan will reach dozens of tonnes, which will greatly help the economy, Ahmadi said.
"More than 20,000 families are engaged in cultivating and processing the plant in Herat, with 70% of saffron processed by women," he said, adding that "the role of women in enhancing the quality of saffron in the country is critical".
The global first-place ranking stems from the hard work of farmers who cultivate saffron under tough circumstances, said Abdul Shakoor, a farmer in Pashtun Zarghun District .
"I am very happy that Afghan saffron is ranked first in the world," he said, urging the government for more support "so we can cultivate more saffron and enhance its quality".
"We will never allow low-quality Iranian saffron to damage the reputation of ours," he added. "We call on the government to stop the import of saffron from Iran and punish those involved in smuggling it."