HERAT -- The smuggling of low-quality saffron from Iran into Afghanistan's Herat Province has created major ramifications for the local market and its international reputation.
"The low-quality Iranian saffron is hurting the reputation and quality of our saffron in international markets," Minister of Agriculture, Irrigation and Livestock Nasir Ahmad Durrani told Salaam Times.
"In the coming days, I will recommend to the cabinet that the import of saffron be strictly prohibited and that ... saffron imports from Iran should be confiscated," he said.
Afghan farmers have suffered losses from a drop in the price of high-quality Afghan saffron, thanks largely to the smuggling of saffron from Iran, said Herat Governor Mohammad Asif Rahimi.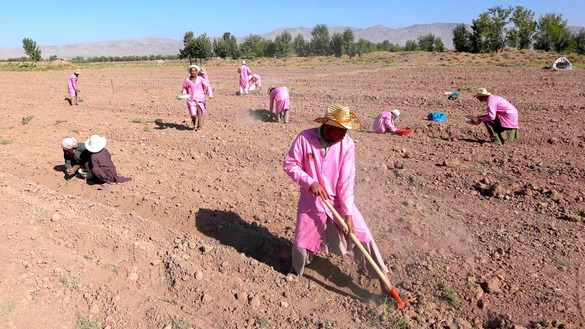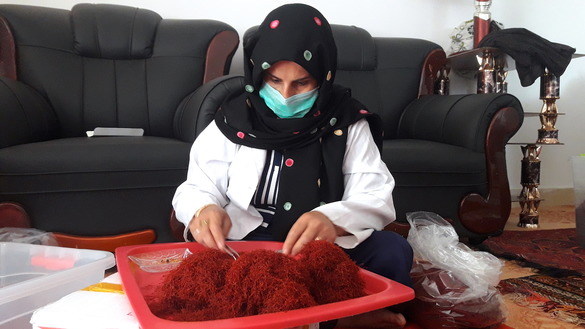 "We tasked our border police with preventing the illegal entry of saffron into the country," said Rahimi.
It is unclear how much Iranian saffron illegally enters Herat Province, say officials from the Ministry of Agriculture, Irrigation and Livestock. Last year, however, Afghanistan exported more saffron to other countries than it produced in its fields.
Afghan farmers sustain losses
Afghan farmers in recent years have become more interested in cultivating saffron, said Nasar Ahmad Atayee, 50, who has been harvesting saffron for more than 15 years in Pashtun Zarghun District, Herat Province.
The profit from Afghan saffron, however, has dropped significantly mainly because of smuggling of Iranian saffron, he said.
"Nearly a year ago, farmers in Herat sold 1kg of Afghan saffron at up to 130,000 AFN ($1,790), but that price has since fallen to 60,000 AFN ($826), and it has negatively affected Afghan saffron farmers," he told Salaam Times.
"[The Iranian] saffron goes from Iran to Herat, and then it is exported from Herat under the name of Afghan saffron," he said.
"Afghan saffron has been ranked the best in the world for three years in a row, and Iranians are now taking advantage of that by exporting Iranian saffron as Herat saffron to other countries," he added. "Any quality problems that may occur with the Iranian saffron production will taint the reputation of Afghan saffron."
Iran reportedly produces more than 200 tonnes of saffron every year but has been unable to sell it legally for several years (because of international sanctions), according to Abdurrazaq, 60, of Pashtun Zarghun District, who has cultivated saffron for more than two decades in Herat Province.
That is why it sends its saffron to Afghanistan to be sold under false pretenses, he told Salaam Times.
"After years of hard work by our saffron farmers, this [product] has now become a small glimmer of hope for Afghan farmers and society," he said. "However, [Iran] is gradually turning this [glimmer] into hopelessness and disappointment."
Smuggled Iranian saffron is going to other countries from Herat and will have a negative impact on Afghanistan's saffron, according to Bashir Ahmad Ahmadi, the deputy director of Herat's Department of Agriculture.
"If low quality saffron is smuggled into Afghanistan, then it will definitely have negative ramifications," Ahmadi told Salaam Times.
Iran desires to reach the international markets
Iran is trying to violate global trade practices by illegally exporting its saffron via Afghanistan because Afghan saffron is exempt from customs duties in both India and China, say local officials in Herat Province.
Iran also has tried to export its saffron to the United States as counterfeit Herat saffron after a US company, Chicago-based Rumi Spice, announced its preference for Afghan saffron, sometimes referred to as "Afghanistan's red gold".
Afghanistan's saffron has a very strong international reputation and been ranked first for three consecutive years, something that Iran resents, say a number of political observers.
"Iran is trying to sabotage the name brand and marketing operation of Herat saffron," said Abdul Qader Kamel, a political analyst in Herat.
Because of global pressures and international sanctions imposed on Iran, especially by the United States, Iran's saffron producers are seeking buyers, and therefore [Iran] exploits the name of Afghan saffron, Kamel told Salaam Times.
"Iran uses all options to find a market for its saffron, and one of those options is Afghanistan, especially in bordering Herat Province, which [Iran] exploits to export its saffron to global markets," he said.