HERAT -- Higher prices for saffron are driving farmers in Herat Province to cultivate more of the crop as they boost their livelihoods and spurn growing poppy, which can be used to make illegal drugs such as opium and heroin.
Farmers have cultivated saffron on more than 8,000 hectares of land in the province since March 20, with production rising 10% to 22 tonnes compared with the previous year, according to the Herat Department of Agriculture.
"More than 20,000 families are busy growing and producing saffron in Herat Province, and women's involvement in growing saffron is very high," said Bashir Ahmad Ahmadi, deputy director of the department.
Saffron grows in Guzara, Injil, Ghorian, Pashtun Zarghun and Zindajan districts in Herat Province, and about 90% of all Afghan saffron is produced in that province, according to local authorities.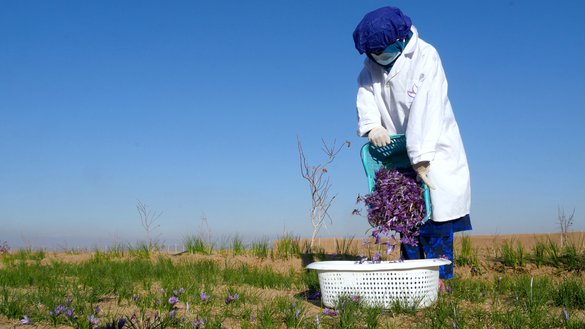 Prices of saffron have increased by 20% this year, encouraging farmers to grow more saffron, said Herat Governor Sayed Wahid Qatali.
"Processing centres established for saffron in Herat Province have helped with the standard packing of saffron and created an opportunity to export the crop," he said.
The reputation of Afghanistan saffron has been hurt in the past as low-quality saffron from Iran imported into Afghanistan had gone out to global markets "in the name of Afghan saffron", Qatali said.
Now that Afghanistan prohibits imports of Iranian saffron, it has regained its reputation globally for the high quality of its crop, he said.
Switching to growing legal crops
The higher prices for saffron have made it easier to reject growing poppy, say farmers in Herat Province.
Muhammad Ibrahim grows saffron on his 50 jeribs (10 hectares) of land in Guzara District.
The cultivation of poppies has tainted Afghanistan's reputation and made young Afghans addicted to opium, he said, so he stopped growing poppies to focus instead on growing saffron, which provides a good income.
"We previously grew narcotics [poppy], but after we realised that saffron is a legal crop and a good alternative, we stopped cultivating poppy and switched to growing saffron," he said. "After I started growing saffron, our livelihoods improved."
"Since we have cultivated saffron on more of our land, our harvests have increased compared with previous years," he said.
As saffron is a legal crop and brings in a better income, it is replacing the cultivation of poppy, which has destroyed Afghanistan and Afghan youth, said Sayed Ahmad, another Guzara District farmer.
"I grew poppy on my land for a few years, but I didn't receive any income. Instead, I lost all my capital [from crop failure] and went bankrupt," he said. "I swore that I would never again grow poppy, and now I'm growing saffron, and it has helped me improve my economic situation."
The cultivation of saffron has helped improve the Afghan economy, Sayed Ahmad said, adding that the crop is used to produce medicine after Afghanistan exports it.
"Saffron doesn't addict young people to drugs in Afghanistan and other countries," he said. "Farmers have switched to cultivating saffron because it is a legal crop. Those who grew poppy because of their ignorance have switched to growing saffron."
Curbing access to narcotics
The reduction in poppy cultivation has diminished access to narcotics, resulting in fewer young addicts, local authorities say.
Drug prices have plummeted on world markets and farmers are not planning to return to growing poppy, said Nizamuddin Bahawi, chief of counter-narcotics at the Herat Police Department.
"Not a single poppy plant is grown in areas under the government's control," he said, adding that poppies are grown "only in remote areas that are under the Taliban's control. The Taliban force farmers to cultivate poppy."
"Terrorist groups collect revenues from growing and trafficking narcotics, which they use to buy weapons and explosives," Bahawi said.
"Access to narcotics, especially opium, has declined significantly in Herat Province, and this has curbed the number of drug addicts," he said. "The reduction in poppy cultivation and police crackdowns together have prevented the distribution and trafficking of narcotics."
In the past year, police have seized more than 60 tonnes of various types of narcotics from drug traffickers in Herat Province and have burned the confiscated drugs, he said.
As illegal drugs become harder to attain, many addicts are admitting themselves to hospitals in order to quit their addiction, said Sayed Muhammad Sadaat, director of the Drug Demand Reduction Programme at the Herat Department of Public Health.
"In previous years, we were looking for addicts to bring them to hospitals for treatment, but this year a growing number of addicts have come to hospitals themselves as they have decided to treat their addiction," he said.
As the cultivation of poppy declines, the number of addicts will drop, saving thousands of young Afghans' lives, Sadaat said.