KANDAHAR -- The Afghan government is providing a number of alternative livelihood projects to ensure Afghans pushed out of work by the coronavirus pandemic do not turn to opium cultivation for cash during this year's poppy harvest.
Afghanistan has long been the world's top grower of opium, producing more than 80% of the global supply, but progress has been made in recent years to reduce the amount of land cultivated with the illicit crop.
More than 38,000 cases of COVID-19 coronavirus have been declared in Afghanistan and more than 1,400 deaths, though the Health Ministry estimated in August that a third of the population has likely contracted the disease.
A months-long lockdown, which mainly affected cities, has slowly been lifted since the beginning of August, with some schools, wedding halls and markets reopening.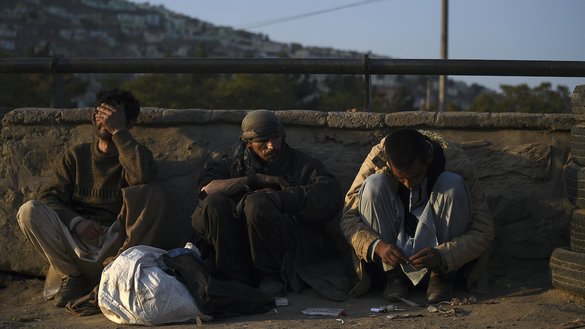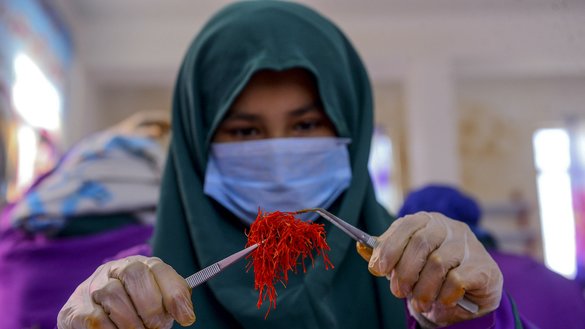 Jobless seeking quick cash
But the lockdown and travel restrictions caused trade to grind to a halt and many businesses were forced to lay off staff.
"Because of the coronavirus I lost my job," said Fazily, 42, a mechanic in Uruzgan Province.
"I have a family of 12 members; I am the breadwinner," he said. "I have no other way but to work in poppy fields to make some money."
Farmers usually rely on a seasonal labour force for the spring and summer harvest, but the coronavirus pandemic meant many were unwilling or unable to travel for the work.
A report published by the United Nations Office on Drugs and Crime (UNODC) in June found a shortage of workers had been observed "in the western and southern provinces of the country, mainly due to the closure of a border crossing with Pakistan".
Students unable to go to school because of the lockdown were among those who filled in, heading to the opium poppy fields looking to make quick cash.
"Our school is closed, and I have enough time to go work in a poppy field and make some money," said Nazir Ahmad, an 18-year-old student in Kandahar. "About 20 of my classmates are also working here."
Most poppy production is centred in southern Taliban strongholds, although opium grows too along the country's eastern border with Pakistan.
"There were no jobs, and a lot of people, especially my relatives and villagers, resorted to poppy cultivation because of joblessness," said Musafir, a resident of Khogyani District, Nangarhar Province.
The Taliban has long profited from poppies by taxing farmers and traffickers and running its own drug factories that turn raw opium into morphine or heroin for export, with drugs then trafficked through neighbouring Pakistan and Iran.
Alternatives to poppy cultivation
International donors have spent billions of dollars on counter-narcotics drives in Afghanistan over the past decade, including programmes to encourage farmers to switch to other cash crops such as saffron.
"Many alternative livelihood projects have been implemented and are currently under way in the provinces where poppy is grown," said Akbar Rustami, a spokesperson for the Ministry of Agriculture, Irrigation and Livestock.
"Horticulture, building of fruit orchards based on the climatic conditions of each province, and growing of grains, saffron, aloe vera, medicinal plants and in general the promotion of halal cultivation [are some of the] alternative livelihood projects that have increased incomes, especially for farmers who used to grow poppies," he said.
"Currently, livelihood projects are under way in Helmand, Kandahar, Nangarhar and other provinces," he said. "Building greenhouses and promoting pistachio orchards are other parts of the alternative livelihood programme that have yielded good results in reducing poppy cultivation in the western and southern parts of the country."
"The alternative livelihood programme is part of the government's plan to prevent and reduce poppy cultivation," said Tariq Arian, a spokesperson for the Interior Affairs Ministry.
"The Counter Narcotics Department at the Interior Affairs Ministry, in co-operation with the Ministry of Agriculture, is implementing the alternative livelihood projects, which have yielded good results," he said.
"Thousands of hectares of poppy fields have been destroyed in various provinces in the past year," Arian said. "Alternative livelihood projects have been implemented in hundreds of villages that used to be areas for poppy cultivation, and farmers now grow saffron, aloe vera and various vegetables and fruits instead."
"Poppy cultivation has declined in most provinces," he said.
Afghan farmers planted opium poppy on 163,000 hectares of land last year, a 37% decrease from 2018, according to the UNODC's World Drug Report released on June 25.
All the main opium poppy-growing provinces saw significant declines in the amount of land growing the crop in 2019.
Poppy cultivation fell 82% in Nangarhar, while the following provinces saw declines too: Nimroz by 78%, Kandahar by 40%, Uruzgan by 38%, Farah by 35% and Helmand by 34%, the report said.
[Sulaiman from Kabul contributed to this report.]