KUNAR -- The Afghan government has launched four solar-powered irrigation projects in three districts of Kunar Province that will provide water for about 800 hectares of land and help farmers move away from cultivating poppy for the illegal drug industry.
With a total estimated budget of 92 million AFN ($1.2 million), work on these projects started on March 23. The project is funded by the Ministry of Agriculture, Irrigation and Livestock.
Construction of these projects will take two years, said Inamullah Sapai, provincial director of Agriculture, Irrigation, and Livestock for Kunar Province.
"Two solar-powered water pumps will be installed in Marawara District; one in Esari Dag and another in Lahore Dag, while one solar-powered water pump will be installed in Loy Dag of Sarkano District and another in Loy Dag of Narang District, which will irrigate a total of 800 hectares of rainfed land," Sapai said.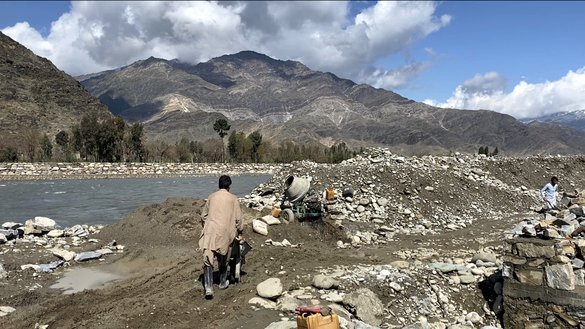 These projects will allow farmers to stop cultivating poppy as they will be able to plant orchards that have multiple harvests every year, said Sapai.
Poppy cultivation is often linked to the Taliban, who use the sale of illegal narcotics derived from the plant such as heroin to fund their militancy.
The insurgents have forced farmers to grow poppies, even though the cultivation, transport, trafficking, sale and use of narcotics are strictly forbidden in Islam.
Project "will change our lives"
Local farmers welcomed the projects by the government, saying they are optimistic that they will be able to grow different crops with the help of the water pumps.
"I have 0.8 hectare of land here. During the maize season, I don't cultivate anything, but during the wheat season, I cultivate wheat," said Dad Mohammad, a 50-year-old farmer who lives in the Muslim Abad area of Sarkano District in Kunar Province.
"The harvest then depends on the level of rain we get. If it rains more, then the harvest is good, but if it does not rain, then there is no harvest," he said. "In some years, we would cultivate wheat, but it would not rain enough, so we would have no harvest at all."
Mohammad said he is happy that the recently launched project will use solar energy to pump water from the Kunar River, which will irrigate his lands.
"This project will install solar panels and pump water using water pumps to irrigate our rain-fed lands," he said. "This land has been rain fed for generations. We are now hopeful that this project will irrigate our lands, which will change our lives."
Some residents of Muslim Abad village have dug wells in their yards and established small farms as well.
Mohibullah Sapai, 22, has taken the opportunity to switch from wheat to apples.
"This piece of land is 0.1 hectare. We planted an apple orchard on it this year. We have dug a well inside our house and use a diesel generator to irrigate this orchard," said Sapai.
"Let's see if we can actually supply enough water to grow these saplings or not. But if this project that supplies water from the river using solar power is completed, then we will greatly benefit from it," he said.
"The majority of residents in this area are poor," he added. "Even rain-fed land, because of the Taliban presence, was not safe in the past. They are gone now, and life is better. If this project is successfully implemented, then residents of this area will eventually have a better life and a better income."
Benefits for farmers
The irrigation project will be beneficial for local farmers, agreed Kunar provincial council member Mohammad Sapai.
"We do not have much arable land in Kunar, and the limited arable land is also rain fed," he said. "Therefore, it will be very useful if 800 hectares of land are irrigated and locals can benefit from it."
"Many locals have already told me that if this project is successfully implemented, they will then develop orchards on their lands," he added.
"The majority of those who join anti-government elements do so because of lack of employment," Sapai said. "If orchards are developed and residents find work on the farms, then no one will join the anti-government elements or take up arms against the government. Instead, they will live their ordinary lives."
"We are happy about this project, but we hope it is properly completed," he said.