BADGHIS -- After a year of devastating drought in Badghis province, adequate snow and rain have brought life to farmers' crops.
Cultivated on hillsides, more than 90% of grain crops in Badghis are only rain fed and cannot be irrigated with water from rivers.
Almost all the crops were lost without any yields because of the severe drought last year, inflicting heavy losses on farmers in rural areas and forcing many to relocate to Qala-e-Naw, the provincial capital, or to Herat province.
Eid Mohammad, a farmer in Baadruk village of Qadis district, has cultivated wheat on 2.4 hectares of land, with the hope that the harvest will cover his expenses for a year.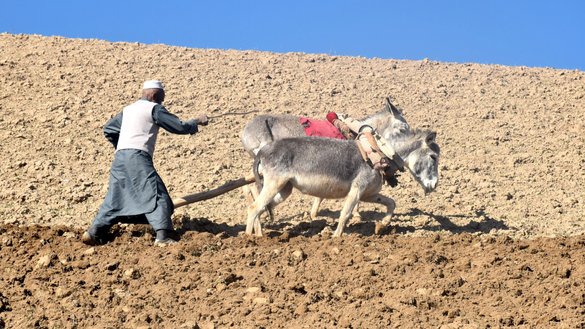 "Farming and my livelihood are better this year than they were last year since it snowed and rained a lot," he said.
"All my wheat crops dried up last year without any yields from severe drought," he said.
For Mohammad, the breadwinner of a family of six, farming crops and tending livestock are his only sources of income.
Esmatullah, another farmer in Qadis district, hopes to recover some of the losses he faced last year from the drought.
"We are constantly looking up to the sky, hoping that it will rain since all our crops are rain fed," he said. "It rained repeatedly this year, and our crops have grown well."
"All our crops died last year, and we farmers suffered greatly," Esmatullah said. "This year has been prosperous thanks to the snow and rain."
Lack of government support
While grateful for the absence of drought so far this year and for snow and rain, many farmers are struggling without government support.
Basir Ahmad, 47, a farmer in Baadruk village, has cultivated wheat on only one hectare of land, although he owns more than 10 hectares of agricultural land near his village.
Farmers have not been able to cultivate more land or make good use of the heavy snow and rainfall because of economic difficulties and lack of government support, he said.
"The Ministry of Agriculture, Irrigation and Livestock used to distribute improved seeds and chemical fertilisers to us every year, but this year we have not received any assistance," he said.
"I cultivated eight hectares of land last year, thanks to the support I received from the government," he said. "But this year, I was able to cultivate wheat only on one hectare of land because of lack of state support."
NGOs also used to assist the farmers in different areas in the past, Ahmad said, but that aid has also stopped this year, leaving the farmers completely alone.
Ghulam Mohammad, another farmer in Qadis, said he has spent all his money planting rain-fed crops this year.
In addition to covering his expenses this year, he hopes to earn enough for next year's expenses, too.
"Agriculture is the only source of income for our village as everyone there is a farmer," he said. "Most of them could not cultivate their land this year because of economic problems and lack of seeds."
Agricultural yields would be many times higher this coming solar year in Badghis had the farmers received improved seeds and chemical fertiliser as they did in previous years, Mohammad added.
'Nothing left to eat'
With rising unemployment and general economic challenges in Afghanistan, farmers are also suffering from extreme poverty and hunger.
Nizamuddin, 65, a farmer in Qala-e-Naw, said he suffered heavy economic losses due to last year's drought while the economic crisis this year brought him to his knees.
He said he has experienced the worst days of his life in the past few months from extreme poverty.
"There is nothing left at home to eat," Nizamuddin said. "The government used to help us in the past, but we have not received any assistance this year."
"I borrowed 140kg of wheat from my brother to cultivate," he said. "I will be able to earn a living for my family for a few months if the yields are good."
Abdul Qadeer, 48, a farmer on the outskirts of Qala-e-Naw, said the current economic crisis in the country has affected him worse than last year's severe drought.
"The price of chemical fertiliser has gone up sharply this year, and I cannot afford to buy it," he said. "I will not have good yields this year because of lack of fertiliser."
"The government provided us with improved seeds and fertiliser last year, but this year it has given us nothing, and we cannot afford to buy it from the market either," he added.
Abdul Qadeer complained that food prices have gone up sharply and that he cannot afford to buy rice, oil and sugar for his family.
"Most nights we have only bread to eat since we do not have oil and rice," he said. "A bag of flour is all that is left in the house now, and I don't know what we will do once it is finished."