KUNDUZ -- The Swedish Committee for Afghanistan (SCA), in collaboration with the United Nations Development Programme (UNDP), has distributed improved wheat seeds and other agricultural products to farmers in Kunduz province to help them combat the consequences of drought.
The assistance package is aimed at strengthening agricultural production and contributing to higher yields for farmers who have suffered through years of destructive drought, said Abdul Majeed Nafez, director of the agriculture unit at the Kunduz Department of Agriculture, Irrigation and Livestock.
Assistance packages "were distributed to 300 farmers in Kunduz's Aliabad district, and they will contribute to higher farm yields", he said on September 19.
"Each farmer received 50kg of improved wheat seeds, 50kg of urea fertiliser and 25kg of DAP [di-ammonium phosphate] fertiliser, as well as shovels, pickaxes, sickles, scythes, Vitavax fungicide and some other livestock items," he said.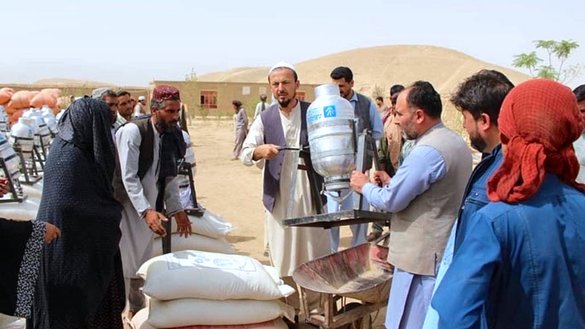 The products are of high quality, enabling farmers to reap a good harvest from their rain-fed lands next year, he said.
"I can confidently say the improved wheat seeds, fertilisers and other agricultural materials that we have provided to the farmers will increase their yields by 40% next year ... if they adhere to and follow technical guidance from our extension workers," Nafez added.
Losses from drought
Thousands of hectares of land have dried up from drought over the past three years, say farmers.
"Drought and natural disasters cause incredible losses to the farmers who work on rain-fed lands, which can be cultivated only once a year," said Nimatullah, 61, a farmer from Qaisa Topak village of Aliabad district.
"I have cultivated wheat on my five jeribs of rain-fed land for the past five years. However, I was unable to reap any yields," he said.
"We harvested between 700 and 720kg of wheat from each acre of our land in previous years, but we could not harvest even 70kg of wheat from the same land in the past three years because of the persistent drought," he added.
Nowruz Abidy, 49, another farmer from the village, said that a lack of rain in spring caused his wheat harvest to dry up.
"I bought seeds and fertilisers with borrowed money for the past three years," he said. "However, because of the very poor harvest, I was not able to earn enough money to pay back my loans."
"Farmers have sustained huge losses over the past several years," said Sayed Rasoul, 55, a farmer from Chapa Guzar village in the district. "The more assistance is provided to the farmers in various areas, the sooner they can become self sufficient."
"The assistance package that we have received is very promising for the sustainability of the agriculture sector," he said. "We hope they consider providing more assistance to farmers in the future."
Hoping for a better harvest
Kunduz farmers are hopeful the assistance will help increase crop production next year.
Juma Khan, 52, a resident of Balucha village in Aliabad district, tried to cultivate wheat on his more than two hectares of land with nothing to show for his efforts.
"The lack of rain during the months of Hoot [February] and Hamal [March] destroyed my harvest," he said. "I borrowed from villagers to buy fertiliser, pay for the tractor I rented and meet other expenses to cultivate my land, but I am still in debt."
"Today, I received improved wheat seeds, fertiliser and other agricultural tools. I hope I will have a good harvest next year and earn enough to compensate for my several years of losses," he said.
Jan Aqa Haqnigar, an agriculture specialist in Kunduz, called on the government and international organisations to support farmers and to help offset their losses from the past few years.
"Unfortunately, farmers who have rain-fed farms have been affected the most over the past years," he said. "We did not have any harvests from rain-fed lands on the market over the past two years."
"If the relevant non-governmental organisations want to help farmers with rain-fed lands enhance resilience and reduce their vulnerability to future shocks, they should consider distributing more and more improved wheat seeds so that they continue to strengthen their cultivation capacity in the coming years," Haqnigar said.