NIMROZ -- The United Nations Children's Fund (UNICEF) has kicked off a project in Chakhansur district of Nimroz province aimed at providing clean drinking water to thousands of locals affected by drought and water shortages.
Citizens Organisation for Advocacy and Resilience (COAR), an Afghan non-profit organisation based in Kabul, began work on the water supply project on September 4.
The project has a budget of 21 million AFN ($238,000) from UNICEF and is expected to take two months to complete.
Seven remote villages in Chakhansur district are covered by the project, said Hamayoun Saadatkhail, director of COAR in Nimroz.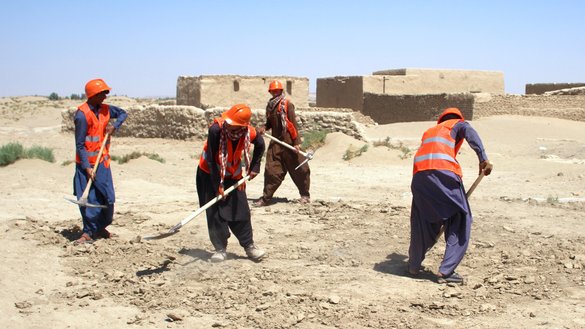 "The project will dig deep wells in those villages and pump out water using solar energy," he said. "Reservoirs will be built in each village, and water will be distributed to specific sections of the villages using pipes."
"Residents of those villages lack access to clean drinking water. That [lack] has caused diseases," Saadatkhail said. "We have joint programmes with UNICEF, and we will have similar projects in other parts of Nimroz as well."
The project will also create dozens of jobs for locals for its duration, he added.
Some 540 families will benefit from the project, said Mohammad-Ulhaq Bashir, the director of Nimroz's water supply department.
"Most residents of Nimroz do not have access to clean drinking water and face many problems fetching water," he said. "The seven villages where the project will be implemented suffer from drought and need clean drinking water."
"Underground water levels have dropped greatly in Nimroz from drought," he added. "In some areas, water is 40 to 50 metres underground, and locals cannot afford to dig deep wells."
In some areas of Nimroz, residents purchase drinking water, while those who cannot afford to purchase clean water have to drink unhygienic water, Bashir said.
Water shortage
Women from the villages covered by the UNICEF project in the past fetched water from Helmand river lagoons 4km away.
Abdul Ali, 60, a resident of Chakhansur district, said one or two members of his family are always busy fetching water.
"I am very happy for the water supply network to be built in our village," Ali said. "We have been suffering from water shortages for years and have faced many problems because of this."
"We have had no agriculture for some years because of drought," he said. "Our orchards have died. We even have difficulty finding unhygienic drinking water, which we have to drink."
Din Mohammad, 70, another resident of Chakhansur district, said he is relieved that clean drinking water will be provided to his village.
"The water we currently consume is dirty and undrinkable," he said. "But we have no other choice."
"The dirty water has been causing diseases for years in our village," Mohammad added. "Whenever we go to doctors, they tell us the reason for our illness is unclean water."
Most illnesses in the province are caused by drinking polluted water, confirmed Khalil Ur Rahman Azizi, an internal medicine specialist in Zaranj, the provincial capital of Nimroz.
"Most patients that come to us are suffering from severe diarrhoea, kidney and stomach problems, and blood infections, the main cause of which is unhygienic water," he said.
Saving lives
Zarghoona, 36, a resident of Chakhansur, said her one-year-old daughter contracted cholera from unclean water and died six months ago.
"My daughter used to drink water from the river, but one day she got severe diarrhoea after drinking water and was vomiting," she said. "Her condition deteriorated rapidly, and she died a few hours after we took her to the hospital in the city."
A number of children in her village have lost their lives in recent years from unclean water, said Zarghoona.
"I fetch water daily from the river," she said. "Sheep come and drink from the same water, and even worms and insects are in the water. We have to drink that same water to survive."
The provision of clean drinking water in their village will save lives, especially those of children, she said.
Most residents of his village have fallen ill from drinking river water, said Ghulam Farooq, a resident of Chakhansur district.
"The water we drink stinks, and we have to drink it," he said.
Farooq said that unclean water has sickened him several times, sending him to the hospital for more than a week each time.
"I am very happy that a water supply network is being built in our village and we will have clean drinking water," he said.
"Our people will not get sick anymore from [unclean] water."