HERAT -- The United Nations Children's Fund (UNICEF) has launched a water supply project in Herat city aimed at creating critical jobs for locals.
The project will expand and renew the water supply system in several districts of Herat city and provide thousands of residents with access to clean drinking water, said Farid Ahmad Kakar, director of Herat's Water Supply department.
The year-long project, which was launched on March 30, costs 100 million AFN ($1.1 million). It has created more than 2,000 jobs, according to Kakar.
"The objective of the project is to create work for unemployed residents whose families are facing hunger," he said.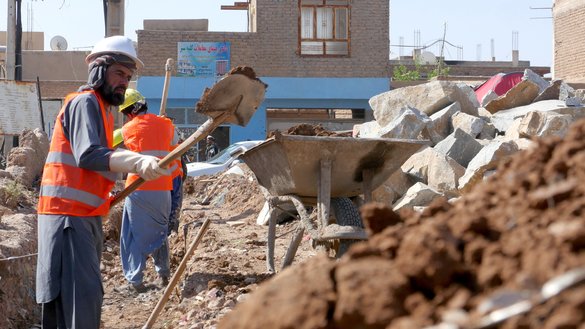 "The water supply system in parts of the city needed maintenance, but we did not have the budget ... in some other parts people did not have access to tap water," he added. "This project will address these problems."
All of those hired by the project managers were previously unemployed, according to Mohammad Naser Barak, an engineer for the project.
"Our main goal is to create jobs for men to save their families, especially children, from hunger," he said.
"Besides providing access to clean drinking water, the project will save thousands of Afghans from starvation by creating hundreds of jobs," he added.
The best approach to helping the needy is to launch infrastructure projects and provide jobs, said Barak.
Saving Herat families from misery
Noorullah Azizi, one of the workers hired by the project in Herat city, said that he had been unemployed for four months and was in a dire financial situation.
Unemployment has peaked in recent months after all development projects and construction work stopped, he said.
More projects like the one launched by UNICEF will provide jobs and save Afghans from "stress and misery", he added.
The project will not only create jobs for the youth and the impoverished but will also help with the development of Afghanistan, Azizi said.
Qurban Samadi, another worker for the project and the breadwinner of a family of eight, said he had not been able to work even a single day in three months.
"I am very happy to be working and to be able to find food for my children," he said.
"The more such projects are rolled out, the more Afghans will be employed and saved from suffering and misery," he added.
Samadi said he will be able to address the needs of his children thanks to the weekly wage he receives from the UNICEF effort.
Unemployment has peaked since the fall of the previous government, said Ali Haidar, another worker, adding that he had not found work even for one day over the last several months.
In the last four months, he would leave home every morning hoping to find work but would return home each night empty-handed, he said.
"I am very happy to have this one-year job," he added. "I feel like a weight has been lifted off my shoulders."
"I suffered a lot from unemployment. It was very painful on some nights to see my children go to bed hungry," Haidari added.
International assistance
The start of the project comes amid other international aid efforts aimed at mitigating the effects of Afghanistan's economic and food crises.
The humanitarian assistance provided by the international community is mostly in the form of food distributed directly to beneficiaries through NGOs and UN agencies.
Khairia, 45, a mother of five, received UN-provided food assistance Wednesday (April 6) in Herat city.
She said that she had nothing to eat at home and that the assistance will help feed her children for two or three months.
"My husband was a labourer who was killed three years ago in an explosion in Shindand district," she said. "I used to work as domestic help in houses to provide for my children, but I haven't found any work for several months."
"We desperately need help. I call on donor countries and aid agencies to help us. Afghans are poor and have lost their jobs, leaving them with nothing to eat," she added.
Support from the international community is vital, as more than 90% of Afghans live below the poverty line, said Mohammad Naser Khelwat, a sociologist in Herat city.
Thousands of Afghans would have starved to death in the past few months had the international community not provided humanitarian assistance, he said.
"The economic conditions of Afghans have really deteriorated ... almost everyone has lost his [or her] income, which has raised household poverty," he added.
"Afghans are in dire need of international assistance. Donor countries should ensure direct delivery of assistance to those in need," Khelwat said.
They should not allow any misuse of humanitarian aid, he added.