HERAT -- As the economic crisis deepens and unemployment rises across Afghanistan, thousands of Afghans are fleeing using legal or illegal routes to neighbouring countries, including Iran.
The country's economy has plummeted in the past seven months.
The majority of fleeing Afghans travel illegally, using human smugglers, and most are traced and detained by the Iranian military before reaching their destination. It sends detainees back to Afghanistan.
That was the fate of Mohammad Ismail Jahanzai, 25, from Laghman province, who resides at a United Nations (UN) refugee camp in Herat city.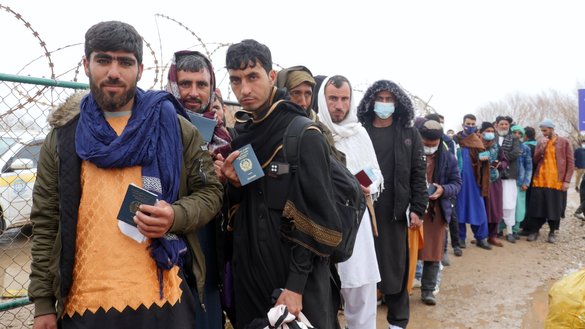 "Unemployment gave me no other option but to go to Iran to find work and earn a living for my family," he said. "However, we are not safe anywhere. In Iran, the police are everywhere, and they look for Afghan workers and arrest and deport them."
"I wish job opportunities were available in our country. If I could have made even just 100 AFN [$1.14] a day, I would have never decided to go to a foreign country," he said.
Afghan refugees are treated with great disrespect in Iran, and their belongings occasionally have been looted by the Iranian police, he said. They are deprived of their basic human rights, he said.
Amir Khan Ahmadzai, 20, a resident of Logar, who was recently deported from Iran and now also resides at the UN refugee camp in Herat city, said nobody willingly leaves Afghanistan, but poverty and destitution force many to travel to neighbouring countries in search of employment.
Afghans are facing severe economic challenges, he said, and have to find ways to rescue themselves from "inevitable death".
"I left my family and went to Iran to find a loaf of bread for them, but the Iranian police arrested and deported me," he said.
No means to help starving citizens
Ahmad Hussaini, 40, a resident of Lal Sar Jangal district, Ghor province, also tried his luck finding work in Iran but Iranian authorities deported him before he reached his destination.
"I have four children whom I left behind and went to Iran to find a job," he said. "It was not an easy decision to abandon my children and family, but I had no other choice."
Living in Afghanistan has become very difficult under the current circumstances, he said. Even if someone faces starvation, nobody has the means to help him or her.
With no other options, many Afghans risk their lives and choose extremely dangerous routes to travel to Iran, hoping to find a job, he said.
Nasimullah, 18, a resident of Kabul, who lives at the UN refugee camp in Herat city, said his father was killed in a suicide attack in Kabul a few years ago, and he is now the sole breadwinner of his six-member family.
He said he managed to reach Yazd city in Iran through illegal routes after a dangerous 10-day journey, but the Iranians caught him and deported him to Afghanistan.
Nasimullah said he was aware of potential consequences when he decided to leave for Iran to save his family from starvation.
"The situation is deteriorating here in Afghanistan. People have lost hope, and we do not know what to do. If I can find a job here, I will never leave my country."
Deepening economic crisis
Almost seven months after the fall of the previous government, unemployment and poverty are on the rise.
Infrastructure projects and new investments have been halted across Afghanistan, and there is no hope they will resume in the foreseeable future.
Thousands of former government employees have been dismissed from work, while women face severe restrictions on employment.
Kabul has made no efforts to address the country's economic crisis in the past seven months, said Mohammad Yaqub Mashouf, an economist in Herat city.
If Afghanistan's rulers do not manage the situation immediately and if urgent aid does not reach vulnerable households, the economic crisis will worsen, and millions of lives will be at stake, he said.
"Afghanistan may not be able to recover from the past several months of economic crisis in several years to come," he said. "Those who hope that the economic problems in the country will be solved soon are mistaken."
"Afghanistan's economy was dependent on the international community's assistance. Now that the aid has been reduced or cut, the country's economic system has collapsed."
"Finding any alternative to the international community's support is not possible under these circumstances," Mashaof said.