HERAT -- Iranian authorities in recent weeks have ramped up mistreatment of Afghan refugees after the Kamal Khan Dam in Afghanistan stopped the flow of free water from the Helmand River into the country.
The Kamal Khan Dam in Chahar Burjak district of Nimroz province is full for the first time since its inauguration in March 2021. Work on the dam started in 1971.
Under the 1973 Helmand River Water Treaty between Afghanistan and Iran, Iran has the right to receive 26 cubic metres of water per second from the Helmand River.
However, for decades, Iran has been receiving billions of cubic metres of free water annually, an amount far greater than what the treaty stipulated.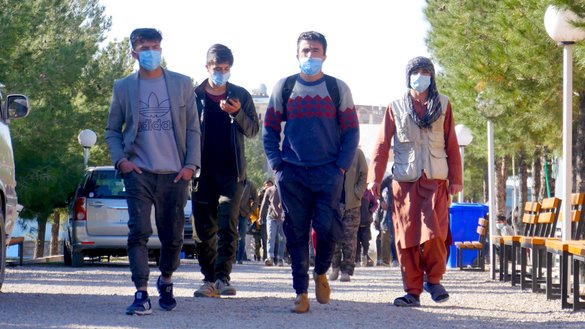 Aggression, hostility
Now, the flow of free water has stopped, and Iranian authorities are taking their anger out on Afghan refugees, witnesses say.
Iranian security forces repeatedly said they would not allow Afghan refugees to live in Iran in retaliation for ceasing the flow of water from the Kamal Khan Dam, according to Jandad Ibrahimi, a resident of Badghis province.
Ibrahimi was recently deported from Iran and is now taking temporary shelter in a United Nations (UN) refugee camp in Herat city.
"When the Iranian soldiers arrested me at work, they tortured me severely and without letting me take my belongings, transferred me to a refugee detention camp," he said on February 9.
"While I was at the camp, the Iranian military did not give me proper food for 48 hours," he said. "Although I was starving, they beat me dreadfully."
Iranian troops have become more aggressive and hostile toward Afghan refugees since the Kamal Khan Dam filled with water, said Zafar Khan Jalali, a resident of Ghazni province who has also taken shelter at the UN refugee camp.
There has always been torture of Afghan refugees in Iran, he added.
"Iranian soldiers enter Afghans' houses without permission, arrest them, beat them up and deport them to Afghanistan," he said.
Iranian employers warned Afghan workers that the government had launched a campaign to arrest and deport them, and that they should hide from Iranian security forces, said Jalali.
On the way to and inside the refugee camp, Iranian soldiers extort money from Afghans and fatally beat anyone who protests, he said.
Sayed Mohammad Akrami, a resident of Kapisa province, is another deportee living in the camp.
The Iranian military did not even give him time to bring his family -- his wife and four children -- with him to Afghanistan.
"I was at work when the Iranian soldiers arrested me," he said. "I begged them to allow me to take my wife and children, but they did not let me bring them."
"Iranian soldiers kicked me severely... saying that I was not allowed to see my family," Akrami said. "Now my family is in Iran, but I don't know where."
Increasing deportations
The violence comes amid an increase in deportations in recent weeks.
Before January 24, Iran deported between 1,500 and 2,000 Afghan refugees daily via the Islam Qala border crossing, according to Abdul Hai Monib, the provincial director of the Refugees and Repatriations Department in Herat.
That number has increased to 4,000 to 6,000 deported refugees daily, he said on February 8.
"The deportees include dozens of children and women. They were arrested at their home or workplace," he said.
"We have recorded horrific reports of beatings and torture of Afghan refugees in Iran," Monib added.
"In just the past five months, 500 Afghan refugees, including women and children, have been beaten severely by the Iranian police before being deported to Afghanistan," he said.
"They entered Afghanistan via the Islam Qala border crossing, where our medical teams treated them for injuries they had sustained from torture at the hands of the Iranians."
The number of deported refugees has increased by 30% in recent days, said Mohammad Hashim Hanzala, a border commander in Nimroz.
"Our records indicate that more than 3,000 people enter Nimroz province every day," he said.
"Most of these refugees worked in Iran for several months without receiving their wages -- the Iranian police arrested and forcibly deported them," he added.