KABUL -- Hundreds of Iranian protesters attacked Afghan drivers last week in Iran over the filling of the Kamal Khan Dam in Afghanistan, which has halted the flow of free water to Iran.
The Kamal Khan Dam in Chahar Burjak district of Nimroz province is now full for the first time since its inauguration in March 2021. Work on the dam started in 1971.
Under the 1973 Helmand River Water Treaty between Afghanistan and Iran, Iran has the right to receive 26 cubic metres of water per second from the Helmand river.
However, for decades, Iran has been receiving billions of cubic metres of free water annually, at an amount far more than what the treaty stipulated.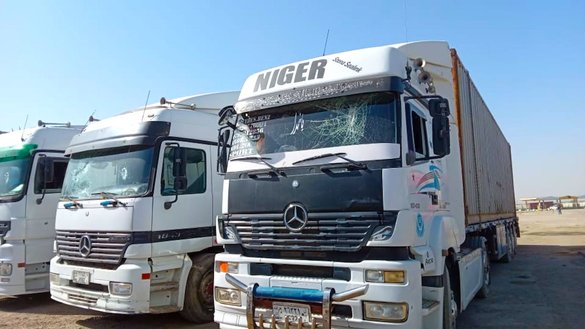 Now, the flow of free water has stopped.
The protestors in Zabul, Sistan and Baluchestan province, Iran, on Friday (January 28) assaulted the drivers and damaged dozens of trucks with sticks and stones, demanding the release of water from the dam.
"Water is the right of our nation," Wase Ahmadi, a resident of Herat city, said in response to the attacks. "Iran will get its share of water agreed under the water treaty. No one will deny it its due right."
"Have we Afghans ever demanded free oil from Iran since it has plenty of it?"
"Iranians consider themselves well-educated and informed people. Isn't it a shame that they commit such an inhuman act that goes against the principles of Islam and humanity?" he asked.
As neighbors, Afghanistan and Iran share the same language and culture but the behaviour of Iranians goes against the principles of a good neighbour, he said.
An oppressive neighbour
Iranians should think about their oppression of Afghans, if they really consider themselves Muslims. This is not in line with the principles of neighbourliness and humanity, Abdul Razaq, a transit truck driver in Farah, said.
"After 40 years of waiting, the Kamal Khan Dam is finally inaugurated and our farmers can use its water, but now Iran wants to take this dam from us too."
"The Iranian government has been paid in return for supplying electricity, oil and gas to Afghans over the years," he said. "Meanwhile, it has been using Afghanistan's water for free for decades."
The assault on the drivers and the destruction of their vehicles are a shameful and inhumane act, said Razaq.
"What was the fault of the poor drivers who were beaten and of the vehicles that were destroyed?" asked Abdul Salam, a resident of Nimroz.
"Water is an ... issue between the two governments, which should be resolved through diplomatic channels," he said. "But the Iranians beat up innocent drivers, which is an inhumane act and demonstrates their hostility."
"Iran has used free water from Afghanistan for years. Now that we are managing our water, the Iranian government has decided to declare its hostility," he added.
The assault on Afghan drivers by Iranian protesters was a cowardly act, said Mohammad Daud Akrami, a resident of Nimroz.
"If Iran wants extra water, it must provide electricity or oil in return," he added. "Gone are the days of freeloading."
"We will not give our water to the Iranians for free."
Iran's debt
Iran has used $60 billion worth of free water from the Helmand river since signing the Helmand River Water Treaty in 1973, said Sayed Massoud Hussaini, who teaches economics at Herat University and has conducted research on the Helmand river.
"Iran has received billions of cubic metres of free water from the Helmand river, while it is entitled to slightly more than 800 million cubic metres a year," he said.
"If ... Iran is held accountable, the country must be denied its water rights for decades," he added.
Iran's digging of wells in the bordering regions to draw extra water from the river also violates the Helmand River Water Treaty. It should be held accountable for this illegal and immoral act, Hussaini said.
With the construction of the Kamal Khan Dam, the time has arrived to hold Iran accountable. Every drop of water flowing to Iran should be counted, said Mirwais Naderi, a university lecturer in Zaranj, the provincial capital of Nimroz.
"The Kamal Khan Dam has paved the way for the growth of agricultural produce in Nimroz province. Domestic produce soon will replace Iranian produce," he said.
"Under the current circumstances, water is very valuable. If Iran needs more water, it has to pay Afghans for every drop of water it receives from the Helmand river," he said.
"It is not fair that our people live in poverty while Iran uses their water for free."