KABUL -- Following an attack on Kamal Khan Dam last week, Nimroz residents gathered to protest against the Iranian regime, saying they are prepared to take up arms to safeguard Afghanistan's hydro-electric and irrigation projects.
Officials blame the Taliban for the October 23 attack, which killed six security guards and injured three, according to local police.
More than 100 residents of Nimroz Province, including men and women, gathered in Zaranj, the provincial capital, on October 28 to condemn the attack, which they called an example of Tehran's destructive interference in Afghanistan's affairs.
Tehran, concerned about the opening of the dam, is providing weapons and support to the Taliban to attack Afghanistan's infrastructure projects, they say.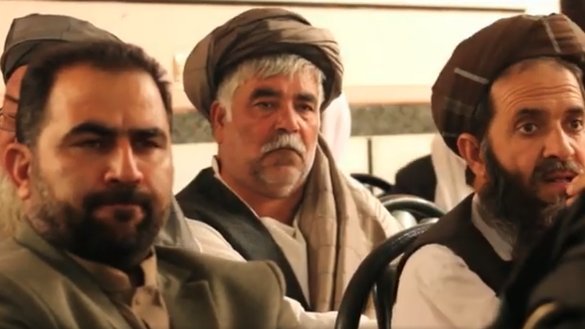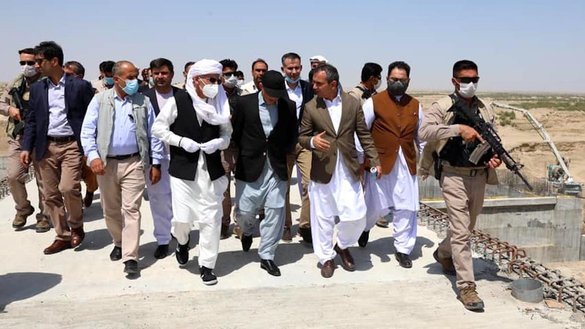 Ready to defend the dam
Protestors pledged to stand by the security forces to prevent such interference.
"Kamal Khan Dam is our national project, the Helmand River water is ours, and we will safeguard the dam from the enemies of Afghanistan at any cost," said Abdul Ghaffar Sattari, a resident of Zaranj.
"Kamal Khan Dam is a hope of the people of Nimroz that has come true after hundreds of years, and now that its construction is in the final stage, we are all happy," he said.
"We, all the people of Nimroz, are ready to take weapons and, along with the security forces, stand against the enemies of this dam and the neighbouring countries that are the obvious enemies of Afghans," Sattari said.
"The Afghan people and government will not remain silent on the killing by the Iranian government of a number of soldiers guarding Kamal Khan Dam," said Zarghona Habibi, a resident of Zaranj.
"The government of Iran must know that every person of this land is ready to make every sacrifice to safeguard its waters and infrastructure and stop the flow of free water to Iran," she said.
"I want to declare that I am ready to defend and safeguard Kamal Khan Dam," Habibi said.
Hundreds of young Afghans are ready to take up weapons to secure Kamal Khan Dam, and they will do so by enlisting in the ranks of the local security forces, said Baz Mohammad Naser, chairman of the Nimroz Provincial Council.
"Public uprising forces have announced that they are ready to defend Kamal Khan Dam, and they will have a key role in maintaining security in the area," he said.
Iran's involvement in the attack
A day after insurgents attacked Kamal Khan Dam, Nimroz provincial Governor Sayed Wali Sultan told reporters at a news conference in Zaranj that the Afghan government no longer allows its waters to flow into Iran for free, and therefore, the enemy makes every effort to destroy the various dams that will stop the giveaway.
"The Afghan government is committed to providing water to Iran based on the joint agreement between the two countries, but we won't allow more than the [agreed amount of water] to flow into Iran," he said. "If Iran wants excess water, it needs to pay Afghans in cash or oil. The time of giving free water to Iran has long gone."
"The intelligence agencies of the regional and neighbouring countries were involved in attacking Kamal Khan Dam and killing the security forces," he said. "One of the main goals of these intelligence agencies is to inflict damage on Kamal Khan Dam with the help of the Taliban."
In an undated video clip circulated on social media, Muhammad Sargazi, a representative of Sistan-Baluchistan Province, Iran, expresses his concerns about the construction of Kamal Khan Dam in a meeting of the Iranian parliament's Development Commission.
"The construction work on Kamal Khan Dam is nearing completion," he said. "The completion of construction means that the flow of water will be diminished. We will lose the 850 million cubic metres of water that should flow into Sistan-Baluchistan [per year], and we will also lose the investment of $850 million that brings water from reservoirs to agricultural lands because there won't be any water left to transfer."
Tehran's concerns surge
As the opening of Kamal Khan Dam nears, Tehran's concerns have surged, said Niamatullah Sediqi, a member of the Nimroz Provincial Council.
"Iran is very sensitive to the construction of Kamal Khan Dam, and it is concerned that it could lose its huge investments in [infrastructure] built to utilise the free water from Afghanistan," he said.
Tehran is concerned that a functioning Kamal Khan Dam will block the free flow of water to Iran, Sediqi explained. The Iranian regime's concern is "what will happen to the lands that are dependent on this water".
Tehran has increased its interference in Nimroz to prevent the opening of Kamal Khan Dam, and it provides support to anti-government elements in an attempt to achieve its goals, said Faisal Sehat, a civil society activist in Zaranj.
"The government of Iran doesn't want Kamal Khan Dam to open; therefore, the Islamic Revolutionary Guard Corps has provided weapons and explosives to the Taliban so that they can stop the dam's opening," he said.
"Kamal Khan Dam [represents] the identity and national value of Afghans. We condemn any interference of Iran in this project, and we don't allow this country to cause any damage to our national infrastructure," said Muhammad Karim Rasuli, a resident of Zaranj.
"No country in the world has seen as much destruction from its neighbours as Afghanistan has," he said. "Iran has always made efforts to destroy our country. We condemn any type of Iranian interference in Afghanistan, and we call on the Afghan government to stop the destructive activities of Iran [in Afghanistan]."