KABUL -- Tehran is working with the Taliban to destabilise Afghanistan, an Iranian official admitted, reaffirming the regime's efforts to derail the peace process and stirring outrage among Afghans.
"We have ties with the Taliban, and they visited Iran, where we held meetings with them," Abbas Araghchi, the political deputy at the Iranian Foreign Ministry, said an interview with TOLOnews that aired on July 19.
"We have had links with various groups including the Taliban for a few years, and we have shared our views with them on a variety of matters," he added.
His government is not in favour of the Afghan peace process, he confirmed.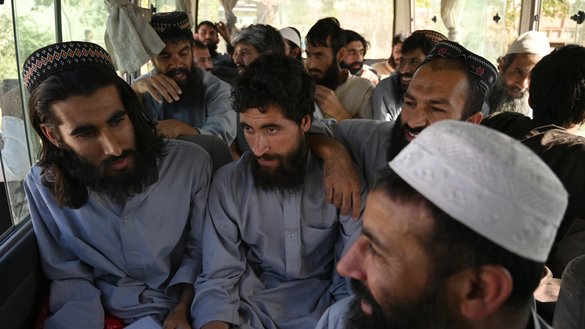 "We don't see any good in the efforts of the United States for Afghan peace, and we don't have any interest in being part of it," he said.
"It isn't hidden from anyone that the Iranian government has been in contact with the Taliban, and we have held meetings with them over [the past few] years," he added.
"Some members of the Taliban regularly visit Iran where we meet them. Once a Taliban representative visited Iran, and I myself met with him. There was yet another Taliban representative who came and visited Foreign Minister [Mohammad] Javad Zarif."
Blatant interference
Tehran's formal admission of its long-term ties with the Taliban and of its opposition to the peace process aroused disdain from activists and everyday Afghans.
"It is a breach of diplomatic relations and international law that the Iranian government has had ties with the Taliban for a few years without the Afghan government knowing anything about them," said Abdul Qader Kamel, a political affairs analyst in Herat city.
"The government of Iran tries to keep its influence on the Taliban so that it can use them for achieving its goals when the Taliban become part of the political [process]," he said. "Iran wants to pursue its goals through them within the Afghan government."
The Iranian regime has tried for many years to influence political and economic matters as well as government decision-making in Afghanistan, said Ghor Province civil society activist Hasan Hakimi.
"Iran's support for the Taliban shows the country's apparent interference in Afghanistan," he added. "We know many members of the Taliban who always travel to Iran, and they have links with the Iranian government."
"Most of the Taliban demands raised in peace talks with the United States are the demands of Iran and Russia," said Hakimi. "They want all the international forces to leave Afghanistan so that they are able to operate there."
The United States has long accused Tehran of backing the Taliban.
In January, US Secretary of State Mike Pompeo said the regime was seeking to undermine the peace efforts in Afghanistan.
"Iran has refused to join the regional and international consensus for peace and is, in fact, today actively working to undermine the peace process by continuing its long global efforts to support militant groups there," Pompeo commented at a news conference in Washington.
Both Taliban and Iranian officials last October publicly admitted at a security forum in Herat that the militant group is receiving support from the Iranian regime.
Prolonging instability, supporting war
Tehran is directly involved in most incidents of unrest and violence in the western region of Afghanistan through its support of terrorist groups, say civil society activists and residents of Herat.
"The government of Iran has always interfered in Afghanistan to prolong the war and destruction, and it never wants the war to end or peace to come to Afghanistan," said Arash Basharyar, a civil society activist in Herat city.
"The Taliban and the United States have reached an agreement after years of waiting and created an opportunity for peace and ending the war, but the government of Iran tries to scuttle this agreement because of its enmity with the United States," he said.
"The government of Iran sees its interests in the war and instability in Afghanistan; therefore, it is afraid of peace and an end to the war," he added. "When Afghanistan gets closer to peace, Iran increases its interference in the country."
Terrorist groups receiving support from Iran are very active in the western region and are trying to escalate unrest and terrorist activities, added Basharyar.
The Iranian regime has opposed the Afghan governments for the past 40 years, and it has used every opportunity to weaken the Afghan state, said Muhammad Wali Hasanzada, a resident of Herat city and a student at Herat University.
"Iran never wants a strong government and peace in Afghanistan, because if Afghanistan is peaceful, hydro-power dams will be constructed and industry and production will flourish," he said. "There will be no need for Iranian products in Afghanistan."
"The Iranian government makes every effort to destabilise Afghanistan," he added.