WASHINGTON -- US Secretary of State Mike Pompeo Friday (February 28) warned Tehran not to scuttle an upcoming agreement with the Taliban, accusing the Iranian regime of seeking to be a "spoiler."
A one-week partial truce is holding with the Taliban, who are scheduled to sign the landmark accord with the United States in Qatar on Saturday, confirmed Pompeo.
"There is a history of Iran engaging in activity inside of Afghanistan to act as a spoiler," Pompeo said.
"We've seen just these last six days a significant reduction in violence in Afghanistan, and we are watching closely to see if the Islamic Republic of Iran begins to take even more active measures that undermine our efforts at peace and reconciliation," he said.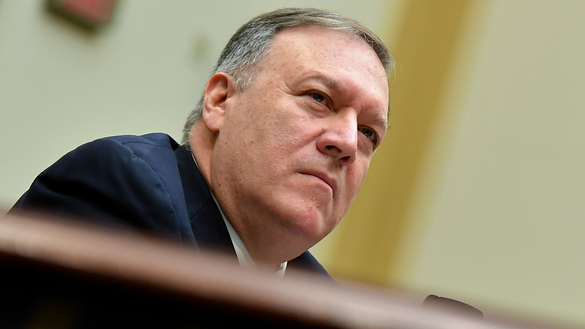 The Iranian regime could increase risks for US troops, whose numbers are expected to be sharply scaled down under the Doha agreement, he warned.
Other actors as well are trying to spoil the agreement.
The "Islamic State of Iraq and Syria" (ISIS) Thursday (February 27) took responsibility for a bombing that wounded at least nine civilians in Kabul city.
"At least nine civilians, including a woman, were wounded when an IED [improvised explosive device] placed in a motorbike exploded in PD6 in Kabul this afternoon," Interior Ministry spokesman Nasrat Rahimi said in a tweet on Wednesday (February 26).
In a tweet, Taliban spokesman Zabiullah Mujahid denied the Taliban's involvement.
Iran's proxy conflicts
On February 22, more than 200 residents of Herat Province called on the Iranian regime to stop interfering in Afghanistan's affairs and undermining the peace process.
The Shia clerical regime in Tehran has been historically opposed to the Sunni Taliban and quietly backed the 2001 US-led invasion that toppled the Taliban regime.
But Tehran has increasingly been involved in proxy conflicts with the United States across the region, and evidence is clear the regime provides support for the Taliban.
The regime regularly provides weapons and training to Taliban fighters.
Early this year, police special forces in Kandahar discovered eight Iranian-made rockets in Takhta Pul District aimed at the Ahmad Shah Baba International Airport in Kandahar, security officials said.
"Eight rockets, each 1.5 metres long, were seized in Makyano village of Takhta Pul District," Kandahar police spokesman Jamal Naser Barekzai said in Kandahar city on January 15.
"Our preliminary information indicates that these rockets are manufactured in Iran and were given to anti-government elements," he said.
In an incident last May, Kandahar Chief of Police Gen. Tadeen Khan Achakzai confirmed that police had discovered an Iranian-made rocket in Kandahar city.