HERAT -- More than 200 residents of Herat Province have called on the Iranian regime to stop interfering in Afghanistan's affairs and undermining the peace process.
"The government of Iran never wants peace in Afghanistan because it sees benefits in the war and destruction in Afghanistan," Najibullah Frotan, a local resident, said at the rally in Herat city on February 22.
Tehran has always interfered in the internal matters of Afghanistan, especially in the peace process, he emphasised.
To that end, Tehran supports the enemies of the Afghan government who often accept the demands of the Iranian regime out of ignorance, Frotan said.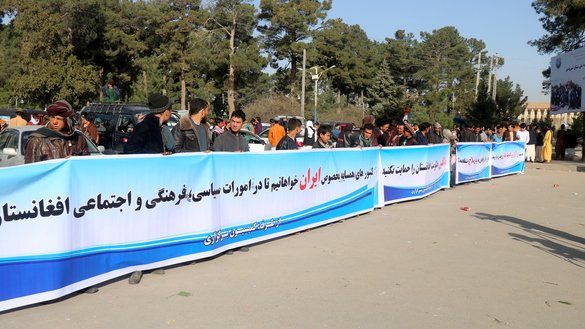 "We want Iran not to interfere in the peace process, and we call on the United Nations and the international community to prevent interference by neighbouring countries, especially those of Iran," he added.
Neighbouring countries including Iran should cease their meddling in Afghanistan and allow Afghans to decide their own fate, said Laila Amiri, another resident of Herat city.
"The government of Iran supports the Taliban and encourages them to fight so that the war and chaos can continue in Afghanistan, and Afghans remain unable to achieve peace," she said.
Neighbouring countries such as Iran have been interfering in various political, economic and security matters for almost 40 years and they have deprived Afghans of peace, said Khan Muhammad Muhammadi, also a resident of Herat.
"The government of Iran for years has tried to increase its influence on Afghanistan with the help of terrorists," he added.
"Iran has always tried to destroy Afghanistan's infrastructure projects, such as dams," added Muhammadi. "When hydro-power dams are built in Afghanistan, the flow of free water stops to Iran, and [this is why] the country makes every effort to stop the construction of these dams."
Sabotaging the peace process
Neighbours of Afghanistan, especially Iran, have an interest in seeing the war continue and will do everything they can to sabotage the peace process, say civil society activists in the western region.
"Iran has both overtly and covertly interfered in Afghanistan's internal matters for several decades, and this meddling has been disastrous to Afghans," said Sayed Ashraf Sadaat, a civil society activist in Herat city.
"The government of Iran has always provided money and equipment to terrorist groups and the armed opposition ... so that they can fight against the Afghan government, the United States and their allies," he said. "Without the neighbouring countries' support, the Taliban wouldn't have the power to fight for a single day."
"If peace comes to Afghanistan and the war stops, it will jeopardise Iran's interests, [and therefore] that country never wants peace in Afghanistan," added Sadaat.
As long ago as 1979-1996, Iran was involved in Afghan affairs, said Hasan Hakimi, a civil society activist in Ghor Province, referring to the Soviet invasion (1979-1989) and the mujahideen era (1992-1996). Afghans are still suffering from this long-lived Iranian meddling, he said.
The Iranian regime is afraid of a strong government in Afghanistan and its aim is to prevent such a government from coming into existence, he noted.
Tehran fears it will lose its dominance in the region including in Afghanistan, said Hakimi.
"The more bloodshed in Afghanistan, the easier it is for the neighbouring countries to achieve their goals," he added. "These countries, including Iran, see no self-interest in peace here, so they never want peace."
A demand for mutual respect
While Tehran tries to send messages of friendship, its actions reveal its true aims, said Feroz Ahmad Karimi, a civil society activist in Herat city who attended the protest.
"A good neighbour never destroys the infrastructure [of its neighbour], it doesn't support the killers of Afghans and it doesn't create obstacles for the development of Afghanistan," he said. "Which act of the Iranian government signifies its friendship with the Afghan people?"
"We will share the demands of Herat residents who protested against Iran with senior central government officials in Kabul so that these demands reach the Iranian authorities through diplomatic channels," said Jilani Farhad, a spokesman for the Herat governor.
"Afghanistan respects the neighbouring countries' national sovereignty, and it has never interfered in the internal affairs of these countries," he added. "Therefore, we call on them to maintain mutual respect and never try to interfere in our country's internal matters."