HERAT -- Residents of Herat and Ghor provinces, including women, youth and religious scholars, gathered separately this week to call for intra-Afghan peace talks and urge the Taliban to put down their weapons.
More than 500 residents took part in a gathering in Herat city on Thursday (February 6). About another 1,000 residents of Ghor Province similarly gathered on Wednesday (February 5) in Firoz Koh, the provincial capital.
"As a girl, I want a full-fledged peace to be ensured in the country so that everyone can live in a peaceful environment and so youth can pursue their education and achieve their goals and ambitions," said Fareshta Sarwari, a resident of Herat city.
Afghan girls, like girls in other countries, love to go to school and get an education, but the war has deprived millions of them from going to school and restricted their movement outside their homes, she said.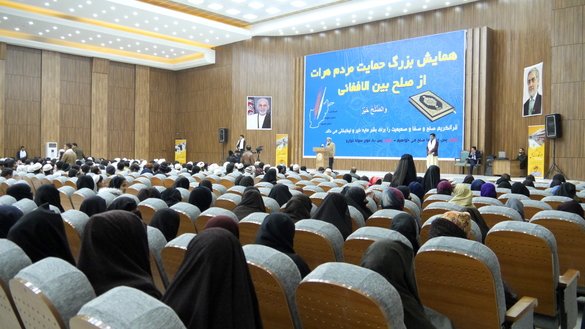 "We want the Taliban to listen to the demands of the people and stop killing Afghans," she added.
"I call on the parties to the conflict -- the Taliban and the government -- to stop fighting as both of them are brothers with each other," said Abdul Qadeer Bahrami, a resident of Herat.
It is better that the Taliban and government hold talks and reach a solution, he said.
"The Afghan people have been tired of war, and the 40-year war hasn't achieved anything," Bahrami added. "This war kills only Afghans, and it benefits the outsiders."
He called on the Taliban and the Afghan government to enter a dialogue and resolve their issues through talks instead of war.
The war has victimised many Afghans, and it needs to stop, said Farida Naseri, a resident of Ghor Province.
"Women want peace in Ghor Province as they're fed up with war," said Naseri. "Every day mothers grieve the loss of their children, sisters grieve the loss of their brothers, and many women mourn their the loss of their husbands. I hope that [in the future] no Afghan woman will ever feel the pain of losing their loved ones."
The Taliban's illegitimate war
The Taliban's war in Afghanistan has been illegitimate, say religious scholars in Herat, who called on the militants to stop misusing Islam to justify their killing of Afghans.
"The citizens of Afghanistan are victimised everyday, everywhere in the country, and this situation is not acceptable for anyone," said Abdul Bari Qanet, a lecturer at the Sharia Department of Herat University. "No one is allowed to link this massacre of innocent civilians to the religion [Islam]. The religion of Islam doesn't permit anyone to kill Muslims."
"All Afghans are Muslims, and differences [of opinion] that have given rise to the war should be eliminated," he added.
"The Taliban can't [justify] killing civilians and the security forces by misusing [or misinterpreting] the religion of Islam. This act of the Taliban has no connection with the religion. They continue fighting to reach their own selfish goals," he said.
The killing of another human -- regardless of whether they are Muslim -- is not permitted in Islam, he noted.
"According to the Islamic religion and verses of the Koran, when an innocent and defenceless human being is killed at war, it means as if the entire world has been destroyed," Qanet added. "It isn't just limited to killing human beings, but any war that disrupts a peaceful life for Muslims is illegitimate."
"Today, the Afghan people need peace," said Ramazan Akhundzada, director of the Ghor Department of Hajj and Religious Affairs. "Afghans, the Afghan government and the international community believe that the war is not a solution and that the only option for solving the Afghan problem is peace."
"The Afghan people have called for peace in one voice, and we want the government and the Taliban to respond to the public voice for peace and resolve the current issues through peace," he added.
Taliban members surrender
The calls for peace come as Afghan security forces have been launching winter operations in Shahrak District of Ghor Province, the eastern districts of Herat Province and along the Herat-Ghor highway, forcing hundreds of militants to surrender.
A group of 10 Taliban insurgents led by Mullah Niamatullah surrendered to the security forces in Chesht-e-Sharif District of Herat on February 6, said Jilani Farhad, a spokesman for the Herat governor.
"These Taliban militants had been involved in terrorist activities against the government for years, but after long clashes in Chesht-e-Sharif District, they eventually had to surrender to the security forces," said Farhad.
Meanwhile, 59 Taliban members surrendered in Shahrak District of Ghor Province and Chesht-e-Sharif District of Herat Province on Tuesday (February 4), according to the Ministry of Defence.
"Mullah Naser with 20 of his fighters and Mullah Salahuddin with 31 of his fighters in Jam village in Shahrak District of Ghor Province, and Mullah Abdul Ahad with eight of his fighters in the Dara-e-Takht area in Chesht-e-Sharif District of Herat Province surrendered to the national defence and security forces," the ministry said in a statement.
"These Taliban fighters had been fighting against the government for several years, but after fighting for a long time... they had to eventually surrender to the defence and security forces," the ministry said.
"The number of Taliban fighters who surrendered in Shahrak District of Ghor and Chesht District of Herat has reached 410," it added, meaning since mid-January.
The 410 include 343 in Ghor and 67 in Herat.