HERAT -- More than 100 civil society activists and demonstrators gathered on Monday (December 9) in Herat city to protest the Iranian regime's destructive activities in Afghanistan.
The protesters accused Tehran of pretending to be a friend of Afghanistan while supporting terrorist groups and destroying infrastructure projects in the country.
Iran directly interferes in Afghan access to water and other natural resources, said Mubeen Saqeb, a resident of Herat city who attended the rally.
"Iran's recruiting fighters for the Fatemiyoun Division is one of the concerns that pushes Afghanistan to become the second Syria," he added, referring to an Iranian militia recruited from Afghan refugees and migrants that was sent to fight in Syria.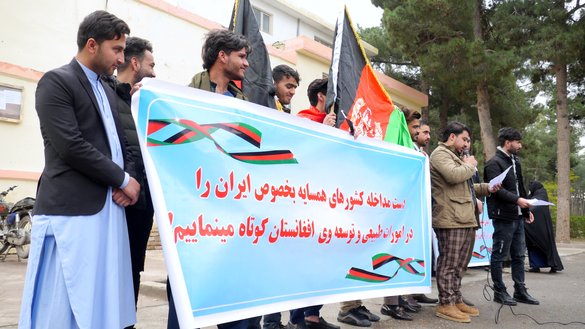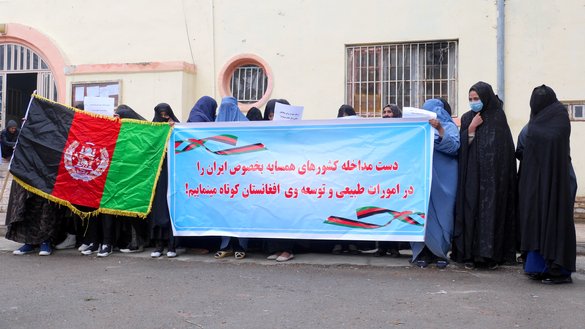 "We call on Iranian authorities to tell them that we won't allow them to bring Afghanistan back to the 1980s and 1990s," added Saqeb.
"We want the international community to take an action against countries like Iran, which creates terrorist groups like the Fatemiyoun Division," said Feroz Ahmad Behzad, another resident of Herat city at the protest. "Terrorist groups that Iran created have made the entire region insecure and unstable, and their activities need to be prevented."
"We want to show to neighbouring countries like Iran that, although the situation in Afghanistan is volatile, Afghan youths are able to thwart any of their interference and that they are ready to defend their country," he added.
The Iranian regime has been interfering in Afghanistan's affairs for years, bringing serious problems, said Fatema Ahmadi, a Herat city resident and participant at the rally.
"The Iranian government needs to address the problems of its own people, and it should not interfere in our country's internal affairs," she said.
"It had better spend the money it gives to the Taliban on its own people to relieve their poverty and hunger," Ahmadi said, referring to Tehran's support of the Taliban.
Ahmadi urged the Taliban to stop fighting for the interests of foreign countries in Afghanistan and to refrain from killing Afghans.
Supporting the Taliban and Fatemiyoun
The protesters raised concerns that the Iranian regime has created safe havens for the Fatemiyoun Division in Afghanistan's western provinces, in particular Herat, and that the fighters are being used to achieve Iran's political and intelligence goals.
By settling Fatemiyoun fighters in the western region of Afghanistan, the government of Iran is planning to recruit more fighters and send them to Syria and other countries to fight Tehran's proxy wars, according to civil society activists.
Countries such as Russia, Iran and Pakistan interfere in the Afghan peace process, said Arash Basharyar, a civil society activist in Herat.
"These countries have close links with the Taliban and give them money and weapons," he added. "These countries' support has enabled the Taliban to kill tens of civilians ... every day in Afghanistan."
"Terrorist and intelligence groups like Fatemiyoun and others have been created by Iran," said Basharyar. "They operate in Herat and in a number of other provinces [of Afghanistan]. These groups recruit Afghan youths and send them to the war in Syria, and we condemn this act."
The government of Iran is actively trying to expand its influence in Afghanistan by supporting the Taliban and the Fatemiyoun Division, said Muhammad Jawad Faqiryar, another civil society activist in Herat.
This situation is very dangerous for Afghanistan's future, he added.
"Members of Fatemiyoun travel between Iran and Afghanistan every day disguised as refugees or workers, and the government of Iran facilitates their travels," he said.
"Recruitment for the Fatemiyoun Division is in full swing. It tricks jobless and poor Afghans and recruits them," said Faqiryar.
Both the Taliban and Fatemiyoun Division are dangerous terrorist groups that should be destroyed, he said.
Fighting Tehran's increasing threats
Afghanistan's security forces are equipped with enhanced capabilities and thus are able to defeat all the terrorist groups and prevent foreign interference, say government officials in Herat.
Authorities have identified all the terrorist groups with the help of the international community and international partners of Afghanistan and will take action against them, said Herat Deputy Governor Ghulam Daud Hashemi.
"The Taliban are the enemies of humanity as they harm civilians, throw the country into chaos and destroy Afghanistan's infrastructure," said Hashemi. "All the world sees every day how the Taliban ... massacre the innocent in their suicide attacks and bombings."
Countries that support the Taliban are committing a crime against humanity, he said.
"The neighbouring countries have no right to invite and receive the Taliban," he added. "Don't they see the crimes that the Taliban commit in Afghanistan?"
"Our security forces control the situation, and they don't allow any terrorist group to operate [in Afghanistan]," he added. "Any country that supports terrorist groups will ultimately itself burn in the fire of the war."