KABUL -- Alarmed by Iran's ongoing recruitment of Afghans into its Fatemiyoun Division to fight in Syria's civil war, officials have warned that returning members will be prosecuted under Afghan law.
"Afghanistan is not a proxy war zone and battlefield for any country that disrupts our national unity, and we should prevent this proxy war," President Ashraf Ghani said during a September 18 meeting with citizens from western Kabul, a predominantly Shia area of the capital that "Islamic State of Iraq and Syria" (ISIS) has repeatedly targeted.
"Every Afghan who fights in a third country is guilty of committing a crime, according to the Afghan Penal Code," Ghani said.
"The president made it clear that every Afghan who fights in another country -- whether it is Syria or elsewhere -- has indeed committed a crime," Shah Hussain Murtazawi, a deputy spokesman for Ghani, told Salaam Times September 20.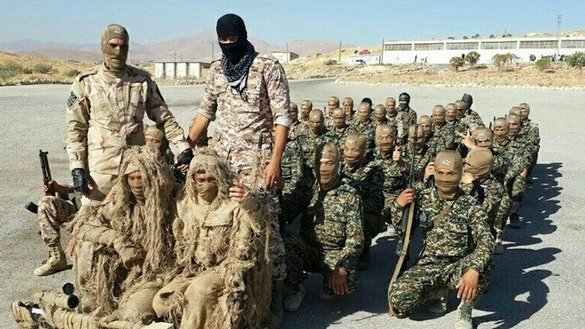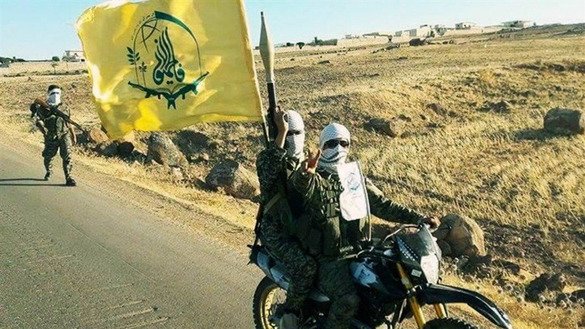 "Punishing those criminals is the responsibility of the Afghan judiciary," he said.
The Lawyers' Union of Afghanistan explained the law under which the returning Fatemiyoun fighters will be held accountable and prosecuted.
"The law stipulates that upon returning to Afghanistan, those Afghans who fight on behalf of a country as proxies in another country should be tried and punished," Gul Ahmad Madadzai, deputy director of the union, told Salaam Times.
"It is, therefore, incumbent upon Afghan intelligence and security agencies to interrogate the returning Fatemiyoun fighters, while judicial authorities are required to prosecute and punish them," he said.
Fighting for the Fatemiyoun Division
Ghani's comments last month were about the Fatemiyoun Division, a ragtag unit of Iran's Islamic Revolutionary Guard Corps (IRGC) made up of Shia Afghans. The unit fights for Iran and its clients, including the Syrian government.
Two streams of Afghans -- most already living in Iran as migrants or refugees and a smaller stream of those in Afghanistan who have succumbed to Iranian propaganda -- have joined the unit. They receive initial training in Iran before it sends them onto the battlefield in Syria.
Lately, the IRGC has staged a number of street celebrations in Iran for Afghan members of Fatemiyoun who died fighting in Syria's brutal civil war, including parading the dead Afghans' fatherless children.
These public demonstrations are part of a calculated strategy that the Iranian leaders use to lure and exploit Afghans and other Shia from around the Islamic world to fight and promote Iran's regional agenda.
"The president's address was to those Afghans who fight in Syria based on orders they receive from Iran, and it is obvious that the perpetrator of a crime should be tried and punished," Mohammad Asif Sediqi, deputy speaker of the Meshrano Jirga (upper house of parliament), told Salaam Times.
"Having Afghan nationals fight in Syria is against our national interests," he said.
"In fact, it has jeopardised the security of Afghans and Afghanistan," he said, adding, "The government must punish those individuals and prevent Afghans from fighting on behalf of Iran in Syria in whatever way possible."
"In order to stop Afghan refugees from fighting as Iranian proxies in Syria, save the lives of thousands of young Afghans and counter the increase in the number of ISIS attacks on our Shia compatriots, the Afghan government must put pressure on Iran through diplomatic channels and global consensus," Sediqi explained.
"Those inside Afghanistan who support the deployment of Afghans to the war in Syria are just as guilty as the fighters themselves -- and they too must be prosecuted," he said.
Deadly consequences for Afghan Shia
"The presidential announcement, which declared Afghans fighting in Syria to be criminals who should be punished, is a good step that will help prevent the participation of Afghan citizens in other proxy wars," Sediqi, deputy speaker of the Meshrano Jirga, said.
"Hundreds of my young, educated and hopeful compatriots have been killed or wounded," said Wahidullah Tabesh, 29, a resident of western Kabul.
"Taking advantage of Shia youths' despair, economic difficulties and their lack of information, Iran sends them to death in Syria," he told Salaam Times.
"Afghan youths are being killed by ISIS, both inside Afghanistan and in the Syrian war," Tabesh continued. "We welcome the ... punishment of Afghans fighting in Syria, as this will help deter other Afghans who wish to fight in Syria."
Countering Iran's proxy wars
Contrary to international law and Islamic principles, Iran is using young Afghan migrants in the Syrian war in order to accomplish its political and military objectives, said Aminullah Shariq, a Kabul-based political analyst.
"The prosecution of those Afghans who participated in the Syrian war and are now returning to Afghanistan is a completely logical and appropriate measure," he told Salaam Times.
"It serves as a lesson to those who think of participating in wars, in Syria or other countries, as proxies," he continued, adding, "Punishing them will reduce the number of terrorist attacks and other countries' proxy battles in Afghanistan."
"We call on our government, as well as on the international community, to prevent Iran from carrying out these heinous acts," he added.